Welcome to the Dog Health Guide blog. Here you'll find the latest additions to the site. We have hundreds of pages of information so be sure to search for anything you cannot find. If you can't find what you are looking for, ask our Vet a question for free by asking our Vet a question here. While there is no replacement for a Veterinarian, an informed owner is the best advocate for your dog.
Dog Cloning Basics: Costs and Process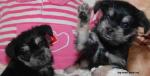 The pros and cons of dog cloning. Understand the process, costs, companies and review videos and articles on how to clone a dog.
Author: Jeff Grill