Summary:
"Heartworms in dogs is caused by bites from infected mosquitoes that transmit the heartworm (Dirofilaria immitis) into the dog. The worms live in the pulmonary arteries and the heart, causing symptoms such as coughing, being short of breath and weight loss. 

Heartworm disease is increasingly common in both previously affected and unaffected areas, according to the American Heartworm Society's 2022 map. The rise is attributed to various factors such as poor adherence to preventive measures, weather changes, and an increase in heartworm-positive pets. Areas where the disease has declined credit greater adherence to preventive measures. To combat this, veterinarians should emphasize the importance of heartworm prevention to every dog owner.(3)

The severity of symptoms depends on the number of worms and how long the worms have been causing a problem. The mean age for infected dogs is age 3 to 8. Treatment options include medications and possibly surgery. As the worms multiple and grow, it can lead to canine heart failure and death. In the United States it is more common along the Gulf Coast, West and Midwestern United States, but has been diagnosed in all 50 states.
Cases that can be treated by injection of a heartworm medication result in a cure 96% of the time. Exercise must be restricted during treatment to avoid dead worms blocking blood flow to the lungs. 
During treatment contact your veterinarian if you see any of the following symptoms:

Appetite loss
Gagging
Excessive sluggishness
Respiratory distress
Coughing up blood

Test your dog for heartworms before buying a heartworm preventative in order to avoid complications. Only purchase name brands recommended by a veterinarian such as those at the bottom of this page. These products are almost 100% effective in preventing the disease."
What Is Heartworm? Overview and Pictures
Video from the American Heartworm Society on the disease basics.
Overview: Heartworms in Dogs
There are two types of heartworm in dogs. In pulmonary heartworm disease, dogs have live heartworms in the pulmonary arteries. In caval syndrome, there are worms in the heart itself. The worms themselves may be alive or dead. Heartworm in dogs tend to be between 9 and 16 inches in length.
The disease can be lethal and infect the heart and lungs. As the worms grow they can interrupt blood flow. An infestation can include 100's of worms and grow for several years inside a dog."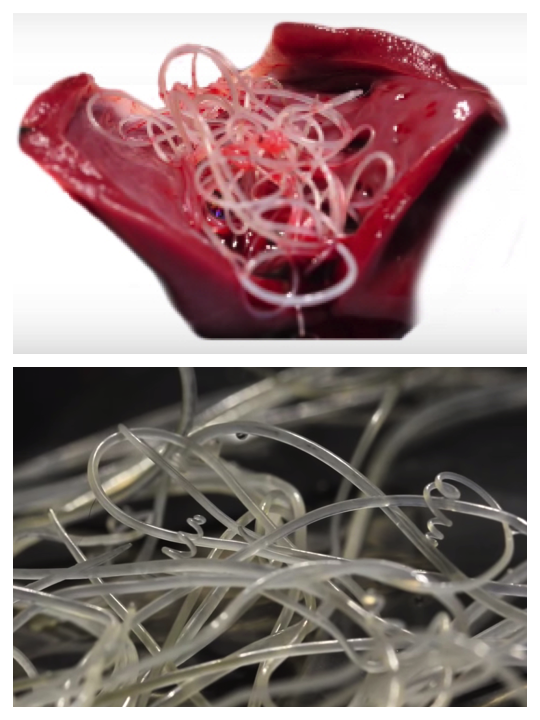 Heartworm lives in a dog's heart. They can grow to be a foot long, blocking the heart, lungs and arteries. The worms can produce babies and spread to other pets.