Summary:
"The most common prostate problem in dogs is a condition called Benign Prostatic Hyperplasia (BPH). The glandular tissue of the prostate grows in size with age and puts pressure on surrounding areas (e.g. the bladder) causing urinary and defecation problems. BPH is not an infection or cancer, but it can cause very troublesome symptoms and may worsen very gradually, with increasing age."
Overview
Just as men have a prostate gland, so do male dogs. The prostate gland surrounds the urethra and lies just behind the rectum. Just like in humans, it stores and secretes a clear fluid that makes up part of the seminal fluid that makes up semen.
When a dog is neutered, most of the prostate gland is removed. Therefore prostate problem in dog is almost never seen in neutered dogs. It is very common, however, in unaltered dogs as they grow older. Prostate cancer is one of the few prostate conditions you can see in castrated dogs.
There are several kinds of problems dogs may develop with their prostate glands. The most common is called benign prostatic hyperplasia, or BPH. This simply means the prostate gland becomes enlarged. The second problem is an infection of the prostate gland. A third, and uncommon problem in dogs, is cancer of the prostate gland.
Dog Prostate Problem Symptoms
When the prostate gland becomes enlarged, it presses upward against the rectum. This causes constipation. Dogs with enlarged prostates often walk abnormally, as well. They keep their rear legs stiff and straight and take very small steps. Other signs of a prostate infection include straining to urinate and discharge from the penis of blood or pus.
Diagnosis of Dog Prostrate Problems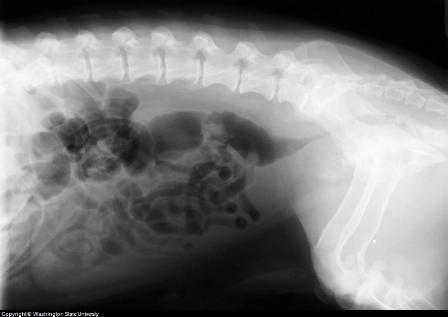 Dog prostate problem showing a prostatic adenocarcinoma (most common type of canine prostate cancer). Diagnostic X-Ray shows a soft tissue mass in the region of the prostate
Source: Washington State University
If your dog has symptoms of prostate problems, you should take him to the vet for an evaluation. Most vets will perform a prostate exam as part of a yearly physical for all un-neutered males. The vet inserts a finger into the rectum and palpates the prostate gland, feeling its size and shape. If anything abnormal is detected, an x-ray or ultrasound may be ordered. Most prostrate problems in dogs are not cancerous, but if this is suspected, a biopsy may be taken. Without taking a biopsy, it is impossible to know for certain what is causing the prostate problem.
Visit our guide on Canine prostate cancer to learn more about this disease and treatment options.
Canine Prostate Treatment
The simplest treatment of prostate problems is to have the animal neutered. Neutering will prevent problems from occurring, but if an un-neutered male develops problems (and most unaltered males will by age eight), neutering him then will solve the problem.
Since most of the prostate is removed when a dog is neutered, it can then be examined to make sure it is not cancerous. Cancer of the prostate is rare in dogs, but it is a possibility. If it is cancerous, then there is a possibility that cancer may have spread to other parts of the body. Your vet can talk to you about treatment options.
If the problem is due to canine prostate cancer than treatment will include a combination of surgery, chemotherapy and radiation. Dogs with canine prostate cancer usually do not live as long as a year after diagnosis.
Natural Treatments for Prostate Problems
Herbal remedies have been created where ingredients have a specific role to play in reducing swelling and normalizing the size of the prostate or treating the symptoms that go with prostate problems. Supplements such as herbal drops are particularly used by owners that do not want to have their male dogs neutered.
Common ingredients include:
Sabal Serrulata (Saw Palmetto) and is known to be highly effective in treating the symptoms of an enlarged prostate. In human trials Saw Palmetto has been shown to be as effective as prescription drugs at reducing symptoms but without the negative side-effects. It contains natural substances for reducing inflammation of the prostate gland.


Galium aperine(Cleavers): Regular use helps to expel toxins from the body. Clinically, it is most useful for conditions involving inflammation and swelling of glands (glandular fever, tonsillitis, mumps and prostate swelling) and for problems involving the urinary system.


Echinacea purpurea is the best known and researched herb for stimulating the immune system. Over 500 scientific studies have documented the effectiveness of this herb. Research has shown that Echinacea increases the activity of the immune system cells, stimulates new tissue growth for wound healing, reduces inflammation and inhibits growth of bacteria, viruses and fungi. These properties make Echinacea the ideal herb for reducing prostate inflammation as well as preventing all types of infections of the prostate including bacterial prostatitis - another cause of prostate and urinary symptoms in dogs.


Baryta carb (30C) is a homeopathic ingredient effective in reducing prostate enlargement, frequent urination as well as burning on urinating.
A good commercial source to explore for natural prostate supplements is PetAlive ProsPet for pet prostate problems.
Ask a Question or Share Your Story
Have a dog prostate gland related question for our editors or a story to share?
Do you have a dog prostate gland related question for our veterinarian? We will answer it for free!

Please include related information such as age, sex, breed, medical history, symptoms, diagnosis, diet, changes in behavior, diet and medications.

We will do our best to get back to you quickly (depends on how many questions we receive each day). If you do require an immediate response we suggest using this online dog veterinary service that is available now.

In addition to specific therapies recommended by your veterinarian, consider adding a homeopathic product such as Prospet Drops, which are formulated to support prostate health.
What Other Visitors Have Said
Click below to see contributions from other visitors to this page...


Dog Prostate Supplements Not rated yet
Reader Question: Best Dog Prostate Supplements My 5 yr old field spaniel had had 2 prostate infections in the past 2 months. The vet said if they …
Sources
Prostate Enlargement
Foster, Race DVM, and Smith, Marty, DVM

The Canine Prostate: What It Does and Why Does It Grow So Much
Romagnoli, S.

Prostatic Disease in the Dog
Holt, Peter E.

Diagnosis and Management of Canine Prostatic Disorders
Professor Peter Holt
University of Bristol
Department of Clinical Veterinary Science