Abscess in Dogs Care and Treatment
"An Abscess in dogs are created by a collection of white blood cells that are attacking bacteria. As the white cells die they become puss. While many abscesses naturally dissolve, others need to be lanced."
A dog abscess is a sac or lump that contains pus. Trauma to the skin such as a dog bite or other puncture wound introduces bacteria under the skin. The body's immune system then sends extra white blood cells to the area in an attempt to rid the body of the bacteria. Pus is formed when the white blood cells die and accumulate in the affected area.
The immune system also walls off the abscess by forming a fibrous capsule around it. This keeps the pus confined to one area. Over time, the wall of the capsule grows thin and ruptures. Then the pus drains out.
Sometimes an abscess is able to heal without any medical treatment. In these instances, the white blood cells are able to kill the bacteria. The accumulated pus is then absorbed by the body.
In most cases, however, veterinary care is needed.
Types of Abscess in Dogs
Abscesses can form in many parts of your dog's body including:
Dog Bite Wound Abscess
Dog Tooth Abscess
Dog Brain Abscess
Head and Neck Abscess
Ear Abscess
Abscess in Dogs Symptoms
Symptoms of dog abscesses include redness, swelling, and drainage from the wound. If the abscess has not ruptured there will be no drainage, just a lump. Hair may fall out around the injured area. Abscesses are usually quite painful, as well. Your dog may try to lick or bite at the injured area. (Don't let him do this, as it will probably make things worse).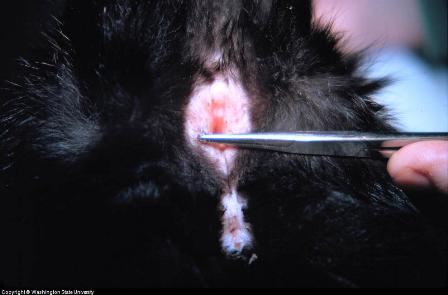 Dog Anal Sac Abscesses


Source: Washington State University, Dr. Barbara Stein
Dog Abscesses Diagnosis
Your veterinarian can generally diagnose dog abscesses just by looking at the wound. If the abscess has not ruptured, the vet may insert a needle into the lump and withdraw some fluid to ascertain that there is indeed pus in the lump. If the abscess has ruptured, it is easy to see that there is an abscess there.
Canine Abscess Treatment
If the abscess has not yet ruptured, it will have to be lanced so that pus can drain from the wound. This may require general anesthesia or at least heavy sedation for your dog.
Once the abscess has ruptured and is draining, it can be flushed with a disinfectant solution such as povidone iodine or chlorhexidine to clean the area and remove any remaining pus.
Antibiotics will be prescribed to help fight infection.
You can apply warm compresses several times a day to help increase blood flow to the area. This will draw white blood cells to the area, which will help fight infection and promote healing.
Don't let your dog lick or chew at the wounded area. If he is persistent about doing so, you may need to use an Elizabethan collar (those conical collars that make your pet look like a satellite dish) to prevent him from reaching the injured area.
Sources for Abscess in Dogs
Have A Question about Your Dog's Skin Condition? Our Vet Will Answer It for Free!
Do you have a question or comment? Share it!

Our editors will pick 1 question to answer each week. Please include your dog's age, breed, medical history, medications and if possible, a picture of the condition.

We will do our best to get back to you quickly (it depends on how many questions we receive each day). If you do require an immediate response we suggest using this online dog veterinary service that is available now.