Symptoms and Treatment of
Dog Scabies (Sarcoptic Mange)
Overview
Sarcoptic mange is a contagious condition passed by mites from dog to dog or wild animal such as a fox to a dog. The condition can occur in a specific or localized areas of the body, or if left untreated, the condition will spread into a "generalized" form which affects areas all over the body.
Symptoms are red bumps or papules, itch, and a scaling or hardening of the skin. If your dog scratches the bumps, it results in hair loss occurs and possibly skin infection.
Dog Sarcoptic Mange


Dog Scabies causes extreme itch, red irritated skin, pimples, skin sores and crusts.


Treatment options include a lime-sulfur dip that can be purchased over the counter, a spot-on such as Frontline (Fipronil), or a prescription topical that contains Selamectin (Revolution). Other treatments such as Ivermectin based medications have side effects in some dogs such as herding breeds, so they should be avoided.
Scabies mites can spread from dog to dog, and dog to human, however, humans are not a good host for the parasite and quickly die.
Symptoms
Scabies are characterized by papules (red bumps on the skin) and crusty areas that can be seen on the ears, ankles, face and elbows. If a dog is well groomed, it is possible that a dog has scabies, but does not have the red bumps or papules in a condition called scabies incognito. The condition can cause thick and wrinkled skin.
Dog Scabies Skin Ulceration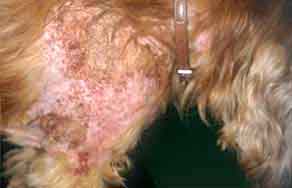 Dog Scabies and Skin Ulceration Due to Itching and Scratching
Source:
Royal Veterinary College, University of London Veterinary School