Guide To Dog Ear Infection Treatment
Summary:
"Dog ear infections can be infuriatingly difficult to treat and account for 20% of visits to the veterinarian. They are more easily treated if caught early as an otitis externa or outer ear problem. Look for telltale signs such as dog's that scratch or paw at the ears and head shaking. Skin irritation and itch may or may not be present. Other signs include ears that cause pain to the dog when touched or inflammation inside the ear. Dogs that continually scratch the ear can cause a more serious problem which results in the rupturing of the tympanic membrane.

Common causes of dog ear infection are water trapped in the ear, foreign material (grass awns), yeast, atopy (inhaled seasonal allergy), hypersensitivity to foods, bacteria, immune mediated or autoimmune diseases (pemphigus foliaceus) or mites (Otodectes and Demodex).
Treatment depends on the underlying condition and should be in consultation with a veterinarian. If caught early, ear infections in dogs can be easily treated. Treatment options range from prescription antibiotics or antifungal agents, ear cleansers and natural ear drops. Veterinarians often add a glucocorticoid such as prednisone, which can help reduce inflammation and improve the speed of healing. Do not apply any cleanser or treatment before speaking to a veterinarian and avoid alcohol based products, as these can be irritating."

For prevention, all dogs should have canine ear hair plucked on a regular basis, particularly those breeds that are susceptible to a dog ear infection."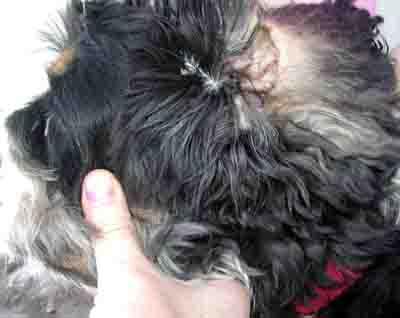 Cocker Spaniel with Otitis (Ear Infection)
Photo Credit:
Washington State University School of Veterinary Medicine
."