Table of Contents
Summary:
"Upper respiratory infections are usually the cause of any dog cold symptom. These infections can reside in the upper bronchi, trachea, throat and nose. Canine cold symptoms include congestion, sneezing, cough, fever and lethargic behavior. If the condition is mild, then symptoms will only include an infrequent cough or mild sneezing. In cases where the upper respiratory infection is more severe, the symptoms can become more pronounced or dramatic."
Overview
Many dog colds are due to a common condition called kennel cough (infectious tracheobronchitis). Other less common causes are distemper, adenovirus and parainfluenza, as these are prevented with routine vaccination. Canine flu or influenza (H3n8) is not seen that often. In rare cases canine cold symptoms can be caused by tracheal collapse or a foreign body caught in the respiratory system. Nasal discharge alone may indicate causes that are not viral in nature such as allergies or mites (discharge will be clear). If your dog is suffering from any of the symptoms described above, visit a veterinarian since treatment depends on the specific diagnosis of the underlying cause.
If you see blood in any nasal discharge or any of the signs of respiratory distress listed below be sure to see a Vet to determine if the cause if a nose injury, infection (bacterial or fungal), foreign body or dog nose tumor.
Puppies in Kennels Can Spread Colds Due to Close Proximity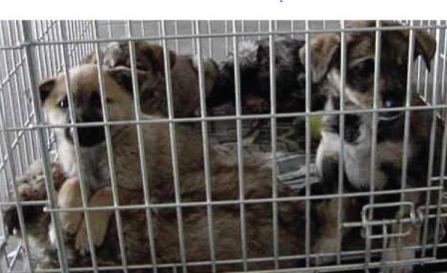 Dog Cold Symptoms can indicate Kennel Cough, a condition common among dogs that live in close quarters
Source:
Washington State University
Signs of Dog Breathing Problems
These are the typical dog cold symptoms or signs of a breathing problems. Contact a veterinarian immediately if you see these signs. Describe what you see and hear to the veterinarian, since symptoms can indicate specific nasal disorders.
Rapid breathing (Tachypnea)
Extended Neck or Head
Opened Mouth
Anxious behavior
Skin discoloration due to oxygen not getting to the skin
Flaring nose (nares)
Pointing of the elbows away from the body
Ability to breathe only when standing (orthopnea
Odd movement of the chest or stomach
Causes of Canine Sneezing, Colds and Upper Respiratory Infections
Dog parents frequently ask "can dogs get a cold." The answer is that they can display cold symptoms that are caused by an infection that is different than what would cause a cold in people.
The most common cause of dog cold symptoms is kennel cough. Many other types of viruses and bacteria can cause upper respiratory symptoms, as indicated below, although these are less common. Dog flu (also called canine influenza or H3N8 is rarely diagnosed with the exception of dogs that are kept in close proximity to others such as in a kennel, dog breeding facility or dog racetrack. Standard core vaccination protects against most viruses.
Upper Respiratory Infection: Puppies or young dogs with sneezing and nasal discharge and one or more symptoms such as eye discharge, depression, appetite loss and cough should be evaluated for a viral or bacterial respiratory infection. 


Canine Kennel Cough: As mentioned, dog kennel cough is the most common cause of the dog cold symptom indications described above. It is characterized by a raspy hacking cough that brings up a white foamy phlegm (sometimes mistaken for vomiting). In chronic cases, kennel cough can disrupt a dog's normal behaviors such as sleeping and eating. Note that the dog kennel cough vaccine does not protect against all strains of the bacterium, so even vaccinated dogs may contract the disease.

The bacterium (Bordetella) is transmitted from dog to dog when living in close proximity such as in a breeding facility or boarding kennel. Kennel cough diagnosis is often based on the dog's history and in-office examination, such as if your dog recently visited the groomer or a kennel. In more advanced cases, the veterinarian might recommend x-rays to rule out problems such as a foreign body in the trachea or canine pneumonia.

Kennel cough treatment involves the use of the medications penicillin or tetracycline. Another medication may be recommended to address any dog coughing. A homeopathic remedy formulated to boost the immune system and support the recovery of dogs from Kennel Cough such as KC-Defense may also be of help.
Parainfluenza: This is a highly contagious respiratory illness, characterized by the dog cold symptom chronic coughing and sneezing.
Adenovirus type-2: This virus causes cold-like symptoms and can also cause kennel cough.
Pneumonia: If untreated, colds and other viruses and respiratory infections may develop into pneumonia. Pneumonia is an inflammation of the lungs, characterized by coughing and difficulty breathing.


Distemper: With this illness, cold symptoms are often accompanied by gastrointestinal symptoms. Dogs should be vaccinated against distemper, since it is a severe illness and has a high mortality rate.

Canine Influenza Virus: The canine influenza virus (H3N8) was first diagnosed in 2004 in Florida, U.S. It was spread from horses to dogs and has been seen in many States in the U.S. A similar dog virus (H3N2) has been seen in South Korea and southeast Asia and the United States.

Signs first appear 2 to 3 weeks after exposure. Note that dogs can pass the virus onto other dogs for 7 to 10 days after the first appearance of any clinical symptoms. it is estimated that 10% of carriers can pass the virus on to other dogs without showing any clinical symptoms themselves. Symptoms of canine influenza virus include cough that persists for up to 3 weeks (despite antibiotic or cough suppressant treatment), yellow discharge from the nose and a low fever. If a dog has a more sever case, fever can reach 106F with increased breathing.
There is a vaccine available for dog influenza virus, however, it isn't a commonly provided, unless a dog is traveling to a region where the virus is prevalent. There are no reported cases of canine influenza virus jumping from dog to human.
Dog Nasal Mites: Nasal mites enter the nostrils causing clear nasal discharge and sneezing. They look like small white tan specks.
Dog Nasal Mites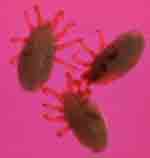 Magnified view of dog nose mites
Mites can cause sneezing and clear nasal discharge
Puppies and older dogs should see a veterinarian for dog cold symptom diagnosis and treatment if they have symptoms of a respiratory illness. Adult dogs that are in good general health can be treated at home as long as symptoms are not too severe.
Diagnosis
Your vet will do a complete physical examination of your dog and may do some blood work as well. He or she may also take a chest x-ray if your dog's breathing is very congested to look for pneumonia. Vets will use a combination of the following factors to determine the exact cause of the condition.
Click on the links below for helpful ways to determine the cause of each dog cold symptom.
Treatment
Treatment involves addressing any symptoms such as itch, the use of antibiotics for bacterial infections and identification and removal of any underlying cause. Homeopathic products can provide added support. If it is a viral infection, the antibiotic won't help, but even if it is a virus, secondary bacterial infections often set in once the immune system is depressed.
You can provide supportive measures to your pet at home. Keep your dog warm and dry. Especially limit time spent outdoors in cold weather, because the cold will cause the bronchial passages to constrict, making it hard for him to breathe. You can also run a vaporizer near your dog's sleeping area to keep his bronchial tubes moistened.
We do not recommend giving your dog over the counter cough and cold medicines since they can easily be overdosed. You could give your dog some lukewarm chicken soup which will be enjoyable for your pet and help keep them hydrated. You could also give your dog some relief by turning your bathroom into a steam room by running the shower very hot and then having your dog breath in the steam for 5 to 10 minutes. This will help loosen any congestion.
If you dog stops eating or if any coughing prevents sleep (for yourself or your dog), then visit a veterinarian and describe each dog cold symptom and when it began.
Natural remedies can safely reduce your dog's uncomfortable symptoms during an upper respiratory tract infection and possibly cut recovery time. They can also help to bolster the immune system..all without side effects. Herbs such as Calc. sulph. (D6), Ferrum phos., Hepar. Sulph. (12C), Verbascum thapsus (Mullein leaves) and Sambucus nigra (Elder flowers) are all good choices.
A helpful supportive herbal supplement to help ease the symptoms of a canine cold such as easing the airways and clearing the nose is Respo-K.
Ask a Question or Share Your Story
Have A Dog Cold Related Question For Our Editors or A Story to Tell About This Topic?
Do you have a dog cold or other respiratory system related question for our Editors or a helpful story to share? Please include information such as age, sex, breed, medical history.

We will do our best to get back to you quickly (depends on how many questions we receive each day). If you do require an immediate response we suggest using this online dog veterinary service that is available now.
Other Reader Questions and Vet Responses
Click below to see contributions from other visitors to this page...

References for Dog Cold Symptom Tips and Treatment
Canine Influenza Virus Infection
Crawford, C., Dubovi, E., Donis, R., Castleman, W., Gibbs, E., Hill, R., Katz, J., Ferro, P., Anderson, T.
Dubovi EJ and Njaa BL. Canine Influenza. Vet Clin No Amer. Small Ani Prac 38: 827-835
Washington State University - Nasal Discharge and Sneezing