Summary:
"Curing constipation in dogs is based on the cause of the constipation. Everyday constipation can be helped by changes in diet, more exercise and a dietary supplement."
Overview
Constipation is not unusual in dogs, but it is not usually a serious problem and generally clears up on its own in a day or two. It's important to keep an eye on it, though, because if it doesn't clear up, or if your dog is unable to defecate at all, it's time to get to seek treatment.
Constipation almost never occurs in dogs that exercise, drink plenty of water and have the opportunity to go to the bathroom outside 3 times a day. Common causes include blockage caused by the minerals in real dog bones, dairy products such as constipation from feeding your dog cheese, something blocking the colon such as something your dog swallowed, enlarged prostate, or hernia.
If your dog just had diarrhea and doesn't have a bowel movement for a few days then your pet probably does not have constipation. It is just the bowels refilling.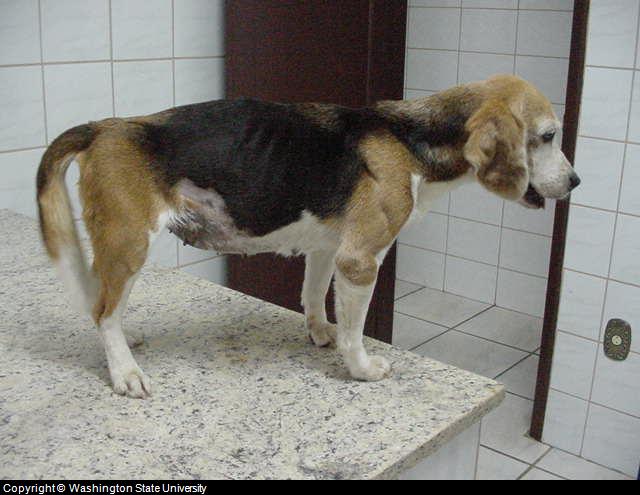 This beagle was diagnosed with constipation with the aid of an x-ray and ultrasound. Symptoms included constipation, anorexia, abdominal distension, weight-loss (megacolon/fecaloma)

Source: George Washington University
Canine Constipation Symptoms
Dog constipation symptoms are easy to spot. Dogs normally have one to two bowel movements a day. Dogs who are constipated may actually have more bowel movements but pass much smaller than normal feces. Other symptoms include straining with bowel movements, blood and/or mucous on feces, and small, hard feces. If these symptoms last more than two or three days, see your vet. Take a stool sample with you to the vet, so he or she can check for parasites or other problems in the stool.
In severe cases, dogs may not have bowel movements at all and may stop eating. Vomiting may occur. In this case, you need to see your vet right away. Your dog could have an intestinal blockage, and that can be life-threatening.
Diagnosis
To determine the best constipation treatment, your vet will examine your dog to make sure there are no underlying medical problems contributing to his constipation, including an intestinal blockage. To check for a blockage, an x-ray will be taken. Dogs, especially puppies, often eat inedible things, and this can clog up the intestines. If all tests come out normal, the vet can advise you on ways to treat and prevent future constipation.
Constipation Treatment
The best constipation cure depends on the cause and severity of the constipation.
If an intestinal blockage is discovered, your dog will need surgery to treat a potential life-threatening condition. Depending on where the blockage is, the vet may be able to reach to reach it threat the rectum instead of having to go in through the lower abdomen, creating much less trauma.
In severe cases of constipation, when there is no blockage, your vet can give your dog an enema or prescribe laxatives to relieve the constipation.
Constipation can also be treated and prevented by taking some simple steps. Diet is one of those steps. Your dog needs to eat a diet with sufficient fiber. Most commercial dog foods should provide enough fiber, but talk to your vet about which brand he or she recommends. Some people prefer to feed their pets a homemade diet. If you do, make sure you do the research first and know that you are providing the right amount of fiber. You can also add a fiber supplement to commercial dog food.
Make sure your dog has access to fresh water at all times. Drinking plenty of water is probably the biggest factor in preventing constipation.
Exercise is also important. Give your dog plenty of time to exercise. This will help to get the bowels moving regularly.
Click here is you are interested in reading about constipation dog home remedies or more on how to relieve canine constipation.
Homeopathic (non-prescription) Approach to Constipation
Look for herbal remedies and dietary supplements that are aimed at maintaining bowel and digestive health such as those that contain fiber, Aloe Ferox (for digestive health) and Natrium Muriaticum 6C (water balance). One option to explore is PetAlive Natural Moves for Healthy Digestion and Treatment of Constipation.
Ask a Question or Share a Story
Have A Constipation Related Question For Our Editors or A Story to Tell About This Topic?
Do you have a dog constipation or other digestive system related question for our Editors or a helpful story to share? Please include information such as age, sex, breed, medical history, diet changes in behavior and medications.

We will do our best to get back to you quickly (depends on how many questions we receive each day). If you do require an immediate response we suggest using this online dog veterinary service that is available now.
What Other Visitors Have Asked and Vet Responses
Click below to see contributions from other visitors to this page...

Sources
Hound Health Handbook
Brevitz, Betsy DVM
Diseases of the Anus and Rectum
Willard, Michael