Table of Contents
Summary:
"A dog sinus infection is like a sinus infection in humans with similar symptoms such as runny nose, nasal discharge, sneezing, coughing and gagging. The sinuses are air pockets that extend from the canine nasal cavity. Both are lined mucous membranes. Dog rhinitis refers to inflammation of the mucous membrane lining of the nose, while sinusitis refers to inflammation of the lining of the sinuses.
When the canine sinus lining is damaged by a foreign body such as a blade of grass that gets caught in the nose, the result is an injury that can trigger a sinus condition such as sinusitis or bacterial rhinitis . The primary cause of rhinitis and sinusitis in dogs are parainfluencza virus, adenovirus and herpsvirus. A case of dog distemper can also result in a sinus infection. In older dogs, the condition can be caused by a tumor or infected teeth.

For infrequent infections antibiotics are helpful. For frequent sinus problems, a more holistic approach should be tried."
Overview
The sinuses are air-filled bony cavities in the skull that connect with the nasal cavities. They are prone to infection, especially after a cold or other upper respiratory tract infection. The lining of the cavities becomes inflamed and the cavities become filled with fluid. Sinus infections can be caused by a bacteria, virus, or fungus.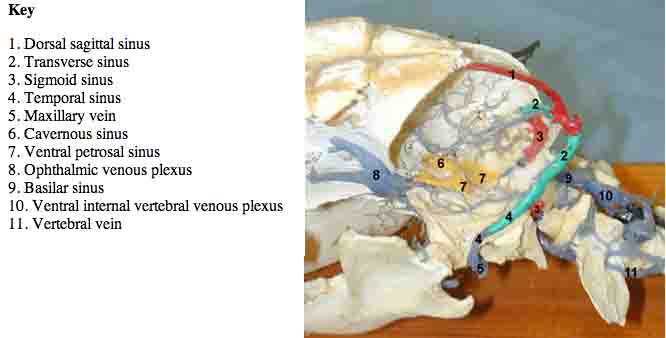 Dog Sinus Anatomy
Source: University of Pennsylvania School of Veterinary Medicine
Dog Sinus Infection Symptoms
Dog sinus infection symptoms include discharge from nose and eyes, sneezing, and coughing or gagging. On rare occasions, your dog may have nosebleeds. Your dog may or may not have a fever.
Other symptoms may include loss of energy and loss of appetite. In humans, sinus infections cause headaches and sore throats, and there is no reason to think they do not cause the same discomforts for dogs.
Canine Sinus Infection Diagnosis
Symptoms of a canine sinus infection could be a simple cold, so you might want to wait a day or two to see if they clear up on their own before seeing your vet. If the symptoms persist, however, you will need to take your dog to the doctor. Take your dog to the vet right away if he has a nosebleed, as this can be a sign of serious problems. If you see book streaked discharge, the problem may be due to a tumor, dental abscess or fungal infection.
Your vet will do a complete exam, paying careful attention to your pet's nose and eyes and to his breathing. Your vet may do x-rays to look at your dog's sinus cavities or take a culture of the discharge. A medical device called an endoscope allows the veterinarian to get a direct look at the nasal cavity.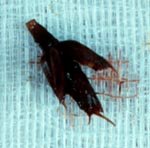 A foreign object like this sharp edged foxtail grass can get trapped in a dog nose and damage the mucous lining of the nose or sinus.
This enables infection to take hold, resulting in symptoms such as nasal discharge. The grass can leave the nose and even travel to the lungs.
Source: Washington State Unversity
Dog Sinus Infection Treatment
Your vet will probably prescribe antibiotics for dog sinus infection treatment. If the vet suspects that the infection is caused by a fungus rather than bacteria, he or she will prescribe an anti-fungal medication instead. If the infection is caused by a virus, antibiotics will not help, but the infection will probably clear up on its own in a few days. Regardless, if your vet prescribes medication, make sure you give your dog the full course of medicine.
We do not recommend that you treat you dog's symptoms with over-the-counter children's cold and sinus medicine since ingredients such as acetaminophen and naprosyn (naproxen) can be harmful to your pet. Ask your vet about what kind and the proper dosage.
Try and keep your dog warm and dry. Limit his time outdoors, especially in cold weather. You might want to run a vaporizer near his bed, to help him breathe easier. Encourage him to drink plenty of water or as a special treat consider serving warm chicken broth.
Holistic and Natural Approach to Preventing Sinus Infections
Natural remedies can help to safely reduce your dog's symptoms of sinusitis, cut recovery time and also strengthen the immune system to prevent recurring infection without side-effects.
Supplements to look for include:
Nat. Mur (D6): reduces sneezing, runny nose, hayfever and other conditions linked to inflamed and watery mucus membranes.
Pulsatilla (30C): used to help with yellow/green discharge and coughing or sneezing that is worse at night,
Kali. bich (30C): for excess mucus and congestion.
Glycyrrhiza glabra (Licorice): is a anti-inflammatory, anti-viral and anti-allergenic herb. It reduces inflammation by stimulating the anti-inflammatory hormone, cortisol.
Thymus vulgaris (Thyme): Thyme has oils with antiseptic qualities that help treat infections in the sinus and respiratory system. Thyme also helps to relieve chronic coughing, muscle spasms and headaches.
A good source to for a sinus herbal supplement is Sinu-Rite which is a proven herbal dog sinus condition solution.
Ask a Question or Share Your Story
Have A Question about Curing, Treating or Preventing a Dog Sinus or Rhinitis Problemn?
Do you have a question? Share it and we'll answer it for free!

Our editors will pick 1 question to answer each week. Please include your dog's age, breed, medical history and if possible, a picture your dog that we can use when we publish the answer on the Dog Health Guide site. Please be sure to include your email address so that we can let you know when our Vet has reviewed the question. We promise to not to publish or share your email address.

We will do our best to get back to you quickly (it depends on how many questions we receive each day). If you do require an immediate response we suggest using this online dog veterinary service that is available now.
Other Reader Dog Sinus or Rhinitis Related Questions and Responses from our Vet
Click below to see contributions from other visitors to this page...

Reference
Sneezing and Nasal Discharge
Foster, Race DVM and Smith, Marty DVM
How I Treat Canine Nasal Aspergillosis
White, D.