Summary:
"Congestive Heart Failure in Dogs (CHF) refers to any weakening of the heart muscle and its ability to maintain normal blood pressure. It occurs in dogs that have some type of heart disease. That said, you can have heart disease without having congestive heart failure. The syndrome occurs when the heart cannot effectively pump blood. The result is fluid accumulation in areas such as lungs (pulmonary edema), belly (ascites) or chest (pleural effusion). The condition is frequently referred to as being left-sided or right-sided based on which area of the heart is affected.
The area of fluid accumulation dictates whether immediate veterinarian attention is required. Fluid in the lungs impacts breathing and will require immediate medical care. Fluid in other areas can be tolerated longer.
When to See or Contact a Veterinarian Immediately:
One symptom to watch at home is the breathing rate. Watch your dog breathe when resting and how the dog's sides rise and fall. One rise and fall is one breath. Count the number in 6 seconds and multiply by 10 to get breaths per minute. A normal dog will have a respiratory rate under 40. If you see your dog exceed this number, if the number is consistently increasing, or if you dog is struggling to breath, then immediately contact your veterinarian. Keep a log over time if you suspect a problem. If you notice other symptoms such as appetite loss, coughing, reluctance to exercise and tiredness, then notify your veterinarian.
Treatment:
Treatment options are similar to humans including the use of many of the same medications. Fluid can be removed from the belly and lungs using a needle."
Overview
The Dog Health Guide is a complete resource for understanding heart disease and congestive heart failure in dog. Heart Failure, commonly referred to as Congenital Heart Failure, simply put is the heart's inability to sufficiently fill with blood or its inability to distribute a sufficient amount of blood throughout the body.
Guide to Canine Heart Disease Topics covered on this site:
Congestive Heart Failure (this page):
Symptoms:
Canine Heart Arrhythmias:

Types of Canine Heart Disease:
Additional Topics & Questions: 
Canine Heart Failure Basics
1 in 10 dogs or over 3 million dogs a year are diagnosed with congestive heart failure in dog. Dogs do not get heart attacks like people do. Instead they are diagnosed with "heart failure". This doesn't mean their heart just stops working. It does mean that their heart is slowly failing and needs medical attention. The other major difference between dogs and humans is that in humans, heart problems are often caused by the build-up of fatty deposits or lesions. Dogs do not accumulate fat in their heart.
Dogs suffer from a weakening of the heart muscle. Your dog's body requires a certain amount of blood to be pumped through it. When the heart cannot keep up with what your dog needs, congestive heart failure occurs. To compensate, the heart may beat faster, resulting in more damage.
Congestive heart failure in dogs  is usually not curable, however with treatment your dog could continue to live a good quality of life. Depending on the extent of heart failure, the disease can worsen slowly. As the heart gets weaker, other organs are strained causing multiple health problems. Once under treatment, you might see heart failure (remember dogs do not have heart attacks, but have reduced heart function) effect your dog at random and infrequent times.
Anatomy of the Dog Heart
The heart is made up of two upper (atria) and two lower chambers (ventricles), connected by heart valves that regulate blood flow. Blood goes from your dog's body into the right atrium and then moves through a valve into the right ventricle. From the right ventricle the blood goes into the lungs where it receives oxygen. From there it goes into the left atrium and then the left ventricle. The left ventricle is the biggest part of the heart since it supplies the dog's entire body.
Blood Pressure is an important part of heart failure. It has two gauges - the systolic (the top number on the reading) which is the usual rhythmic contraction, following each dilation (diastole) during which the blood is driven onward from the chambers of the heart to the body and the diastolic (the bottom number on the reading) which is the usual rhythmic dilation, following each contraction (systole), during which the heart muscle relaxes and the chambers of the heart fill with blood.
Usually problems start in the heart valves as with age they don't fit together when closed as well as they did when your dog was younger (degenerative mitral valve disease). With leaky valves, the heart has to work harder which weakens the heart itself (the heart muscle). Mitral valve disease is the most common cause of heart failure in small dogs.


Diagram of Canine Heart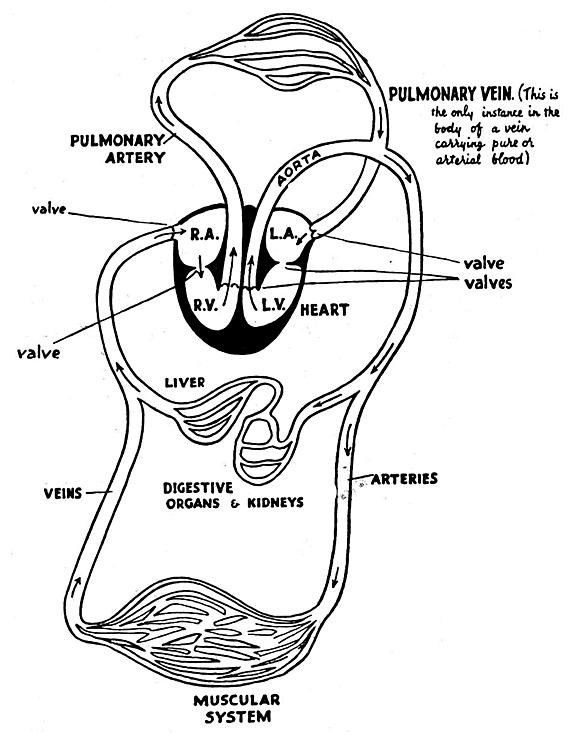 Canine Congestive Heart Failure Symptoms
Symptoms of congestive heart failure in dogs vary based on the part of the heart that is affected.
Left-sided Congestive Heart Failure
Fainting
Intolerance for exercise
Cough
Increased breathing rate
Right-sided Congestive Heart Failure
Fainting
Intolerance for exercise
Increased breathing rate
Abdominal distention
Canine Congestive Heart Failure Treatment
Therapy Goals
The goal for treatment is to decrease the workload of the heart while addressing any symptoms. A Veterinary Cardiologist will attempt to:
Improve the way the heart functions
Suppress or eliminate any arrhythmias
Relieve fluid accumulation
Medications
Primary medications used in treatment are Pimodendan, ACE inhibitors, and lasix. The veterinarian may also recommend a low-salt diet and less exercise.
Recent studies of ACE-I inhibitors show their effectiveness in dogs with certain kinds of heart disease. These are the same drugs used by human heart patients. In studies of the ACE-I drug enalapril in dogs with moderate to severe heart failure due to mitral regurgitation (MR) and dilated cardiomyopathy (DCM), enalapril improved survival by >100%, reduced reducing pulmonary edema (fluid in the lungs) and improved the quality of life scores. Exercise capacity is also improved in dogs with experimental mitral insufficiency.
Other drugs such as Benazepril has also improved survival time for congestive heart failure in dog vs. dogs that have not used the drugs. Angiotensin-converting enzyme inhibitors (ACE-I) have proven to provide additional benefits in human patients by blocking pathological remodeling, presumably slowing progression of heart disease and by normalizing serum electrolyte concentrations. Today, ACE-I represent the cornerstone in the chronic management of congestive heart failure (CHF). They are indicated in virtually all cases of systolic heart failure in which they are tolerated.
Problems sometimes occur if your dog is on ACE-I and other types of medications such as vasodilators, diuretics, and sodium restriction.
Whatever is prescribed, a veterinarian may request that your dog receive regular checkups in order to keep an eye on the condition.
Dog Pacemakers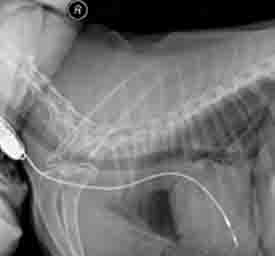 X-Ray of Dog Pacemaker
Source: Washington State University
It is becoming more common for dogs to have pacemaker implantation. It works the same way that it works in a human. An incision is made over the jugular vein and then the lead from the pacemaker can go to the heart muscle. The generator sits just under the skin of the neck. Complications are unusual (dislodgement of the lead to the heart muscle). After a few weeks of implantation, the chance of complications goes down. Symptoms in dogs that may benefit from a pacemaker are collapsing, weakness, lethargy or a dog with a low heart rate. After placement of the pacemaker a lethargic dog will be livelier and more energetic as early as 2 days after implantation.
Ask your holistic veterinarian about herbal and homeopathic remedies that have a good track record for success in supporting the heart and circulatory system. A good source for a supplement made for this purpose is PetAlive Heart & Circulation Tonic for natural treatment and prevention of heart disease and improved circulation.
How Long Can A Dog Live With Congestive Heart Failure?
There are no drugs available that can slow or prevent heart disease in dogs. If the heart disease becomes congestive heart failure (CHF), dog life expectancy is an average of 6 to 12 months. Medications can be used to provide a good quality of life during this time.(1)
Free Brochure
Ask a Question or Share a Story
Have A Dog Heart Related Question For Our Editors or Story For Our Readers?
Do you have a Dog Heart related question for our Editors or a Helpful Story to Share? Please include information such as age, sex, breed, medical history (past diagnosis), medications your dog is taking, recent changes in behavior (lethargy, appetite), etc. Pictures are also helpful in identifying problems such as fluid accumulation in the abdomen.

We will do our best to get back to you quickly (depends on how many questions we receive each day). If you do require an immediate response we suggest using this online dog veterinary service that is available now.
What Other Readers Have Asked about Dog Eye Problems and Answers from our Vet
Click below to see contributions from other visitors to this page...

Best Dog Enlarged Heart Medications?

My 14 year old Chihuahua was recently diagnosed with an enlarged heart. She is 8.3 pounds (she gained weight due twisting her back and being put on steroids …
Dog with Enlarged Heart

Our darling Peekapoo is 13 and has an enlarged heart that is causing her to have choking and coughing sessions. She is on dog heart medications now with …

Treating Pug Dog with Heart Degenerative mitral valve disease (DMVD) Not rated yet
My wife and I are expats living in Shanghai for the last 1.5 years with our 12 year old pug. He's always been healthy and playful, and we've done well …
References
PennVet - Ryan Hospital
Nelson, O.R. - "Home Care of the Heart Failure Patient" - Washington State University
Dukes, Joanne, "Canine Heart Disease", MRCVS Department of Veterinary Medicine University, Glasgow Veterinary School, Scotland, UK
Hearty Dog
Hines, Ron DVM, PHD "Heart Disease in Dogs and Cats"
Heart Conditions: Dilated Cardiomyophaty (DCM) "Treatment for Rapid Heart Beat" Yankee Golden Retriever Rescue
New Hope Animal Hospital, Canine Cardiology, "His Heart is In Your Hands"
Pawprints & Purrs, Inc, "Canine Dilated Cardiomyopathy and Heart Failure"
"Hole in Dog's Heart Repaired", Texas A&M University College of Veterinary Medicine and Biomedical Sciences
ACE Inhibitors and Azotemia in Dogs with Heart Disease, C.E. Atkins
Department of Clinical Sciences, North Carolina State University, College of Veterinary Medicine