Summary:
"Canine congenital heart disease (CHD) is a term that is used to describe many types of heart conditions that are present at birth and inherited from parents. Some symptoms may be apparent such as weakness, coughing or difficulty breathing, although some conditions may not show obvious symptoms. Treatment may involve exercise restriction, medications and surgery. The prognosis depends on the type and severity of the disorder.

The Doberman has a high incidence of the breed-specific form of the dog congenital heart disease DCM, or enlarged heart. Genetic tests can determine if breeding dogs have the mutation for the gene. It is the most commonly affected breed in the United States. Affected dogs die of sudden cardiac death or congestive heart failure.
(2)
Overview of Causes, Symptoms and Treatment of Congenital Heart Problems in Dogs
Canine congenital heart disease is a diagnosis that indicates a problem with the heart that may be present at birth or is hereditary and develops later such as a hole in the heart, an enlarged heart, stenosis (a narrowing that restricts blood flow) and other deformities.
You may notice symptoms such as weakness, lethargy, exercise avoidance, coughing, difficult or labored breathing, and respiratory issues that get worse at night. However in some conditions you won't see any symptoms, while the condition may unfortunately result in sudden death.
Treatment varies by the underlying cause and specific area of the heart affected. Your vet may advise exercise restrictions, medications and sometimes surgery. The overall prognosis of your dog will vary depending on the symptoms and the type of condition. For example a hole in the heart will require surgery, while an enlarged heart may be more difficult to monitor and correct and cause an abnormal heart rate that could result in death.
Atrial Septal Defect  (Hole in the Dog's Heart)

Description
Describes a condition characterized by a hole connecting the heart's two upper chambers. This canine congenital heart disease can be repaired with surgery in the same way a human heart can be treated. The procedure is performed by inserting a catheter through the dogs arm or neck.
Treatment
For an atrial septal defect, patients are hospitalized if unstable. A veterinarian might recommend restricted activity. A low sodium diet is recommended if a dog is experiencing congenital heart failure. There is a device that can be surgically implanted (amplatzer device) to close some heart defects. To correct the condition open heart surgery is required.
Stenosis in Dogs

The term stenosis refers to a narrowing which is restricting blood flow. The condition starts to develop weeks after birth.
Types of canine stenosis
Aortic Stenosis - When there is a blocked connection between the left side of the heart and your dog's body, causes a pressure overload.
There is an above average incidence in Newfoundland dogs, Golden Retrievers, Boxers, Rottweilers and other large breeds.


Pulmonic Stenosis - When there is a blocked connection between the right side of the heart and the lungs. Patients often have a heart murmur.
Common type of stenosis in dogs, with a higher incidence in English Bulldogs.


Patent Ductus Arteriosus - When in the womb there is a blood vessel that directs blood away from the lungs. If this blood vessel doesn't close when born, patent ductus arteriosus occurs. This disease is considered to be the most easily treatable, with the result of surgery allowing a dog to live a normal lifespan.


Subaortic Stenosis (SAS) - This common cause of canine congenital heart disease refers to an obstruction in the left ventrical located under the aortic valve. This causes pressure across the obstruction. A 1994 study of the disorder showed that dogs that had a mild obstruction in most cases did not experience symptoms and lived a normal life. Dogs with moderate problems did develop some clinical signs, but lived into middle age. These dogs suffered from left heart failure more frequently than those with a severe obstruction. Dogs with a severe subarotic stenosis lived a median of 18.9 months. Dogs with severe cases experienced sudden death 16x more often than more mildly affected dogs.


Mitral Stenosis - If the mitral valve is narrow and leaks, blood has trouble passing from the left atrium to the left ventricle (where the blood pumps).
Diagnosis
Several tests are used to view and diagnose changes to the heart muscle caused by a canine congenital heart disease:
Thoracic X-rays are used to detect enlargement on the left side of the heart. X-Rays will also be used to check for myocardial hypertrophy (increase in size of myocardial muscle).
Echocardiograms can be used to check on the severity of the heart disease, thickening of the heart 's ventricular wall and narrowing of the ventricular tract.
Dopler Echocardiograph is a test using sound to determine the pressure gradient (degree that blood is being held back by an obstruction).
Dog Enlarged Heart (DCM)
Description
A dog enlarged heart or DCM (Dilated Cardiomyopathy or Congestive Cardiomyopathy) is a primary muscle disease of the heart. This type of canine congenital heart disease results in a reduction in heart output which can effect the normal functioning of the renal (kidneys) and respiratory systems (as well as all parts of the body).
A genetic test is available for Boxers and Dobermans which can determine if a dog has the gene mutation that leads to DCM (24 genes are involved(3)). More males than females have the problem with the median age between 4 and 10 years of age. The disease is specific to what is occurring in each dog or sometimes breed, as is the case in the Doberman Pinscher.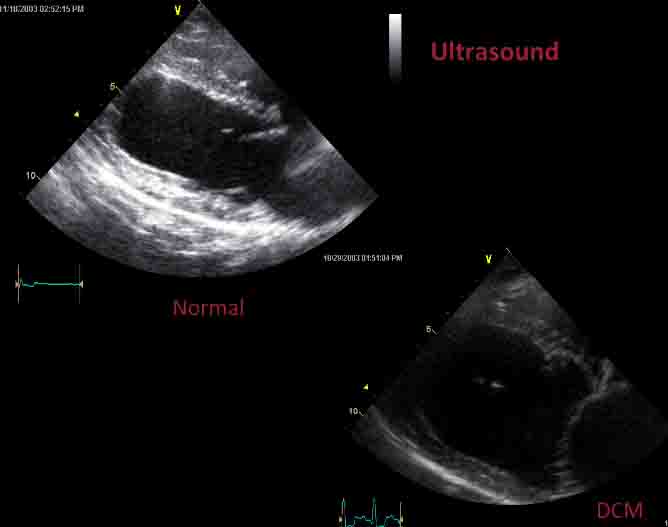 Echocardiogram shows left side of normal dog heart and dog with Dilated Cardiomyopathy. See how the left chamber is dilated, decreasing the ability of the heart to function. It also disrupts the electrical system of the heart, causing the heart to stop functioning.
(2)
Breeds Affected
There is a higher incidence of this canine congenital heart disease in Portuguese Water Dogs, Doberman Pinschers (most commonly affected), Cocker Spaniels and giant breed dogs. The disease is unique in the Doberman Pinscher vs. DCM in other breeds.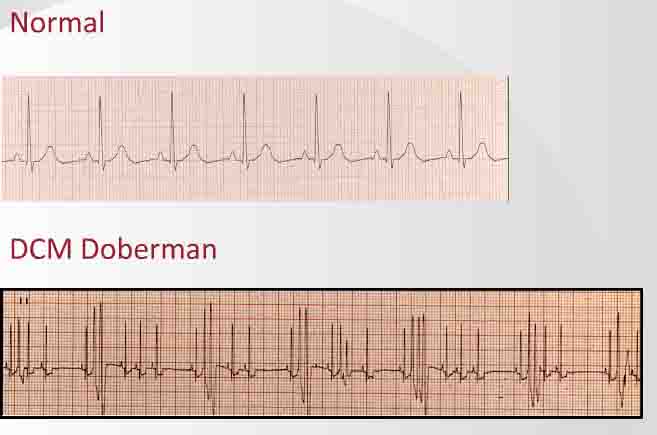 EKG of Dog With Enlarged Heart (DCM). Notice the difference in patterns. Normal beats are mixed with abnormal beats. The abnormal beats can lead to sudden death.
(2)
Symptoms

Not all dogs show symptoms (called asymptomatic). Those that do show symptoms exhibit:
Respiratory problems
-- Cough
-- Rapid breathing
-- Labored breathing
-- Short of breath
Weight loss
Lethargy or tired

Distended abdomen
Temporary loss of consciousness (syncope)
Treatment
Activity levels are determined by the dog. Therapy is outpatient in most cases. Diet might be adjusted to reduce salt intake. Medications referred to as ACE inhibitors (Enalapril) are considered the foundation of any treatment plan. If the heart has poor function another medication may be added called pimobendan, which is a phosphodiesterase inhibitor used for vasodilation, which increases the capacity of the blood vessels. Early intervention is not always called for until the disease develops and results in symptoms.
Any dog heart arrythmias are controlled with digitalis and the beta blocker atenolol as well as other medications depending on condition of the dog. Dogs are sometimes put to sleep if medications do not keep them comfortable.
The prognosis is not good with dogs surviving 6 months to 2 years after diagnosis. Dobermans tend to survive toward the lower end of that range. Fish oil seems to slow down muscle loss and is safe.
Mitral Dysplasia
Uncommon in dogs.(4)  A leaky mitral valve causes this condition and is being seen with increasing frequency in Bull Terriers and the Cavalier King Charles Spaniel. When a mitral valve leaks, the left ventricle of the heart contracts causing some blood to leak backward into the left atrium (called Mitral Regurgitation).
Overall Prognosis
There are few studies on the prognosis or how long a dog will live after being diagnosed with a canine congenital heart disease, and even less if a pet parent decides not to pursue treatment. Since there aren't studies to rely on, a veterinarian will base the prognosis on the clinical findings from tests and the in-office examination.
Canine Congenital Heart Disease Prognosis

Not Correctable By Surgery Or Other Treatment (1)
Heart Disease Findings Leading to a Better Prognosis

Heart Disease Findings Leadings with a Poor Prognosis


energetic, appropriately sized, curious dog , the same size as other pups in the same litter
clinical exam indicates no symptoms such as exercise avoidance, respiratory problems, skin and mucous membrane discoloration (cyanosis), fluid accumulation in the abdomen (ascites)
absence of abnormal expansion of the brain cavities (hydrocephalus)
loud heart murmur that accompanies a ventricular septal defect or VSD (hole in the heart)
no heart arrhythmia
minimal heart enlargement
normal heart contractile function


lethargy
smaller than other dogs in the same litter
symptoms associated with heart failure
presence of a heart arrhythmias
loud heart murmus accompanied by a stenotic lesions
signs of cyanosis (membrane discoloration)
presence of other diseases
Subaortic Stenosis (narrowing of the left ventricle due to obstruction)
Presence of an atrial septal defect (ASD) which is an abnormal opening in the wall between the right and left atria (heart chambers)

Findings from tests such as X-rays and echocardiograms
Enlarged heart chambers