Heart Disease In A Dog
"Heart disease in a dog is the second most common cause of death after cancer affecting approximately 15% of dogs. Canine heart problems are classified by whether it was something your dog had from birth (congenital heart disease) or was acquired during your dog's life (acquired heart disease). Dog congestive heart failure (CHF) describes the slowing of a worsening of symptoms, as the heart attempts to compensate for whatever is causing the problem. As heart function declines, other parts of the body that rely on blood flow are affected."
Types of Acquired Heart Disease In A Dog
Dilated Cardiomyopathy - In this disease the ventricular section of the heart becomes enlarged or dilated. The condition is seen more often in certain breeds when a dog becomes an adult such as such as a Doberman Pinscher, Irish Wolfhound, Great Dane and Boxer. Male dogs whose mothers have the condition are also at risk.
Chronic Valvular Heart Disease In A Dog (Mitral Valve Disease) - There are four valves in a dogs heart. One of the valves in the mitral valve (MV). In chronic valvular disease the heart valves do not close in the right way, causing problems with the way blood flows through the heart and leaks. This often occurs with advanced age from wear and tear.
This disease is often diagnosed when your Veterinarian hears a heart murmur. It can occur in a dog as young as 6 years old and as old as 10 years.
When blood does not pump correctly through the heart and lungs, blood flow slows down, allowing fluid to leave the capillaries and enter the lungs. Fluid build-up is a sign of heart failure. The build-up of fluid causes constant coughing when your dog attempts to constantly clear its throat. The strain on your dog's body could also cause weakness.
The fluid build-up in the lungs is called canine pulmonary edema. Fluid can also build-up in the abdomen and below the skin (canine peripheral or limb edema). When your Veterinarian sees multiple signs of fluid build-up, they also assume some form of heart disease. Unlike people, surgery is often not recommended to fix a leaking valve.
Arrhythmogenic Right Ventricular Cardiomyopathy (ARVC)) - This condition is due to an electrical problem in the heart. Often found in adult boxers.
Myocardial Disease - When the heart gets weak and then enlarges.
Pericardial Disease - There is a sac that surrounds the heart and protects it. It the SAC fills with fluid, it doesn't pump efficiently.

Heart Arrhythmia Canine - A healthy dog's body automatically changes its heartbeat. Like a human, if a dog is active, the heart beats faster, and at rest it beats slower. If you dog has heart arrhythmia canine, your dog cannot regulate its heart beat as well as it should.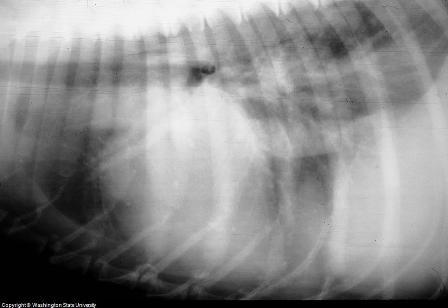 Heart Disease in a Dog
Lateral view of the thorax of a dog with left heart failure showing cardiac enlargement and pulmonary edema. Canine pulmonary edema is a condition where fluid accumulates in the lungs, usually because the heart's left ventricle does not adequately pump
Source: Washington State University
Types of Congenital Heart Disease in a Dog
Unlike human heart disease, the medical community does not understand the genetic defect necessary to pass heart disease from one generation to the next. The most common congenital heart defect in dogs are:
Ductus arteriosus (PDA) has been demonstrated to have a genetic origin in poodles. Other breeds where PDA is seen include the Maltese, toy and miniature poodle, and the Shetland sheepdog.
Subaortic stenosis - Stenosis means that there is a narrowing of valves in the heart. This deisease has been demonstrated to be genetically passed down in the Newfoundland.
Pulmonic stenosis (PS) has been demonstrated to be genetic in the beagle. Pulmonic valve stenosis (PS) is a stenosis (valve narrowing) or dysplasia (abnormal cell development) of the actual valve, rather than a subvalvular lesion (a mass in the valve). This type of heart disease is seen more often in smaller breed dogs such as Fox terriers, miniature schnauzers, West Highland white terriers, beagles and English Bulldogs.
Subvalvular arotic senosis (SAS) - Diagnosed by finding a heart murmur and then a check for other symptoms. This disease if very difficult to diagnose and is done with a test called doppler echocardiographic identification which will show a problem with blood flow in the left ventricular. This condition is found in the NewFoundland and Boxers.
Sources for Heart Disease in a Dog:
Nelson, O.R. - "Home Care of the Heart Failure Patient"Washington State University.
Dukes, Joanne, "Canine Heart Disease", MRCVS Department of Veterinary Medicine University, Glasgow Veterinary School, Scotland, UK
Hines, Ron DVM, Heart Disease in Dogs and Cats?
Heart Conditions: Dilated Cardiomyopathy (DCM) "Treatment for Rapid Heart Beat" Yankee Golden Retriever Rescue
New Hope Animal Hospital, Canine Cardiology,"His Heart is In Your Hands"
Pawprints & Purrs, Inc, "Canine Dilated Cardiomyopathy and Heart Failure"
"Hole in Dog's Heart Repaired?, Texas A&M University College of Veterinary Medicine and Biomedical Sciences
IVIS

Inherited Heart Disease: Diagnosis and Screening
Kathryn M. Meurs, DVM, PhD, DACVIM
College of Veterinary Medicine
The Ohio State University
Have A Dog Heart Related Question For Our Editors or Story For Our Readers?
Do you have a Dog Heart related question for our Editors or a Helpful Story to Share? Please include information such as age, sex, breed, medical history (past diagnosis), medications your dog is taking, recent changes in behavior (lethargy, appetite), etc. Pictures are also helpful in identifying problems such as fluid accumulation in the abdomen.

We will do our best to get back to you quickly (depends on how many questions we receive each day). If you do require an immediate response we suggest using this online dog veterinary service that is available now.