Summary:
"Canine or Dog Hip Dysplasia (CHD) is a condition where the ligaments, muscles and connective tissue that control and support the hip no longer keep it in place (called hyperlaxity).
The problem is common in dogs, affecting approximately 25% to 30% of all pets. Symptoms associated with canine hip dysplasia include loss of mobility, lameness and pain. When symptoms are detected in puppies, it rarely occurs prior to age 4 to 5 months, but can develop as early as age 5 to 9 months. In some dogs, symptoms are not seen until age 3 to 5 years.
Veterinarians try and diagnose the disorder early in order to prevent secondary problems such as abnormal joint remodeling and osteoarthritis. Treatment includes conventional approaches such as weight loss, exercise and heat therapy to prolotherapy, which involves the use of vitamin B12 or dextrose injections combined with lidocaine. While this dog hip problem cannot be prevented, the impact of the disease can be reduced by knowing the incidence of the disorder in your breed, and through proper nutrition and by maintaining the ideal body weight for your dog."
Overview
Dog Hip Dysplasia (CHD, canine hip dysplasia) is a progressive disease that occurs in old age. It is a genetic disorder, with some breeds having a higher incidence than others. The disorder is widespread with 25% to 30% of dogs suffering from the condition. The disorder is caused by a laxity of the ligaments, muscles and connective tissue which holds a dog's hip in place. It is rarely seen in dogs under 5 months of age, and often does not result in clinical signs or symptoms until age 3 to 5 years old.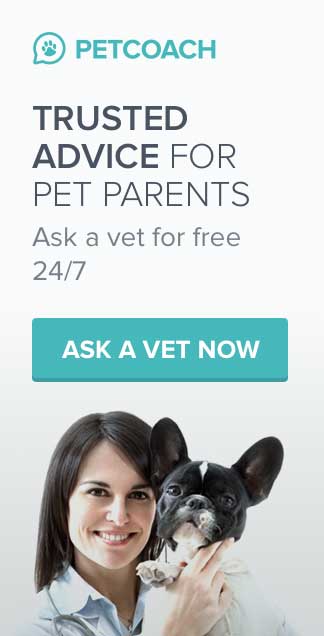 Dog Hip Dysplasia Video
This video featuring Dr. Anthony Cambridge, who is board certified in veterinary surgery, provides a complete overview of hip dysplasia in dogs.
Breeds and Hip Dysplasia
Large and giant breed dogs are most at risk for dog hip dysplasia. Smaller breeds can also get the dog hip disorder.  Breeds include:
French Bulldogs
Bulldogs
German Shepherds
Bernese Mountain Dogs
Bavarian and Hanover Hound
Rhodesian Ridgeback
Golden Retrievers
Rottweilers
Labrador Retrievers
Chesapeake Bay retrievers
Saint Bernards
English Mastiffs
Dog Hip Dysplasia Symptoms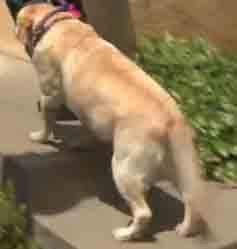 Watch for Signs of Hip Dysplasia For Dogs When a Dog is Walking or Going up Stairs.
Note How This Dog with Hip Dysplasia Keeps Both Legs Close Together and Then Will "Bunny Hop" with Legs Together Up the Stairs
Source: VedVid
Canine hip dysplasia symptoms include:
Making any noise or vocalizing when you handle your dog
Stiffness

Shifting weight from one side to the other
When dog cannot stretch
Reluctance to extend rear legs
Odd gait or tight skirt with the legs moving together when running rather than alternating (looks like a bunny hop)
During long walks frequent sitting
Avoidance or reluctance to play (watch for this in puppies), jump, go up or down stairs, climb, or walk
Difficulty getting up after lying down
Early exhaustion
Canine Hip Dysplasia Diagnosis
A veterinarian will examine the way your dog moves and then conduct a physical. Any observations will be confirmed with an X-Ray. New diagnostic methods such as the PennHIP model can detect the potential for hip dysplasia as early as 16 weeks of age. The PennHIP model can also detect osteoarthritis.
Canine Hip Dsyplasia Treatment
Your veterinarian will recommend a treatment plan based on the condition of your dog.  This can include:
Exercise
Controlling your dog's weight to take the pressure off of the joints
Nutrition
Surgery
Prolotherapy: A surgical alternative where vitamin B12 or dextrox is combined with lidocaine into the tendons or ligaments. The approach stimulates the immune system to rebuild the tendon where the injection takes place
Surgery: Very limited window to correct developing canine hip dysplasia. Cannot be used once cartilage is damaged.  Best results occur when lameness and other disease symptoms have not yet appeared. Surgery will not be used if the veterinarian believes that it will not prevent the onset of osteoarthritis:   

Triple Pelvic Osteomy (TPD): used in dogs 5 to 12 months old with no or small signs of osteoarthritis and joint subluxation. The procedure can prevent osteoarthritis and all the joint to enjoy full function.
Juvenile Public Symphysiodesis: This procedure is used in 3.5 to 4 month old puppies. Dogs that undergo this procedure have a positive result from a test called Ortolani. 
CHD Prevention
The condition cannot be prevented since it is genetic. If diagnosed early in life, the progression of the disease can be altered. For example, early detection can help to prevent the onset of osteoarthritis triggered by the dysplasia. Also, ask your veterinarian if your dog will benefit from a supplement formulated to  promote muscle and joint health in dogs such as Muscle and Joint Support.
Ask Our Vet A Question or Share Your Story

Have a Question for Our Veterinarian about Dog Hip Problems?
Do you have a question about Hip Problems in Dogs? Share it! Our Veterinarian and Editors select several questions a week to answer for free. Just provide your dog's breed, age, sex, medications, changes in behavior and medical history.

We will do our best to get back to you quickly (depends on how many questions we receive each day). If you do require an immediate response we suggest using this online dog veterinary service that is available now.

Further Reading:

References:
Dog Fancy Magazine
Early Diagnosis and Treatment of Hip Dysplasia
A. Vezzoni
Cinica Veterinaria Vezzoni, Cremona, Italy