Table of Contents
Summary:
"Understanding dog liver disease requires an understanding of the cause of the liver disease plus a diet and supplements that support liver health. Descriptions and treatment options for common causes of liver disease in dogs are listed in the treatment section of this page."
Overview
Canine liver function is important in maintaining good health. This organ is affects several areas of the body including the ability to clot blood, the ability to break down harmful toxins before entering the body, the removal of waste products from the blood and the storage of energy.
Many toxins can injure the dog health liver such as certain drugs: NSAIDs, acetaminophen, phenobarbital, primidone, bacteria, enterotoxins, endotoxins (LPS). Toxins can also come from molds, fungi, algae, spoiled or contaminated food, or effects of certain metals (copper and iron).
The liver, the gallbladder and the pancreas are all part of the digestive process. The liver stores Vitamins A, D, E and K and produces bile, which is essential in the breakdown of fats.
The gallbladder stores the bile which is produced by the liver and releases it during digestion. The pancreas not only produces pancreatic juice which contains digestive enzymes that help in the breaking down of food, it also plays a vital role in controlling the level of sugar in the bloodstream by secreting two important hormones, insulin and glucagon.
There are breeds that have a higher incidence of canine liver disease including Spaniels and Terriers.
Picture of Emaciated Doberman with Canine Liver Disease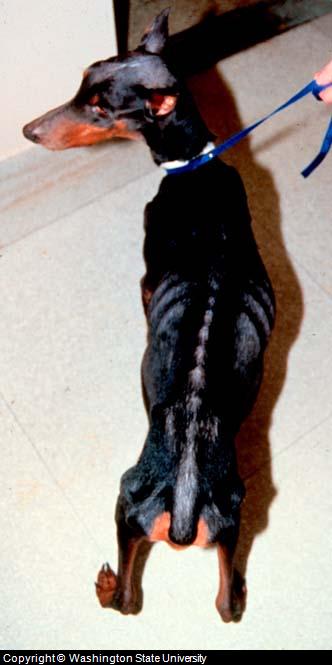 Diagnosis of Dog Hepatic Diseases
A physical exam is the first part of an exam for canine liver disease where your veterinarian will determine the size of the liver and any other physical abnormalities such as an extended abdomen.
If the liver is smaller than normal in a younger dog it is a sign of the disease portosystemic shunt. In an older dog a small liver means that the liver cells are dying and not being replaced. If the liver is large and sore it could be caused by a virus, bacteria, toxin , parasite or fungus. If the liver is larger than normal, but causing no pain it could be Cushing's disease, diabetes or from phenobarbital use.
Your veterinarian will do a blood test to look for dog health liver related elevated enzymes in the liver since a higher level than the norm indicates that liver disease is present. The blood test will be a screen for levels of the following:
Glucose - high levels associated with Cushings Disease and diabetes.


Albumin - low levels mean that the liver isn't generating enough of this critical substance that keeps fluid from leaking from the blood vessels. Could be the cause of an enlarged abdomen.


Bilirubin - Causes the red color in red blood cells. Too much bilirubin could cause large numbers of red blood cells to die.

If your veterinarian diagnoses canine liver failure or a liver tumor then there are a variety of treatment options that can be explored, most involving prescription medications, dietary change and supplements.
Causes and Treatments
Treatment options for dog health liver vary based on the cause of the liver disease.
Necroinflammatory: Diseases such as hepatitis requires immunomodulation drugs (drugs that change the immune system), antioxidants, antifibrotics (affects body tissues).

Cholestatic Conditions (where substances that should be released by the liver are retained): Conditions in this class of liver disease include Parenchymal disorders (issues with the cells in the liver) with hyperbilirubinemia or high BA (high levels of bile in the liver), bile duct focused disorders: CCHS, cholangitis, EHBDO, biliary mucocele, hepatocellular dysfunction / canalicular collapse such as severe vacuolar hepatopathy (VH, dogs). Treatment includes surgery to remove any source blocking the ducts in the liver, UDCA (Ursodeoxycholic Acid), SAMe (antioxidant, other effects), antioxidants.
Metal Associated: Your veterinarian will use Chelation (the process of using chemicals to bond with toxic metals which are then naturally removed from the body). Treatment includes protein restriction, antioxidants and zinc supplements.

Fibrogenesis (juvenile fibrosing hepatitis; Inflammatory: CH, chronic CCHS, chronic EHBDO): These conditions are caused by excess connective tissue in the liver. Treatment can include Polymodal therapy (polymodal nerve cells line the liver), immunomodulation (immune system therapy), antioxidants, Vitamin E, Silibinin (stunts the growth of tumors), polyunsaturated phosphatidylcholine (fatty acid) or colchicine (derived from a plant). Colchicine inhibits neutrophil function (type of white blood cell) & collagen disposal with strong side effects if dosed too high.

Hepatotoxicity: From toxins in the body. Be sure that toxins are not from environmental causes that could be corrected such as infection or contaminated water. Treatment involves removing the cause of the toxin using a colonic lavage (cleansing of the colon), vomiting, activated charcoal, sorbital. Treatments also include herbal remedies and antioxidants: n-acetylcysteine (NAC), SAMe, silibinin, and Vitamin E. For mushroom toxicity your veterinarian will recommend silibinin and penicillin (impairs cell toxin uptake).

Portosystemic Vascular Anomaly (PSVA): This condition is due to Congenital macroscopic portal shunting "around" the liver; congenital microvascular intrahepatic shunting (microvascular dysplasia, MVD). Treatment is usually surgery or with * Rx: PSVA: surgical ligation or medical management of hepatic encephalopathy (berbal treatment) or zinc.

Biliary Mucocele: When billary material is trapped inside the liver. Treatment is to remove what is blocking the liver, drink plenty of water, Treatment includes antibiotics, a fat restricted diet (if hyperlipidemia) and vitamin E.

Vacuolar Hepatopathy (VH): Liver cells that are bloated with excess storage of glucose due to liver disease. This disease is associated with the chronic release of inflammatory cytokines which are white blood cells the help communicate between cells. This condition is often associated with dental disease, skin infections and uncontrolled cell growth called neoplasia. Treatment is to identify and treat underlying disease process; such as sex hormone related adrenal hyperplasia (abnormal cell growth) which is treated with lysodren.
"Reactive" Hepatitis: Diagnosed for unexplained liver enzyme activity; a term applied to liver biopsies lacking a distinct pattern but showing multifocal lipogranulomas (small clusters of macrophages (white blood cells that take in foreign matter). Since reactive hepatitis is not a disease beware of recommendations (pathologist) to intervene with anti-inflammatory /immunomodulatory treatments if the description of what your dog has seems vague.
Nutrition
Balanced nutritional support for dog health liver is critical with most dogs requiring a high protein, low sodium, low copper diet. See our complete guide to canine liver disease dietary choices and restrictions including home prepared meals and dietary supplements. All of this is part a step by step approach to canine liver detox.
Antioxidants
Approximately 65% of dogs with inflamed bile ducts (necroinflammatory liver disorders) have low liver GSH concentrations (molecule that helps cells under stress). Antioxidants to consider include Direct Thiol / Glutathione Donors - N-Acetylcysteine, S-Adenosylmethionine, Whey Protein and Silibinin (Milk Thistle), Vitamin E (α-tocopherol), Ursodeoxycholic Acid (UDCA), Copper (Cu), Zinc Supplementation, Azathioprine, Mycophenolate Mofetil, Metronidazole, Methotrexate( A folic acid antagonist).
Antifibrotics for Canine Liver Health
A number of agents provide antifibrotic influences including antioxidants (SAMe, Vitamin), UDCA, and Silibinin, polyunsaturated phosphatidylcholines (extract of soybeans or salmon roe (PPC), and colchicine.
Herbal Supplements for Dog Liver Health
Before using any herbal supplement make sure your veterinarian has diagnosed your dog's liver condition and agrees that herbal or natural supplements are worth trying.
Since the liver controls digestion and other bodily functions, natural supplements have a successful track record of use in the treatment of liver conditions and the promotion of liver function.
Supplements to consider in dog liver health supplement include:
Carduus marianus (Milk thistle): one of the most important herbal liver restoratives. Medical use of Milk Thistle may be traced back more than 2000 years. Milk Thistle has been part of many clinical trials which demonstrate its effectiveness. Scientific analysis of Milk Thistle shows that it contains a flavonoid complex called silymarin, which is largely responsible for the medical benefits of this herb.
Silymarin: is an anti-oxidant and can block the entrance of toxins into the liver and remove toxins at cellular level.
Arctium lappa (Burdock): has been used for many centuries as a blood purifier and system cleanser. It also has antibiotic and antirheumatic properties and is very useful in the treatment of digestive sluggishness, especially after following an overly rich and unhealthy diet.
Chelidonium majus (Greater Celandine): is a traditional folk remedy for indigestion, jaundice and sluggish livers. Clinical trials have supported this traditional usage and extracts of Celandine have been shown to stimulate the production of bile and pancreatic digestive enzymes.
Kalium Muriaticum (C6) (Kali. Mur.:) is one of the most important biochemic tissue salts when it comes to liver health. Acting as a system cleanser and purifier, it is essential for treating a sluggish liver and for pets who suffer from heartburn and belching.
Natrium Phosphate (C6) (Nat. Phos.):
is another biochemic tissue salt that has important benefits to the liver and gall bladder.
Natrium Sulphate (C6) (Nat. Sulph.):
acts as a cell cleanser and is often recommended to detoxify the liver.
A good commercial source for additional research and supplements made for dogs with liver problems is
PetAlive.
Ask Our Vet A Question And We Will Answer It For Free
Have A Question or Want to Share Your Experience about a Dog Liver Problem?
Do you have a dog liver condition related question or experience to share? Help other dog owners! We'll select 1 question to answer each week.

We will do our best to get back to you quickly (depends on how many questions we receive each day). If you do require an immediate response we suggest using this online dog veterinary service that is available now.
Reader Dog Liver Related Questions and Vet Suggestions
Click below to see contributions from other visitors to this page...

Elevated AST Dog Liver Enzymes

I have a 9lbs Maltese who turned 2 yrs last week. When I was getting Dior neutered last year (at 11 mths) his vet ran blood work & found out that he has …
Is This a Dog Liver Problem

Shyann has always been a healthy dog, but in the past month she has lost alot of weight. She is a 11 year old Bolder Collie Blue Heller mix. I can …
Unexplained Blood in Urine Not rated yet
Dog Blood in Urine Reader Question: My 11-year old border collie started urinating more frequently with blood in her urine several months ago. The vet …

Reference for Dog Liver Health and Disease
Update on Liver Disease
S.A. Center
College of Veterinary Medicine, Cornell University, Ithaca, NY, USA