Summary:
"The diet for a dog with liver disease should be tailored to your dog's specific level of liver function. In general, canine liver disease diets should be low in sodium and copper. Protein, vitamins and supplements can be helpful in boosting energy and in promoting improved liver function."
Overview
Diets for dogs with liver disease should be formulated for your dog based on the specific diagnosis provided by your veterinarian. The diet should be calibrated based on the digestive capacity of the diseased liver.
There are four goals for a canine liver disease diet:
Supply adequate energy and nutrients to fulfill basic requirements and prevent malnutrition.
To limit further liver damage by preventing accumulation of copper and free radicals.

To support liver cell regeneration.

To prevent or minimize possible complications, such as abnormal brain function caused by passage of toxic substances from the liver to the blood (called hepatic encephalopathy) and the buildup of fluid in your dog's abdomen (called ascites). 
Dogs with liver disease are usually suffering from a condition where less protein is being broken down (catabolic), resulting in increased energy needs and therefore the need for more protein.
Protein is Essential for a Canine Liver Disease Diet
The canine liver disease diet should contain normal amounts of high quality protein, at least 20% of daily calories. The exception to this is if your dog has hepatic encephalopathy, a condition in which the liver disease has advanced so far that the brain has become affected. In this case, a low-protein diet is recommended.
High-quality proteins are better digested and have an amino acid content close to the levels your dog needs. Foods that come from animals or from plants such as soy isolates, wheat gluten and dairy products are better tolerated than meat proteins in people, which may also be the case with dogs. Most veterinarians recommend that owners feed their dogs a mix of animal based and plant proteins since the use of soybean or lactose-containing dairy protein diets are not liked by some dogs and can cause diarrhea.
Non-Protein Calories
Non-protein calories help to prevent the use of protein (amino acids) for energy and reduce the need for your dog's body to manufacture glucose in the liver by converting protein molecules (called gluconeogenesis).
Normally, energy is obtained from fat since it is a something dogs like to eat and is a concentrated source of energy. Dogs with liver disease can tolerate larger quantities of fat in their diet (30 - 50% of calories).
Fiber in the Canine Liver Disease Diet
Moderate amounts of soluble and insoluble dietary fiber can help a dog with liver disease. Soluble fiber such as beet pulp and gums lowers the production and absorption of ammonia and helps the growth of beneficial bacteria. Fiber (both soluble and insoluble) also helps your dog rid itself of bile acids. Insoluble fibers (lignin, cellulose, hemicellulose) help to normalize transit time for feces, prevent constipation and bind toxins.
Vitamin and Herbal Supplements for a Canine Liver Disease Diet
The diet for a dog with liver disease should include vitamin supplements that act as antioxidants. Liver diseases cause greater generation of free radicals and oxidant stress. Supplementation with antioxidants helps to reduce liver injury.
B Vitamins: are often recommended at double the normal maintenance dose since this is a clinically supported approach in humans.
C Vitamins: Vitamin C is a antioxidant and should be part of a dog's diet with liver disease. Most dog foods meet the daily requirement for vitamin C. Do not overdose vitamin C since it could increase the intake of copper. Additional supplementation should only be necessary if your dog's liver is having trouble with digesting fat normally (fat malabsorption). Also note that some breeds should avoid supplementation (see copper for more information).

Vitamin E: may prevent canine liver disease from getting worse by reducing free radical or oxidant injury. A water-soluble form of Vitamin E is preferred, since the absorption of fat-soluble vitamins may be decreased in some forms of liver disease.
Vitamin K: helps with blood clotting and is recommended in cases of chronic liver disease. The liver produces clotting factors, and it does not produce or store vitamin K as well when it is diseased.
Zinc: A canine liver disease diet should also be supplemented with zinc since it is an anti-oxidant. It also reduces the risk of abnormal brain function caused by passage of toxic substances from the liver to the blood (called hepatic encephalopathy). Zinc reduces the accumulation of copper in the liver.


Adenosylmethionine (SAMe): may be helpful in reducing liver injury. Normally produced by the liver, SAMe is necessary for many functions of liver cells. It is also an anti-oxidant. Providing your dog with an oral supplement helps to to improve antioxidant function and has anti-inflammatory properties.
Phosphatidylcholine (PC): is a component of bile required for normal bile acid transport and a building block for cell membranes. There are no clinical studies showing that it is helpful in dogs (it has been shown to be helpful in humans).
Silymarin: a component of milk thistle, it is thought to have antioxidant properties and helps with reducing free radicals. Used for various types of liver disease, it also helps with toxicity. There are a few studies that support its use for dogs. Suggested doses range from 50 to 250 mg/day.
A supplement such as Pet Alive Liver-Aid formula combines many of these recommended supplements and is worth exploring. Check with your veterinarian so that they can track your dog's progress.
Minerals and Supplements to Avoid
Potassium: Diets for dogs with liver disease should avoid potassium. If your dog is not eating and therefore not getting any potassium your veterinarian may choose to give your pet the mineral through intravenous fluids.

Sodium: Moderate restriction of dietary sodium is recommended for dogs that have a lower than normal appetite or if your pet has hypertension.
Copper: Diets low in copper are recommended for certain breeds such as Bedlington Terriers, Doberman Pinscher, Skye Terrier and West Highland White Terriers, Airedale Terrier, Bobtail, Boxer, Bull Terrier, Bulldog, Cocker Spaniel, Collie, Dachshund, Dalmatian, German Shepherd, Golden Retriever, Keeshond, Kerry Blue Terrier, Pekingese, Poodle, Samoyed, Schnauzer, Wirehaired Fox Terrier.

These breeds are prone to a form of liver disease called copper storage disease in which too much copper accumulates in the liver and causes problems with liver function. It should be noted that dogs with copper storage disease should also not be given Vitamin C because it may increase the damage to the liver. If you have these breeds, your dog's diet should center around foods low in copper such as beef, cheese, eggs and tomatoes. Avoid lamb, pork and duck. Check with veterinary nutrition experts for a complete list.

Canine Liver Disease Diet Prepared at Home
These two diets were created by veterinary professionals for dogs with liver disease problems:
Home Canine Liver Disease Diet #1

(1000 g diet)

Chicken, breast with skin

220 g

Rice, Cooked

680 g

Carrots (boiled, drained)
60 g
Wheat bran
20 g

Rapeseed oil

20 g
Home Canine Liver Disease Diet #2:

(1000 g diet)

Beef, minced meat, 15% fat
100 g
Tofu
400 g
Rice, cooked
440 g

Carrots (boiled, drained)

30 g

Rapeseed oil

20 g

Wheat bran

10 g
In addition to either of these diets give your dog a supplement that contains the ingredients indicated above. Make sure that any selected supplement is low in sodium and copper. A good choice made specifically for this purpose is PetAlive. Check with your veterinarian to see if it would be helpful for your dog's specific condition.
Commercial Diet Options for Canine Liver Disease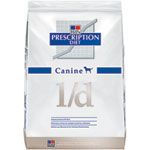 Canine liver disease diet formulated by Hill's Prescription Diet l/d. This option as well as those made by other pet food manufacturers use higher quality protein to reduce the amount of work done by the liver and to aid in the regeneration of liver tissue. They contain antioxidants such as Vitamin C and Vitamin E to avoid oxidative stress. 
Appetite Problems
If your dog has little or no appetite you can try warming your dog's food a bit to make it more appetizing. You can also try feeding small amounts several times a day. If that doesn't work, your dog may need to be force fed with a syringe or a feeding tube may need to be placed.
Your dog also needs to be getting plenty of fluids. If your dog is not drinking on his own, he may need to get IV or subcutaneous fluids to prevent dehydration.
Ask Our Vet A Question or Share Your Story

Have A Question or Want to Share Your Experience about a Dog Liver Problem?
Do you have a dog liver condition related question or experience to share? Help other dog owners! We'll select 1 question to answer each week.

We will do our best to get back to you quickly (depends on how many questions we receive each day). If you do require an immediate response we suggest using this online dog veterinary service that is available now.
Reader Dog Liver Related Questions and Vet Suggestions
Click below to see contributions from other visitors to this page...

Epileptic Dog With Elevated Liver Enzymes

Hello, I have a 9 year old Lhasa Apso who has been on Phenobarbital and Potassium Bromide for the past 4 1/2 years. We did a blood test in January of …