Summary:
"We may not think about it, but our dogs go "barefoot" all the time, and sometimes they need dog paw protection. In hot weather, hot pavement can burn their paws. In winter, walking on sidewalks that have been de-iced can lead to dry, chapped paws. This can encourage dogs to lick their feet, and ingesting the salt residue can lead to gastrointestinal upset. In all kinds of weather, dogs can get burrs, thorns, and other things stuck in their feet, causing them pain and difficulty walking. Follow the tips listed below for protecting dog paws and how to treat injuries such as burns."
Picture of Healthy Dog Paw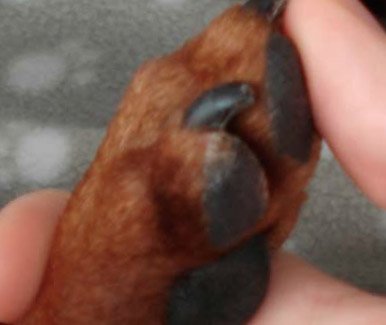 Tips for and Protection and Prevention of Dog Paw Injuries

Here are some tips for protecting your pet's paws:
Inspect your dog's paws regularly. If you notice any small cuts, wash them with an antiseptic soap. If there are large cuts or cuts are bleeding excessively, your dog should see a veterinarian.


Keep your dog's nails trimmed so they do not catch on anything and tear. If you don't know how to trim your dog's nails, ask your vet to show you, or take your dog to a groomer.


Watch for hazards in the terrain where you walk your dog. If you walk him in the city, watch for things like broken glass, gravel, and sharp concrete. If you walk him in the country, watch for sharp rocks, burrs, and thorns. If something becomes lodged in your dog's paw, remove it with tweezers and wash the paw well with antiseptic soap. If the wound is large or bleeds excessively, see your vet.


Frequently exercising your dog on hard surfaces such as concrete can cause sore feet. Applying a moisturizing lotion or petroleum jelly may help, but keep an eye on your dog's paw pads and on his tolerance for the activity.


In hot weather, don't walk your dog on asphalt or blacktop. Walk him in grassy areas where he won't burn his feet. Walk in the early morning to avoid mid-day heat with preference for grass surfaces.  To better prepare your dog, walk on the pavement, but only during cooler times of the day. Pavement will help the dog's paw pads by forming a protective callus.


In winter weather, if your dog walks on surfaces that have been de-iced, wipe his paws with a wet wipe when he comes inside to remove any salt or residue. If his paw pads are dry, chapped, or cracked, you can apply a moisturizing lotion or petroleum jelly. You can purchase boots for your dog for dog paw protection in winter, apply Mushers Wax or even apply some Pam or other unflavored non-stick cooking spray.


In snowy weather, balls of ice can form between the toes, especially if there is long hair there. You can trim the hair to reduce the formation of ice there. You should make sure to remove all ice from your dog's feet when he comes inside from a walk.


Only use pet safe ice melt. Chemicals in street salt and sand that prevents slipping can burn your dog's footpads, leading her to lick and ingest harmful chemicals. Wash her paws with warm water after walking outside. Check for frostbite, too.


Dog Boots are the best choice for dogs walking on rough terrain or in snow and ice. A good commercial source for dog paw protection is Muttluks Dog Boots.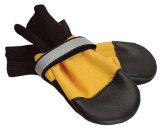 Dog Paw Protection is provided by using dog boots when outdoors in winter. This keeps snow and ice balls from forming in the dog paws.
Shown: Muttluks dog booties
A topical conditioner such as Musher's Secret Paw Care Products may be used alone for dogs walking on less rugged terrain, in conjunction with boots, or for dogs with particularly sensitive feet.


Take special care with paws that have been in the water as this softens the pads.
Swollen Dog Paws
A swollen dog paw due to insect bites, or puncture wounds from thorns or other sharp objects is common. Any skin puncture could introduce infection into the wound, requiring that the area be cleaned with Hydrogen Peroxide.
Dog Pad Burns
Hot pavement can result in dog pad burns. Symptoms include:
whining or heavy panting due to pain
redness or blisters on the paws
missing part of the paw pad
pads that are darker than normal
chewing or licking the feet
refusing to walk
limping
Burn on Dog Pad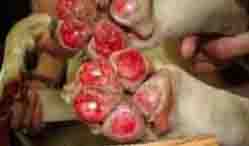 To treat dog pad burns clean the affected area with an antibacterial soap and rinse the area. Pat dry with a clean towel. Pour an antiseptic on the wound (such as beta dine or hydrogen peroxide) and allow to air dry. Note that after the first cleaning, only use hydrogen peroxide at half strength to avoid tissue damage.
Once the area is clean, apply an antibiotic ointment. Wrap the ankle and paw with gauze in a figure 8 pattern, looping around the ankle and paw to keep the bandage from coming off. Keep the entire area covered with a sock.
The best approach once cleaned and treated is to bring the dog to the veterinarian. Antibiotics may be needed due to the high risk of infection with this type of injury. Note that while other types of dog wounds are not bandaged to allow the wound to breathe, paws are an exception.
Dog Paw Moisturizer
Dogs with sensitive paws should have them moisturized daily. Options include Vaseline, Bag Balm or Mushers Secret. This will help to prevent minor pad cuts, peeling and cracking.
Ask Our Vet A Question And We Will Answer It For Free
Have A Dog Paw Related Question For Our Editors?
Do you have a Dog Paw related question for our Veterinarian or a Helpful Story to Share? Our Vet will answer it for free! Please include information such as medical history (describe visits to vet and any diagnosis/test results), age, sex, breed, medications your dog is taking, recent changes in behavior (lethargy, appetite, the way the dog walks or favors the paw), etc.

We will do our best to get back to you quickly (depends on how many questions we receive each day). If you do require an immediate response we suggest using this online dog veterinary service that is available now.
What Other Visitors Have Said
Click below to see contributions from other visitors to this page...

Fractured Dog Toe Not rated yet
Reader Question: Dog Toe Fracture Treatment Advice What is the best treatment? My 7 month old Rottie x came in limping about a week ago, after a …

Alternatives to Mushers secret Not rated yet
Reader Question: Protecting Dog Paws in the Snow We are taking our 6 month old puppy to the snow for his first time this weekend. We tried on booties …
Brochures on Dog Paw Protection
For More Information:
Winter Proofing Dog Paws
Author: Cesar Millan