Dog Beds Buying Guide

Summary:
"Dog beds vary based on how they are filled (foam, plastic polyfil, springs), shape, price and finishing touches. Beds that combine springs and other filling tend to be most comfortable. Dogs that have arthritis and need orthopedic support or are older tend to do best with foam. See our recommendations below.

While dogs can sleep anywhere, beds provide a soft place to rest, insulation from cold and heat, odor and hair control and a place where the dog can feel safe."
Dog Beds From Quality Manufactures Offer Quality Fabrics and Comfort
Shown:

Orvis
Overview

There are a number of different types of canine beds available, and it can be confusing to choose among them all. Your choice of beds is a function of your personal taste, your dog's needs based on age (arthritis, age) and how your dog likes to sleep.
Buying Criteria

There are several "core" choices when selecting a bed:
Styles

: such as "classic", "Bolster/Nesting", and Travel as indicated in the sections below.
Stuffing: There are 4 options.
Polyfil - There are two types of polyfil:

High Loft Fibers Lowest priced models made with recycled plastics such as drink bottles.
Baffled Polyfil The bed contains tubes that have polyfil. Each tube acts as a separate section which moves with your dog for comfort.

Box Spring: Provides good support like a human mattress
Foam: Conforms to your dog's body. Foam options include a classic approach and beds made for orthopedic support. This is preferred choice for owners that have dogs that need orthopedic help or are older.
Combination: Found in premium priced mattresses and tend to the most comfortable.
Price: Prices range from $10 to hundreds of dollars depending on the fill and type.
Finishing Touches: Premium fabrics and having your dog's name inscribed on the bed can add to the cost.
Size

: As a rule of thumb, buy a dog bed that is 5 inches wider and longer than your dog.
Cleaning

: Beds have cleaning features such as removable machine washable covers and fabric that is water resistant.
Indoor or Outdoor

: If you dog sleeps outdoors, or if you need a bed for both.
Quality

: Price often matters when it comes to bedding. Consider everything from premium beds manufactured by Orvis to Amazon dog beds that come in a range of prices (and also offers helpful reviews).

Classic Canine Bed
First there is the classic bed. These canine beds look rather like a mattress for a people bed. They work well for medium to large breeds. There is plenty of room to stretch out on them. They are either made with polyfil or foam. Some options are waterproof or come with covers that can be washed.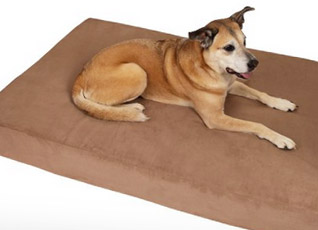 This is an example of a large Dog Bed by
Big Barker
, the top rated brand on Amazon. It has high density foam and is the perfect bed for larger breeds or those whose weight causes the material to "pancake." The company behind the bed is "spectacular" to work with according to many of the reviews.
Bolster or Nesting Canine Beds
Then there is bed that you're probably used to seeing. It's round or rectangular, has soft sides on it, and a cushioned bottom. It's covered with something soft and cozy like fleece. The cover may or may not be removable for washing. These beds are good for medium to small breeds.
These beds are easy to find at any pet store and are quite affordable. You might have heard that this type of bed is difficult to clean. That might of been the case in the past, however, newer models such as the top rated Pet Fusion Dog lounge and Bed (shown below), has a removeable and machine washable cover, making cleaning simple.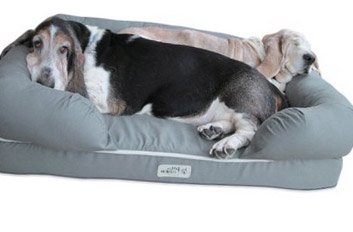 The PetFusion Ultimate Dog Bed and Lounge offer easy cleaning for pet parents and Memory Foam construction for Dog Comfort.
It is the

highest rated Bolster Dog Bed on Amazon

.
Wicker Dog Beds
Wicker canine beds are popular with many owners as they are decorative and easy to move, particularly for large dogs. Negatives include concern with keeping them clean and the dog chewing any part of the wicker.
Slumber or Puff Ball Dog Bed
A slumber ball pet canine bed has a flat top, making it easy for dogs to climb and off. These look rather like beanbag chairs, with a hollow place on top. They are covered with something like suede or fleece, and are very comfortable and cozy. Your dog can snuggle right into them. A slumber ball pet canine bed has a washable cover to make upkeep easier. options have a washable cover. These beds may have covers that can be removed for washing.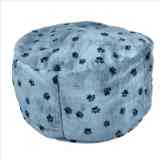 Inflatable Canine Bed
Inflatable dog beds are another choice. Some are round and some are rectangular. Most have a lip around the sides for your dog to rest his head on. The dog air bed itself is made of PVC, which is very durable and claw-proof. The bed is then covered with a removable cover made of something cozy like fleece.
They are a good choice for dogs with arthritis, because they provide good support. They are also very easy to clean- the cover is machine washable, and the bed itself can be wiped down with a mild soap and water. These types of beds come in a wide range of prices as shown below. These bed are also a popular option when traveling due to the easy portability.
Dog Air Bed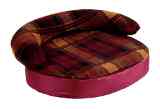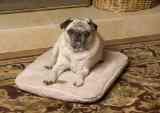 Chewproof or Indestructible Dog Bed
A chewproof canine bed is not only designed to keep your dog from destroying the bed, but to keep the dog from eating parts of the bed that could result in a health problem. Characteristics of chew resistant canine beds include a metal frame and durable bed cover material.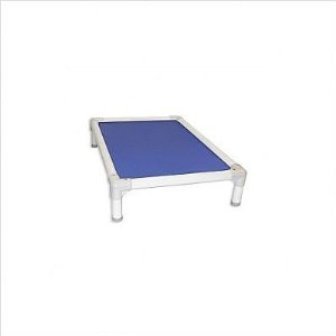 This is one example of a chew proof dog bed that uses aluminum construction and chew resistant materials. The bed pictured here is from Kuranda
Orthopedic Beds
Orthopedic dog beds are made for dogs with arthritis or other joint problems. They are designed to provide extra support and are made with special kinds of foam inside. They may be more costly than other types of beds, but are worth looking into if your dog has joint problems.
Example of a Top Rated Orthopedic Dog Bed that offers Memory Foam and a Waterproof Cover.
Priced Under $80 on Amazon Dog Beds
Outdoor Elevated Dog Bed
Elevated outdoor dog beds are popular inside and out for their simple design and air flow. The beds are at least 7 inches off the ground and are usually in a mesh style for easy cleaning. They are simple to assemble and are value priced.
Show:
Amazon Basics Outdoor Dog Bed
(Under $25!)
Bed Covers

Many beds come with covers that are water resistant and easy to clean. Companies such as Amazon offer universal covers that turn any dog bed into a covered bed.
Bed Steps
Bed steps for dog come in a variety of sizes with most models coming in 1, 2 or 3 steps. Steps are made our of wood, plastic. If you dog needs a ramp and step solution, some manufacturers build both features into one transportable unit such this unit offered by Pet Studio.
Have a Dog Bed Suggestion or Question For Our Editors?
Do you have a dog bed related suggestion for our readers or question for our editors? Please include related information such as age, sex, breed, size, behavior, and any unique medical or sleep related needs.

We will do our best to get back to you quickly (depends on how many questions we receive each day). If you do require an immediate response we suggest using this online dog veterinary service that is available now.


References
How to Teach a Dog to Go to His or Her Bed - AKC
Date Published:
2015-08-12