Summary:
"Dog beds can be a source of germs, viruses, and bacteria. For this reason, it is a good idea to keep them clean. Organisms that cause disease can be found on a dog bed for up to 12 months.(2)
Here are some tips for removing hair, cleaning and washing dog beds. WE suggest that you remove some of the hair before doing something like putting a dog bed into a washing machine. The hair can cause problems such as sticking to the inner washing machine drum or clogging drain pipes in a sink or tub.
See our tips below for removing hair before washing, and then how to wash the dog bed."
How to Remove Hair From Dog Beds
As mentioned above, it is a good idea to remove as much hair as possible from a dog bed before washing. Simple ways to get this done include:
Vacuuming using the suction or brush tool on your vacuum
Sticky tape
Lint brush or roller are common methods
Dish washing rubber gloves dampened in water. Wipe gloves across fabric and hair will stick to the surface
Damp sponge - hair will stick to wet surfaces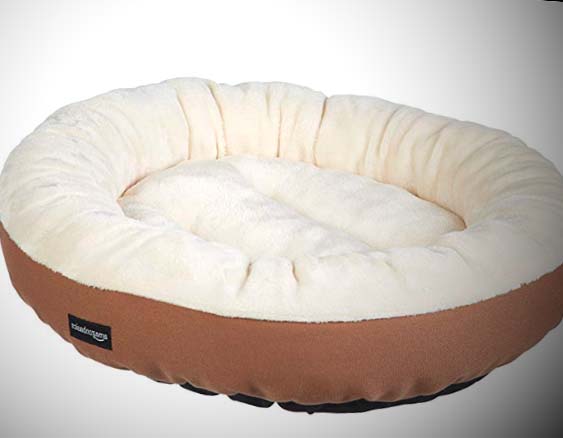 This Washable Dog Bed is Machine Washable and Can Be Dried in a Clothes Dryer


Shown: Amazon Basics Washable Dog Bed
How Often Should a Dog Bed Be Cleaned?
Dog beds should be cleaned every 1 to 2 weeks along with any bedding.
How to Wash Dog Beds
First check the manufacturers instructions for guidance on what the manufacturer suggests when washing your dog bed. 
Wash in hot water to kill any germs, insects or insect eggs that may be on or hidden in a bed seam.  A temperature of 140 Fahrenheit using a combination of pet safe laundry detergent and bleach is idea.
If the instructions allow, then you can place the dog bed into the washing machine.  If removing hair is challenging from the bed, then use the washing machines extra rinse or heavy-soil settings.
Washing Dog Bed Without a Washing Machine
If you need to hand wash the dog bed, soak in hot water. Use laundry soap that is made for delicate hand washing.  Squeeze water through the bed. Wear gloves to protect your hands. Continue washing until there are no bubbles after you squeeze.

Spot Cleaning Mud
Mud can be removed from a dog bed using a damp paper towel or wash cloth. Wipe until clean. When the bed is dry, use a vacuum to remove any residue.
How to Wash Dog Bed Stained With Urine
Soak up any urine on the dog bed using a paper towel or cloth. Use a mixture of the following for washing a dog bed with vinegar (recommended approach):
4 tsp baking soda
2 cups of water
2 cups of vinegar
For tougher stains apply baking soda directly to the bed followed by the liquid mixture. After application, let sit for 15 minutes and then remove by pressing a towel into the area.
Cleaning Blood and Vomit from Dog Bed
First clean as much as possible with a cloth or paper towel.  Use the following mixture:(3)
1/2 cup vinegar
1 tbsp liquid dish soap
1 tbsp salt
2 cups of warm water
Sponge the solution into the area to be cleaned. For tough stains leave the salt out of the solution and apply salt directly to the area to be cleaned.
For tough stains, apply baking soda directly to the stain. Use a sponge and apply a mixture of liquid dish soap and hydrogen peroxide to the area. 
An alternative to using a sponge is the use of a toothbrush.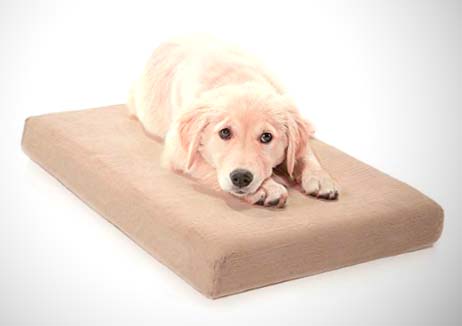 A Washable Dog Bed Cover Can Make Cleaning Easier


Shown: Amazon Washable Dog Bed Cover
Drying the Dog Bed
Some clothes dryers will be large enough to dry the dog bed. Consider using a dryer sheet to collect dog hair and to reduce any static charges. Tumble dry for approximately 20 minutes.
Keep an eye on the dryers filter to ensure that it doesn't cause any blockage of air flow. 
If you do not use a clothes dryer please be sure to let the bed air dry in ventilated room or in the sun.
How to Clean the Dryer
To remove any dog hair form the washing machine, use a damp paper towel when cleaning. Wipe the entire drum.  You can also vacuum the inside of the washing machine when it is dry.
Sources
1) Consumer Reports, January 2019
2) Pet MD
3) Central Park Paws