Summary:
Canine conjunctivitis (also called pink eye) is a general label used to describe a dog eye that is red. It is caused by congestion in the blood vessels that line tissue in the eye, the eyelids and the third eyelid.
A veterinarian will need to differentiate the causes of conjunctivitis such as infection, foreign objects or allergy, from other causes of red dog eyes such as uveitis (a problem in the interior of the eye) and glaucoma (an increase in ocular pressure).
Often a problem in the conjunctiva is a secondary problem caused by something happening elsewhere in the body such as a disease. Conjunctivitis does not effect the ability to see and the eye globe size will be normal.
Picture of Conjunctivitis in Dog Eye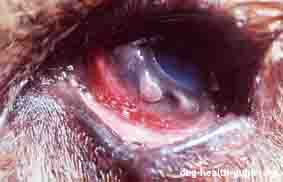 Dog conjunctivitis caused by Blepharospasm, which is an eyelid spasm
Source:
UC Davis
No matter what the cause, keeping the area around the eye clean is important. If you see any type of discharge Use a clean tissue or wet warm washcloth to wipe the areas around the eye. Do not use the same tissue or cloth for both eyes as you can spread infection from one to the other.
Causes
Conjunctivitis in dogs can be caused by a number of things, including:
Infections
-- Viral (distemper, canine herpes virus)
-- Bacterial
-- Fungal
Immune Mediated
-- Allergy or pollen
-- Follicular conjunctivitis (refers to eye appearance that looks like small red areas)
-- Plasma cell conjunctivitis
-- Pemphigus
A foreign object in the eye
Dog Pink Eye (Conjunctivitis)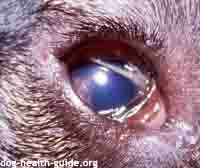 A foreign body called foxtail (a type of grass) caused this case of pink eye. Treatment included a topical anesthetic to numb the eye and then removal by a veterinarian. After removal, the dog stopped itching, which was also causing eye irritation.
Source:
UC. Davis
Certain parasites
Corneal diseases
Disorders of the tear ducts
Dog Dry Eye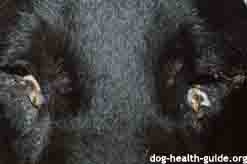 Keratoconjunctivitis (dry eye) caused by the viral infection distemper
Source:
UC Davis
Chronic irritation
Eyelid problems (entropion, ectropion)
Conjunctivitis Due to Dog Dry Eye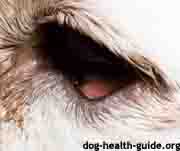 Dog Conjunctivitis due to an elongated eyelid (called dog ectropion). Surgery was used to reduce the length of the eyelid. An alternative would be to keep the eye clean to avoid foreign material getting caught in the eyelid.
Source:
UC Davis
Blepharitis (eyelid inflammation, see picture at top of page)
Eyelash problem
-- Distichia – eyelash in an abnormal spot on the eyelid
-- Trichiasis – abnormally positioned eyelashes
Conjunctivitis Due to Distachia
Eyelashes in bottom middle of picture can cause dog eye redness (conjunctivitis)
Source:
UC Davis
Irritants
-- Exposure to chemicals
-- Redness due to wind and dust
-- Smoke
-- Medications
Skin or dermatological disease
Irritation from nasal folds
Uveitis (inflammation into the pigmented (color) part of the eye)
Neoplasia (tumors)
-- Melanoma
-- Mast Cells
-- Hemangioma
-- Lymphosarcoma
-- Papilloma
Continue to this page for more information on symptoms and diagnosis.

Ask Our Vet A Question And We Will Answer It For Free
Have a Dog Eye Health or Conjunctivitis Related Question For Our Veterinarian?
Do you have a dog eye conjunctivitis, pinkeye, redness or health related question for our Veterinarian? We'll answer it for free! Please include information such as eye appearance, if the condition can be found in both eyes, dog age, sex, breed, medical history, symptoms, diet, changes in behavior and medications.

The quality of your response will be greatly improved if you can add a picture of the canine eye problem. Just use the upload button below.

We will do our best to get back to you quickly (depends on how many questions we receive each day). If you do require an immediate response we suggest using this online dog veterinary service that is available now.
Other Dog Eye Related Reader Questions and Answers from our Vet
Click below to see contributions from other visitors to this page...

Dog With Right Eye Discharge Not rated yet
My new 1 year old rescue Shiba/Husky mix has a watery right eye with some mucous like discharge. She is squinting and batting at it with her paw. No swelling. …
Does My Dog Have Pink Eye Not rated yet
Reader Question: Does My Dog have Pink Eye or Conjunctivitis Two of my three dogs have a discharge from their eyes. The third has a minimal amount, …
References
When Your Dog Gets Pinkeye
Stinnett, Suzanna

Clinical Approach to the Dog with Red Eye (s)
Ron Ofri, DVM, PhD, DECVO
Koret School of Veterinary Medicine Hebrew University of Jerusalem