Summary:
"Pink eye in dogs, technically called conjunctivitis, can be due to multiple causes such as a foreign object in the eye, a virus, parasites, allergy, or a problem with the eyelid.
If due to infection a topical antibiotic will help the condition. Foreign objects require removal of the object, often with an eye flush."
Overview
Pink eye is a common ailment in dogs. It is caused by something in your dog's environment such as a foreign object in the eye or by an infection. Infection is due to bacterial or viral causes.
If the symptoms are only seen in one eye then the cause is usually due to a foreign object, inflammation of the tear sac, or dry eye. Symptoms in both eyes are usually caused by a virus such as herpes or bacteria. Even Lyme disease can cause problems with redness in the eyes.
Dog With Pink Eye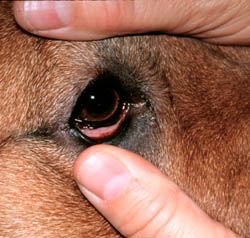 Symptoms of Pink Eye in Dogs
As the name suggests, pink eye in dogs causes the eyeball to take on a pronounced pinkish color. In addition, the eyelid and surrounding area may become swollen and inflamed. There may be a noticeable discharge from the eye. Your dog may have difficulty opening his eye or blinking normally.
Pink eye makes dogs more sensitive to light, so your dog might prefer to stay indoors and avoid brightly lit areas. Afflicted dogs may begin sleeping more during the day.
Pink eye can also cause severe itching, so you may notice your dog rubbing his face against furniture or the floor, trying to relieve the itching. He may also wipe at his face with his paws. This may be an attempt to wipe away discharge from the eye.
Diagnosing Pink Eye in Dogs

If your dog has symptoms of pink eye, he should see a vet who will look for any foreign objects in the eye and will examine the mucous membranes around the eye. To aide diagnosis your veterinarian may scrape some of the discharge for further testing/examination, a Schirmer tear test or a biopsy.
Other causes your veterinarian will look for include parasites and eyelid problems.
Canine Pink Eye Treatment

It is important to seek treatment if your dog has symptoms of pink eye because untreated, it could lead to vision problems.
Since allergy and environmental irritants are the most common cause, look in your dog's eye and see if you can see any foreign objects such as an eyelash. If you see something, try flushing his eye with water. If you are unable to remove the object, or if he continues to show symptoms of pink eye after the object has been removed, call your vet.
Clean the area around your dog's eye with a warm, wet wash cloth. If both eyes are affected, use a clean cloth for each eye. Conjunctivitis is very contagious, so you don't want to spread it from one eye to the other.
Wash out the eye. You can use artificial tears, the kind made for humans. This will wash away any debris in the eye that may be causing the problems.
Your vet will remove any foreign object that you have been unable to remove.
If your your veterinarian diagnoses canine pink eye due to infection, they will prescribe antibiotics for the infection. The vet may also prescribe medicated eye drops.
Many holistic veterinarians recommend herbal drops for dogs that frequently get eye infections. Pet Alive Eye-Heal is a natural treatment for bacterial conjunctivitis made for this purpose.
Ask a Question or Share Your Story
Have a Dog Eye Related Question For Our Editors or A Story to Tell About This Topic?
Do you have a dog eye related question for our Veterinarian or a helpful story to share? We'll answer it for free! Please include information such as age, sex, breed, medical history, symptoms, diet, changes in behavior and medications.

We will do our best to get back to you quickly (depends on how many questions we receive each day). If you do require an immediate response we suggest using this online dog veterinary service that is available now.
Other Dog Eye Related Reader Questions and Answers from our Vet
Click below to see contributions from other visitors to this page...

Contagious Dog Eye Infection Not rated yet
Reader Question: Contagious Dog Eye Infection? My dog has just recently been showing signs of some kind of eye infection, I think. First in one eye, …
Sources
When Your Dog Gets Pinkeye
Stinnett, Suzanna
MerckVeterinary Manual (Merck & Co)