Summary:
"Dog skin pimples have multiple possible causes including parasites (fleas, mites), infection, fungus, allergy and skin tumors. A dog's breed and age can also indicate the possible canine skin condition (see next page for a list of skin conditions by breed). We suggest comparing the pictures and descriptions found on this and the following pages to narrow down the possible cause of any dog skin condition."
Dog Skin Pimples Caused By Pyoderma (Bacterial Skin Infection)
Overview
Yes is the answer to the question "do dogs get pimples." There are many possible causes for dog skin pimples. Each cause is categorized by the size of the skin bump. Causes of dog skin papules (elevated skin lesion that does not contain pus) and pustules (does contain pus) under 1 cm (.39 inches) and causes over 1 cm are described below.
Causes of Dog Skin Bumps and Pimples
(Under 1 cm - .39 inches)
Allergy
The three main types of allergy that affect dog skin are flea allergy, atopic dermatitis (allergy to environmental allergens, pollen, mold, dust, mites) and allergies to dog food. A veterinarian will also differentiate symptoms from mange, secondary pyoderma (pus filled skin pimples) and yeast infections (ringworm). It is also possible for dogs to suffer from more than one type of allergy.
Dog Flea Allergy Dermatitis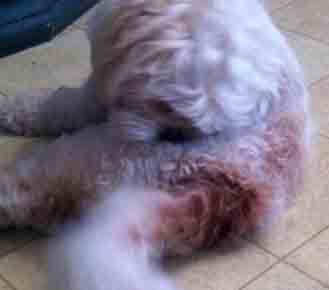 When a Dog's Coat Changes Color, It is an Indication that a Dog is Licking the Area. Changes in the Rump Area Just Above the Tail Such as Dog Skin Pimples are an Indication of Dog Fleas
.
Source:
Washington State University
---
Dog Food Allergy - Skin reaction to one of the 40 ingredients in the typical dog food can cause dog skin pimples. Symptoms can start even if a dog has been using the same food or treat for one or more years.
Dog Skin Food Allergy on Neck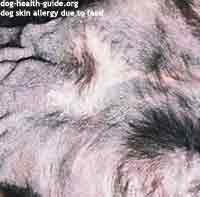 Red dog skin and pimples due to food allergy
(called cutaneous adverse food reaction).
Source:
Washington State University
---
Dog Atopy on Leg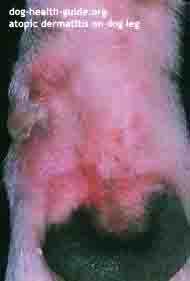 Atopic dermatitis on leg of a white dog
Source:
Dr. Dandace Soursa, DABVP, DACVD, Sr. Veterinary Specialist, Pfizer
Dog Skin Infection
Dog skin infection occurs when bacteria or fungus is able to colonize or grow on the skin. This is often a secondary condition. For example, itch associated with allergy can result in scratching the skin. These scratches make it easier for a bacterial infection to take hold.
Pimples Caused By Dog Skin Infection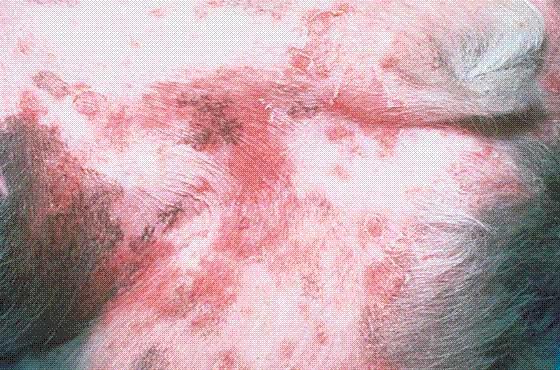 Canine Bacterial Skin Infection and Dog Skin Pimples
Caused by a bacterial skin infection. Primarily seen in short-coated dog breeds that have skin folds and German shepherds.
Dog Skin Pyoderma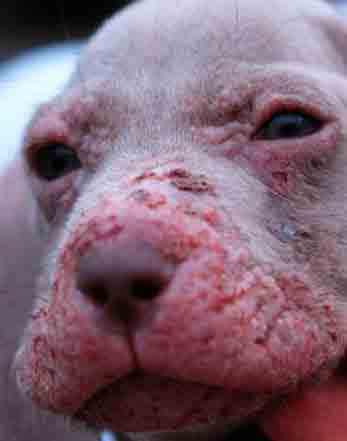 Weimaraner with Puppy Pimples caused by Pyoderma, Strangles and Pustules
Source:
Washington State University
Ringworm on Dog Nose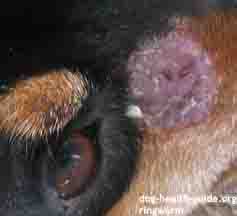 Ringworm on face of a 9 year old Miniature pincher
Source:
Washington State University
Canine Mast Cell Tumor
Mast cells are present throughout the skin. Allergic reaction is one type of problem that can occur with these cells. Another is when they begin to grow abnormally, resulting in benign (not cancer) or cancerous tumors (also called neoplasms).
Mast Cell Dog Skin Tumor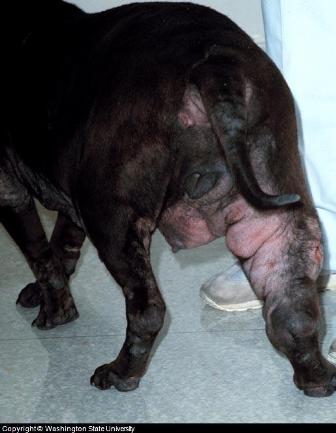 Sharpei Mast Cell Tumor (Neoplasia)
Source:
Washington State University
Other Causes
Parasites (demodicosis): an increase in mites that are burrowed into the skin and dog hair follicles.
Pimples Caused By Dog Mange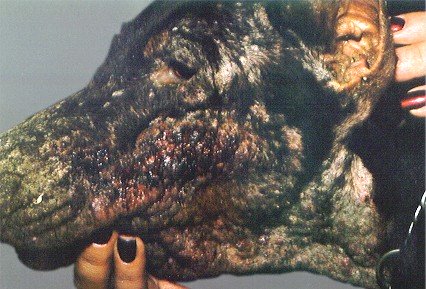 Example of Canine Mange as the Cause of Dog Skin Pimples
Source:
Naturasil
Skin inflammation (Rhabditic dermatitis is caused by contact with decaying organic matter such as straw or hay)


Exposure to sunlight (Actinic dermatitis seen in short haired dogs)


Sebaceious adenitis (lymph node inflammation)


Genetics (see chart for breeds prone to skin disease)
Causes of Dog Skin Bumps and Pimples
(Over 1 cm in size)
Amyloidosis: disease where abnormal deposits of protein collect on the skin


Calcium deposits (calcinosis cutis)


Reaction to a foreign body such as concrete dust or fiber glass that gets under the skin


Granuloma: skin nodule that forms at the site of an injury


Malignant histiocytosis: form of lymphoma
Canine Histiocytoma Lesion on Dog Ear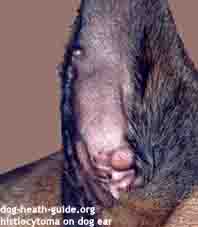 Histiocytomas are benign skin lesions or tumors (not cancer)
that are more common in dogs under 3 years of age.
Source:
UC Davis/Peter Moore
Sterile nodular panniculitis: inflammation of the skin membrane


Xanthomas: skin lesions that are the result of fat accumulation in skin immune cells
Diagnostic Approach
A veterinarian starts an examination by looking for the most common cause of dog skin pimples, which is dog flea allergy. Don't underestimate this as a cause. Fleas are notorious as hiding and can even infect indoor dogs exposed to fleas brought into the house by another pet or even a person.
Once fleas are ruled out, the Vet will take a skin scraping. The scraping will show if problems such as mange, bacterial skin infection , yeast infection or a fungal infection are the underlying cause.
Other causes such as ringworm require a 2 to 3 week test, so in the interim a Vet might recommend a parasiticide such as Revolution. This would address problems caused by mites. Tests in general are low cost, so are worth performing.
If all tests come back negative then additional testing in needed including a biopsy of one of the dog skin pimples. It also makes sense to rule out food allergy by switching to a hypoallergenic diet.

Treatment
Treatment involves addressing any symptoms while removing the underlying cause. Most cases are treated as an outpatient. Infections are treated with antibiotics for 3 to 4 weeks.
In the case of puppy skin pimples (see third page), conditions can be caused by puppy pyoderma (mild skin infection), puppy warts (virus), canine acne, demodex mites and puppy strangles.
Natural Remedies for Problem Dog Skin
If your dog continually has problem skin such as dog skin pimples, you might want to experiment with a natural remedy designed to promote healthy skin. The following ingredients have a history of helping the skin:
Equisetum arvense: Has high silica content which essential in the maintenance of healthy and strong skin, bones, claws.
Taraxacum officinalis (Dandelion): source of vitamins and minerals, including Vitamin A, D, C, various B Vitamins, iron, lecithin, silicon, potassium, magnesium, zinc and manganese.
Arthrospira platenis (Spirulina): contains protein, vitamins (including B12 and folic acid) and carotenoids. 
Fucus vesiculosis: is a sea vegetable that is a concentrated source of minerals. Regular use will also promote skin and coat condition.
Kalium sulphate (Kali. Sulph.): is a biochemic tissue salt that keeps cell membranes in peak health. Kali. sulph also helps maintain balance in the skin and underlying tissue. 
A good product to research is PetAlive Skin and Coat Tonic, which was made specifically for this purpose. Discuss this and other options with your veterinarian.

Ask Our Vet A Question or Share Your Story
Have A Question about Your Dog's Skin Condition? Our Vet Will Answer It for Free!
Do you have a question or comment? Share it!

Our editors will pick 1 question to answer each week. Please include your dog's age, breed, medical history, medications and if possible, a picture of the condition.

We will do our best to get back to you quickly (it depends on how many questions we receive each day). If you do require an immediate response we suggest using this online dog veterinary service that is available now.
Other Reader Dog Skin Related Questions and Vet Suggestions
Click below to see contributions from other visitors to this page...

References For Dog Skin Pimples
The Dog with Papules, Pustules and Crusts
Mueller, R.S.
Department of Clinical Sciences College of Veterinary Medicine and Biomedical Sciences
Colorado State University, Fort Collins, CO, USA