Dog Skin Pimples: Causes by Breed
Certain breeds have a higher incidence of disease that could lead to dog skin pimples, pustules (pus filled canine pimples) and papules (hard raised pimples). Many breeds develop skin disorders from the interaction between genetics and the dog's environment. (see table for dog breeds and related skin disease)
Genetics plays an important role in determining the cause of skin disease. Many genetic diseases are well defined in terms of clinical signs and can provide important diagnostic clues. Recent advances in mapping the canine genome are increasing the numbr of diseases that can be traced back to a genetic defect. Some of these can be confirmed with genetic testing. Others such as dog hair loss at birth or at age 2 to 4 weeks are clear indications of a genetic disorder.
Doberman With Multiple Skin Problems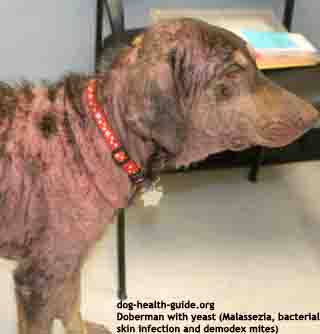 Doberman with multiple dog skin problems such as yeast Malassezia dermatitis, bacterial skin infection and demodex (mange). The patient was cured of all conditions.
Source:
UC Davis
Breed and Dog Skin Pimples
Dog Breed

Conditions that Contribute to Dog Skin Pimples

Airedale

Adult-onset demodicosis (mange)
Cyclic follicular dysplasia (seasonal dog hair loss, hyper-pigmentation of the skin in irregular defined areas, regrows in 3 to 6 months)


Akita

Pemphigus foliaceus

(excessive water blisters, group of skin diseases with excessive scaling)
Sebaceous adenitis (inflammation of the sebaceous gland, which are glands all over the skin)
Uveodermatologic syndrome (immune mediated disease that causes depigmentation of skin. Also called Vogt-Koyanagi
Harada-like syndrome
Cutaneous Depigmentation


Afghan hound
Basset Hound
Beagle

Atopy
Demodicosis (mange)
IgA deficiency


Belgian Tervuren
Border Collie
Borzoi
Boston Terrier

Atopy
Demodicosis
Intertrigo


Boxer

Atopy
Cyclic follicular dysplasia (seasonal dog hair loss, hyperpigmentation of the skin in irregular defined areas, regrows in 3 to 6 months)
Demodicosis
Hyperadrenocorticism: Cushings Disease
Muzzle and/or pedal bacterial furunculosis
Dog Skin Pimples on Chin and around mouth


Bull-mastiff
Bull terrier

Atopy
Acrodermatitis
Bacterial furunculosis
Solar dermatitis


Cairn Terrier
Chesapeake Bay Retriever
Chihuahua
Chow Chow

Adrenal sex hormone abnormalities
Pemphigus foliaceus
Demodicosis
Hyposomatotropism
Hypothyroidism


Collie

Dermatomyositis
Lupus erythematosus

Curly-coated Retriever
Dachshund

Bacterial pyoderma
Color dilution alopecia
Hyperadrenocorticism
Hypothyroidism
Juvenile cellulitis
Malassezia dermatitis
Pattern alopecia
Pinnal vasculitis
Sterile pyogranulomatous dermatitis
Sterile nodular panniculitis


Dalmatian

Atopy
Demodicosis
Solar dermatitis


Doberman

Acral lick dermatitis: skin disorder where dogs lick a local area, usually a lower limb. Can be a psychogenic (psychological disorder). Licking can cause skin infection.
Bacterial pyoderma
Color dilution alopecia
Demodicosis
Drug reaction (particularly against sulfonamides)
Follicular dysplasia
Hypothyroidism
Vitiligo


English Bulldog

Atopy
Bacterial pyoderma
Cyclic follicular dysplasia
Demodicosis
Intertrigo
Hypothyroidism
Malassezia dermatitis
Sterile pyogranuloma syndrome


German Shepherd

Atopy
Bacterial pyoderma
Ear tip fly dermatitis
Eosinophilic furunculosis
Flea-bite hypersensitivity
Food adverse reaction
Idiopathic onychomadesis
Mucocutaneous bacterial pyoderma
Pemphigus erythematosus
Pituitary dwarfism
Pyoderma
Systemic lupus erythematosus
Tarsal fistulae
Vitiligo


Golden Retriever

Acral lick dermatitis
Atopy
Bacterial pyoderma
Hypothyroidism
Juvenile cellulitis
Nasal hypopigmentation ("Dudley nose")
Pyotraumatic dermatitis


Gordon Setter
Great Dane

Acral lick dermatitis
Bacterial pyoderma
Callus formation
Demodicosis
Hypothyroidism


Great Pyrenees

Demodicosis

Pyotraumatic dermatitis


Irish Setter

Atopy
Color dilution alopecia
Hypothyroidism


Irish Water Spaniel
Jack Russel Terrier
Keeshond

Alopecia X due to sex hormone imbalances
Hyposomatotropism
Hypothyroidism


Labrador Retriever

Acral lick dermatitis
Atopy
Bacterial pyoderma
Pyotraumatic dermatitis
Seborrhea


Lhasa Apso

Atopy
Malassezia dermatitis


Malamute

Zinc-responsive dermatitis


Miniature Schnauzer


Cyclic follicular dysplasia (seasonal dog hair loss, hyperpigmentation of the skin in irregular defined areas, regrows in 3 to 6 months)

Newfoundland

Bacterial pyoderma
Pyotraumatic dermatitis


Old English Sheepdog
Pekingese
Pointer

Acral mutilation
Demodicosis
Hereditary lupoid dermatosis


Pomeranian

Adrenal sex hormone abnormalities
Hyposomatotropism


Poodle

Hyperadrenocorticism
Hypothyroidism
Injection reactions
Sebaceous adenitis (Standard)


Portuguese Water Dog
Pug
Rhodesian Ridgeback
Rottweiler

Bacterial pyoderma
Vasculitis
Vitiligo


Samoyed
Schipperke
Scottish Terrier
Shar-pei

Atopy
Bacterial pyoderma
Demodicosis
Food adverse reaction
Hypothyroidism
IgA deficiency
Intertrigo
Mucinosis


Schnauzer

Atopy
Aurotrichia
Hypothyroidism
Schnauzer comedo syndrome
Superficial suppurative necrolytic
Dermatitis


Shetland Sheepdog

Dermatomyositis
Lupus erythematosus


Shi-Tzu
Siberian Husky

Eosinophilic furunculosis
Follicular dysplasia
Zinc-responsive dermatitis
Atopy


Spaniels (Cocker and Springer)

Food adverse reaction
Hypothyroidism
Idiopathic onychomadesis
Intertrigo
Malassezia dermatitis
Psoriasiform-lichenoid dermatosis (English Springer Spaniel)
Seborrhea


St. Bernard

Acral lick dermatitis
Bacterial pyoderma


West Highland White Terrier

Atopy
Seborrhea
Epidermal dysplasia
Food allergy
Otitis externa (swimmers ear)
Cutaneous yeast


Terrier

Food adverse reaction
Malassezia dermatitis
Seborrhea


Viszla

Granulomatous sebaceous adenitis


Weimaraner

Lipoma
Sterile pyogranulomatous syndrome


Yorkshire Terrier

Color dilution alopecia (hair loss)
Injection reactions
Traction alopecia: hair loss from objects placed in hair by owner
Source: R.S. Mueller, Department of Clinical Sciences, College of Veterinary Medicine and Biomedical Sciences
Colorado State University

References Dog Skin Pimples:
Source: R.S. Mueller, Department of Clinical Sciences, College of Veterinary Medicine and Biomedical Sciences
Colorado State University
Jeff Grill