Summary:
"Pyoderma in dogs is the most common type of canine skin disorders. The condition is characterized by dog pimples, lumps, bumps and areas of skin redness. It can be found in specific areas or all over the dog's body. Pyoderma usually occurs as the result of another underlying condition such as a depressed immune system, reducing the body's ability to fight off infection. Depending on the severity of the condition (surface or deep into the skin), treatment in most cases will include the combination of antibiotics and shampoo therapy. If the condition does not respond to treatment, a veterinarian will either refer the case to a veterinary dermatologist, increase the dosage of antibiotics, choose a different antibiotic, search for another cause or introduce additional therapy in whirlpools or baths."

Overview of Pyoderma in Dogs

The most commonly diagnosed infectious skin disease is pyoderma in dogs, which means pus in the skin. In overall diagnoses, canine pyoderma is second only to flea allergy dermatitis in frequency. The problem is seen more often in dogs than any other animal on the planet!
Pyoderma on Dog Nose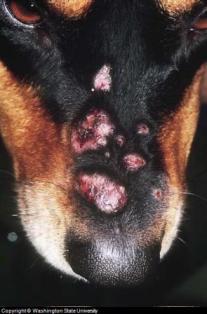 Source: Washington State University
Pyoderma is the only primary skin infection in dogs. Most skin infections are secondary, which means that it is caused by another condition. For example, itching and scratching can result from some other condition, which causes the dog to open the skin to bacteria. Since the itching caused the skin to open, the bacteria is referred to as being secondary. In the case of pyoderma, the infection can start on its own. The bacteria is introduced to the skin through a dogs normal licking and grooming behaviors. 
Dog's suffering from pyoderma often have some other underlying condition that makes the dog more susceptible to the condition including:
Skin injury or trauma from scratching due to dog skin Itch, trauma from bites, wounds or scratches
Foreign objects such as Ingrown hair, splinters
Skin inflammation
Hair follicle diseases
Hardening of the cells (cornification where the keratin tin the skin does not form properly)
Grooming issues in long haired dogs
Endocrine disorders (hypothyroidism, hyperglucocorticoidism, Cushings disease, sex hormone, growth hormone)
Immune system problems

Dog skin disorders

 where the skin is too oily or flaking (seborrhea, sebaceous gland inflammation, sebaceous adenitis or schnauzer comedo)

Dog Allergies

: skin inflammation due to an allergic response to environmental, inhaled or dog food allergies 
Other sources of 

dog skin infection

: Yeast like fungal infection (different types are called Malassezia dermatitis or dermtophytosis). 
Color dilution alopecia (hair loss)
Metabolic disorders such as canine liver disease
 Autoimmune disease such as canine lupus, canine pemphigus
 Cancers (called neoplasia)
 Hypersensitivity to bacteria
 Long term use of Steroidal medications
Puppy or Juvenile Pyoderma

When a puppy is weaning, several breeds are predisposed to pyoderma, with higher than average instances in Gordon Setters, Golden Retrievers and Dachshunds.  Puppy pyoderma symptoms includes anorexia (failure to eat, loss of appetite), lymphadenopathy in the lymph nods and fever. Abscesses can also form, which are referred to as puppy strangles.

Strangles and Pustules on Puppy with Juvenile Pyoderma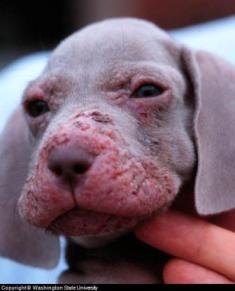 Source: Washington State University
Canine Pyoderma Symptoms

Pus filled dog skin pimples, bumps or lumps tend to appear on the dog's groin, armpit, between the toes, at the stifle joint (where leg bends/knee), elbow and at the hocks (ankle joint). Other symptoms includes bulls eye lesions, scabs, skin flakes and dog skin redness.
Dog Pyoderma on Foot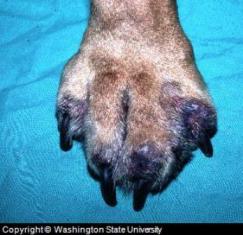 Source: Washington State University College of Veterinary Medicine
The condition can be seen in a specific or localized area, or all over the dog's body.
Dog Pyoderma Diagnosis

Part of the canine pyoderma diagnostic process will be to determine if the patient has any predisposing factors that allowed the pyoderma to take hold. A normally functioning immune system should be able to fight off bacterial infection, which is why a vet will look for anything that is disrupting this normal protective function of the body.
The veterinarian will review the patients history and will not any clinical features during an examination. The vet will look to see if the only symptom is pyoderma or are there other potential problems. If the dog is suffering from itch (pruritus), a determination will be made if the itch is due to any underlying condition.
Pyoderma in dogs has different classifications including:
Surface Canine Pyoderma is characterized by acute moist dermatitis (surface inflammation) symptoms such as hotspots or areas injured by the dog from scratching or itching.. Pyoderma on the skin surface is often found in the skin folds (intertrigo) which refers to any skin inflammation, ulceration or openings at the skin folds. These include areas of the body such as the lip folds, vulvar fold, any folds due to obesity, facial folds, skin folds at the tail and mucocutaneous pyoderma.which refers to pyoderma in the lip folds (common in German Shepherds).
Superficial Canine Pyoderma is characterized by a condition called impetigo, which is another name for a localized skin infection. Other symptoms are superficial folliculitis, which are puss filled pimples at the base of the hair follicles and pyoderma that is spreading across the surface of the skin.
Deep Canine Pyoderma refers to deep inflammation on the hair follicle, and the possible presence of out types of skin conditions such as canine acne. Another symptom is cellulites, which is a bacterial infection just under the skin surface. The skin will appear as if there are small crevices in the skin which are bloody or are oozing pus.
Picture of Deep Canine Pyoderma on Dog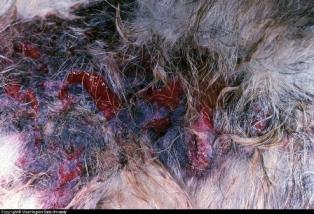 Source: Washington State University
Treatment of Pyoderma in Dogs

Most cases of canine pyoderma can be managed with antibiotics 1x of 2x per day (erythromycin, lincomycin, oxacillin, cephalexin, enrofloxacin, marbofloxacin, cefpodoxime, cefadroxil, ormetroprim-potentiated sulfonamides). Antibiotics will be continued for 1 week past the point that the condition clears which is a minimum of 3 weeks to 6 weeks. The dosage will be based on the pyoderma classification.

Antibacterial shampoo therapy can be helpful as an alternative to antibiotics for some types of surface pyoderma in dogs. It can also be used in addition to antibiotics in all forms of the disease. Shampoo therapy can help to reduce symptoms such as itch and any related pain.

Shampoo should be left on the skin surface for 10 minutes before rinsing and should be used a minimum of 1x per week, with 2x per week thought to be better. Shampoo should contain benzoyl peroxide such as Pyoben, benzoyl peroxide and sulfur, chlorhexidine, ethyl lactate or triclosan.

For cases of deep pyoderma in dogs, hair should be clipped and the patient should  receive antibacterial soaks or bathing in a whirlpools (preferred). Bath or whirlpool Water should be warm and contain an antibacterial. This can be providone-iodine or chlorhexidine. If in a hospital, dog's benefit from 1x per day or 2x per day soaking for 15 to 30 minutes. Dogs should improve in 2 to 3 weeks.

If no improvement is seen, additional investigation is needed.. Other possible explanations are selection of the wrong antibiotic, an antibiotic dosage that was too low, or a wrong diagnosis. Dogs with recurrent pyoderma, meaning the condition returns after clearing, should be referred to a veterinary dermatologist.  See our guide to dog skin pimples for additional causes.

Have A Question about Your Dog's Skin Condition? Our Team Will Answer It for Free!
Do you have a question or comment? Share it!

Our editors will pick 1 question to answer each week. Please include your dog's age, breed, medical history, medications and if possible, a picture of the condition.

We will do our best to get back to you quickly (it depends on how many questions we receive each day). If you do require an immediate response we suggest using this online dog veterinary service that is available now.
Other Reader Dog Skin Related Questions and Vet Suggestions
Click below to see contributions from other visitors to this page...


Pyoderma? Abscess? Skin irritation? Not rated yet
We thought she had gotten insect bites and aggravated them. Swelling went down and I have been using antiseptic shampoo and iodine to clean. Tried to clean …
---