There is no easier way to spoil or celebrate a dog than with cookie, brownie, bagel, muffin, and dog cake recipes. Enjoy these recipes for a dog birthday cake or other special occasion. Every one of these recipes is made with dog safe ingredients.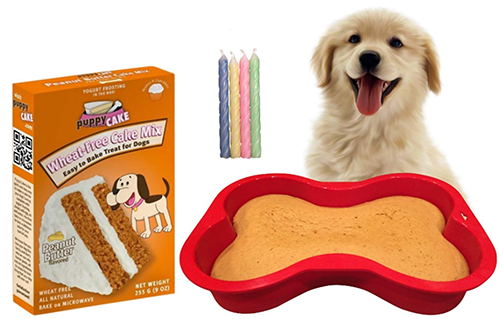 In addition to the from scratch recipes seen below you can buy a dog birthday cake kit.
Shown: Wheat-Free Peanut Butter Dog Cake Mix and Frosting with Bone Pan. Under $20 from Amazon
Dog Cake Recipes
Apple Crunch Cake
This recipe is perfect when made using a bone shaped baking pan.
Ingredients:
3/4 cup unsweetened applesauce

2/3 cup hot water

1 cup whole rolled oats

3 eggs

1/2 cup vegetable shortening

1-1/2 teaspoons cinnamon

2 cups unbleached flour

1/2 cup granola
Frosting Ingredients:
1/2 cup vegetable shortening

16 ounces cream cheese, 

softened

3 tablespoons carob powder divided

1/2 cup carob chips, 

unsweetened

1/4 teaspoon canola oil
Cake Directions:
Preheat oven to 350 degrees. Lightly spray and flour 9 inch square cake pan or desired mold shape such as a dog bone cake shape.



Combine applesauce, water and rolled oats and let stand for fifteen minutes.

Blend in the remaining ingredients. 


Transfer batter to prepared pan. (the consistency will be thick) 

Smooth and flatten batter using spatula. Bake cake until top is golden, about forty minutes.

Cool for ten minutes.

Cut around pan sides and remove.

Cool cake completely on a cake rack before frosting.

Cake Frosting Directions:
Beat vegetable shortening and cream cheese in a medium bowl until smooth.



If making a dog bone cake, place 1/2 cup of mixture in a plastic sandwich bag.

Blend 2 tablespoons carob powder into remainder of frosting until completely blended.

 Set aside 1/2 cup frosting.

Spread remaining frosting over the cake, working down around sides.

Combine carob chips and oil in a microwave-safe bowl and heat for one minute at 50 percent power (you are melting the chips, not cooking them)


Remove from microwave and stir until smooth. 

Transfer to plastic sandwich bag and snip corner.

Gently squeeze your dog's name onto cake.

In small bowl, combine reserved frosting with 1 tablespoon carob powder.

Place in sandwich bag and squeeze darker frosting along the top edges of the cake to create a border.

Refrigerate cake at least one hour before serving.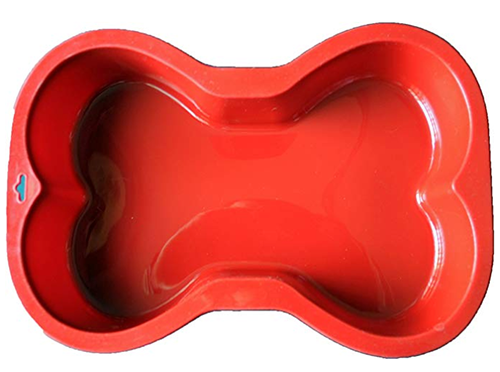 K9 Cakery Dog Bone Shaped Baking Pan
Shown: Under $15 from Amazon
Dog Birthday Cake
Ingredients:
1 1/2 cups all-purpose flour 

1 1/2 teaspoons baking powder 

1/2 cup soft butter 

1/2 cup corn oil 

1 jar baby food, meat, beef, strained 

4 eggs 

2 strips beef jerky -- (2 to 3) 
Directions:
Preheat oven to 325 degrees. 
Grease and flour an 8x5x3 inch loaf pan.
Cream butter until smooth. 
Add corn oil, baby food, and eggs. 
Mix until smooth. 
Mix dry ingredients into beef mixture until batter is smooth. 
Crumble beef jerky and fold into batter. 
Pour batter into loaf pan. 
Bake 1 hour and 10 minutes. cool on wire rack 15 minutes. 
Ice with plain yogurt or cottage cheese. 
Store uneaten cake in refrigerator. 

Pupcakes
Apple Crunch Pupcakes
Ingredients:
2 3/4 cups water 
1/4 cup unsweetened applesauce 
2 tablespoons honey 
1 medium egg 
1/8 teaspoon vanilla extract 
4 cups whole wheat flour 
1 cup apple, dried 
1 tablespoon baking powder  
Directions:
Preheat oven to 350 degrees.
In a small bowl, mix together water, applesauce, honey, egg, and vanilla.
In a large bowl, combine flour, apple chips, and baking powder. 
Add liquid ingredients to dry ingredients and mix until very well blended. 
Pour into greased muffin pans, 
Bake 1 1/4 hours, or until a toothpick inserted in the center comes out dry. 
Store in a sealed container. 
Makes 12 to 14 Pupcakes  
Dog Cookie Recipes
Baby Food Doggie Cookies
Ingredients:
3 jars baby food, meat, beef, strained -- *see Note 
1/4 cup cream of wheat -- *see Note 
1/4 cup dry milk 
Directions:
Combine ingredients in bowl and mix well. 
Roll into small balls and place on well-greased cookie sheet. 
Flatten slightly with a fork. 
Bake in preheated 350 degree oven for 15 min. until brown. 
Cool on wire racks and STORE IN REFRIGERATOR. Also freezes well. 
NOTE: Carrot, Chicken or Beef baby food. substituting wheat germ for cream of wheat. 
Canine Carrot Cookies
Ingredients:
2 cups carrots -- boiled and pureed 
2 eggs  
2 tablespoons garlic -- minced 
2 cups unbleached flour -- *see Note 
1 cup rolled oats 
1/4 cup wheat germ 
*or rice flour or rye flour.
Directions:
Combine carrots, eggs and garlic. 
Mix until smooth. 
Add dry ingredients. 
Roll out on heavily floured surface and cut into bars or desired shapes. 
Bake at 300 degrees for 45 minutes or to desired crunchiness. The centers will continue to harden as they cool. 
Brush with egg white before baking for a glossy finish. 

Canine Cookies (makes about 36 - 2 1/2 inch biscuits)

Ingredients:
1 1/2 cups whole wheat flour 

1 cup all-purpose flour 

1 cup powdered milk -- non-fat 

1/3 cup bacon grease -- *see Note 

1 egg -- lightly beaten 

1 cup cold water 

Note: Beef fat or Chicken fat can be used 
Directions:
In a bowl, combine flour and milk powder. 

Drizzle with melted fat. 

Add egg and water; mix well. 

Gather dough into a ball. 

On floured surface, pat out dough. 

Roll out to 1/2 inch thickness. 

Cut into desired shapes. Gather up scraps of dough and repeat rolling and cutting. Bake on ungreased baking sheets in 350 degree oven for 50 - 60 minutes or until crispy.
Store in the fridge. 
Dog Bagel Recipe
Bakers Bagels
Ingredients:
1 cup whole wheat flour 
1 cup unbleached flour 
1 package yeast -- 1/4 ounce 1 cup chicken broth -- warmed 1 tablespoon honey 
Directions:
Preheat oven to 375°.
In large bowl combine the whole wheat flour with the yeast. Add 2/3 cup chicken broth and honey and beat for about 3 minutes. Gradually add the remaining flour. Knead the dough for a few minutes until smooth and moist, but not wet (use reserve broth as necessary).
Cover the dough and let it rest for about 5 minutes. Divide the dough into about 15-20 pieces, rolling each piece into a smooth ball. Punch a hole into each ball with your finger or end of spoon and gently pull the dough so the hole is about an 1/2" wide. Don't be too fussy here, the little bagels rise into shape when they bake.
Place all the bagels on a greased cookie sheet and allow to rise 5 minutes. 
Bake for 25 minutes. 
Turn the heat off and allow the bagels to cool in the oven.
Dog Brownie Recipes
Barking Barley Brownies
Ingredients:
1 1/4 pounds beef liver -- or chicken liver 
2 cups wheat germ 
2 tablespoons whole wheat flour 
1 cup cooked barley  
2 whole eggs 
3 tablespoons peanut butter 
1 clove garlic 
1 tablespoon olive oil 
1 teaspoon salt -- optional 
Directions:
Pre heat oven to 350. 
Liquefy liver and garlic clove in a blender, when its smooth add eggs and peanut butter. Blend till smooth. 
In separate mixing bowl combine wheat germ, whole wheat flour, and cooked Barley. 
Add processed liver mixture, olive oil and salt. Mix well. spread mixture in a greased 9x9 baking dish. Bake for 20 minutes or till done. 
When cool cut into pieces that acc
Bulldog Brownies
Cake Ingredients:
1/2 cup shortening 
3 tablespoons honey 
4 eggs 
1 teaspoon vanilla 
1 cup whole wheat flour 
1/4 cup carob flour 
1/2 teaspoon baking powder 
Frosting Ingredients:
12 ounces nonfat cream cheese 
2 teaspoons honey 
Cake Directions:
Cream shortening and honey together thoroughly. 
Add remaining ingredients. 
Beat well. 
Bake in a greased cookie sheet (10x15") for 25 minutes at 350 degrees. 
Cool completely. 
Frosting Directions:
Blend together ingredients. 
Spread frosting over cool brownies. 
Cut into 3 inch or 1-1/2 inch squares
Dog Muffin Recipe
Cheesy Carrot Muffins
Share Your Dog Treat Recipes and Pictures
Please help other pet parents by sharing your recipes (and pictures).
---