Summary:
"Unfortunately, treating arthritis in dogs is necessary in about 1 in 5 pets over the age of 1. The most common type is osteoarthritis, which is also referred to as osteoarthrosis, degenerative arthritis or degenerative joint disease (DJD).  Other types include immune-mediated (canine rheumatoid arthritis, plasmacytic-lymphocytic synovitis and Idiopathic polyarthritis) and infectious arthritis.
Causes of osteoarthritis are either unknown (idiopathic) or is triggered by  secondary causes such as bone abnormalities, hip dysplasia or other inherited problems. Immune related arthritis is thought to start with the tissue around the joints. Infectious arthritis is the result of a bacterial infection.
The disease results in the breaking down of joint cartilage. The result is bones that can rub together, joint pain and increasing levels of joint damage. Specific problems include thinning cartilage, bony outgrowths around the joint and fluid buildup. Byproducts are symptoms such as swelling, joint scarring, restricted motion and varying degrees of lameness and stiffness.
Dogs at higher risk include working dogs, overweight dogs, extremely active dogs or those that have one of the disorders that affect cartilage or collagen in the joints. When seen in young dogs, it is usually due to some type of congenital problem such as elbow or hip dysplasia.
The treatment goal is to improve the quality of life by slowing down the progression of the disease with medications, surgery and supplements while addressing any symptoms."
Video on Treating Arthritis in Dogs

Overview
Like humans arthritis can be caused by an injury or disease. Unlike humans where an injury doesn't immediately manifest itself as arthritis, in dogs symptoms can be seen within several weeks (called secondary arthritis). Most arthritis cases are due to an inherited cause and are triggered by problems such as hip dysplasia, joint injury, or ruptured cruciate ligaments. Other causes are infection or some type of immune system disorder that affects the joints. Arthritis can be found in 1 out of 5 dogs, yet only 50% of those who have arthritis receive treatment.
Dog Arthritis Podcast
Here's a helpful podcast on arthritis in pets from the American Veterinary Medical Association. The podcast features Dr. Craig Prior from the Murphy Road Animal Hospital. The discussion reviews the causes of arthritis and approaches for treating arthritis in dogs.
          AVMA Podcast

Dog Hip Replacement (Left) and Hip With Osteoarthritis (Right)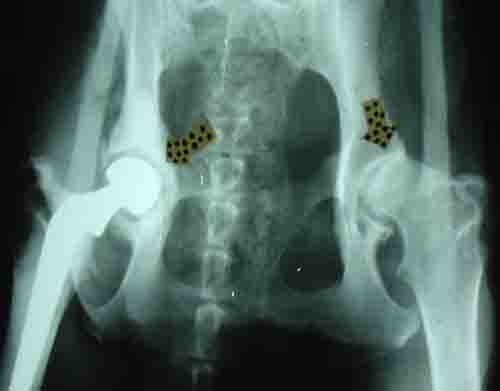 The right hip of this dog (on the left side of the X-ray) has an artificial hip.
The left hip has hip dysplasia with osteoarthritis and remodeling of the head of the femur.
Photo Credit:
Joel Mills
The Biology of Arthritis (Pathophysiology)
The disease starts with some type of stress on the joints. This can be caused by an injury, unusual activities or abnormality in the way the joint is formed. The stress damages chondrocytes, which causes the loss of collagen (fibrous protein constituent of bone).  When the collagen is altered, other problems occur such as the release of nitric oxide, which causes inflammation, and the breakdown of cartilage. The synovial fluid in the joint loses some viscosity, reducing lubrication. The decline in fluid quality also lowers oxygen levels and the amount of nutrients that reach the chondrocytes (the cells found in healthy cartilage). The bone tissue hardens stimulating pain receptors in the tendons, ligaments, bone and joints.
Synovial Joint Diagram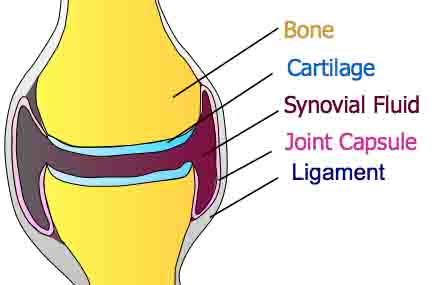 Risk Factors
Dogs are at higher risk when one of the following factors are present:
Dogs with a disease that affects the cartilage or collagen:
Diabetes mellitus
Hypothyroidism
Hyperlaxity
Prolonged use of steroids
Cushing's Disease
Dogs that put more stress on the joints are also at risk:
Overweight dogs
Working dogs
Athletic dogs
Large breed dogs

Normal Dog Hips (left) and Dog with Hip Dysplasia (right)

Types of Arthritis in Dogs
Degenerative Joint Disease (osteoarthritis)
Osteoarthritis is the most common form of arthritis seen in both people and pets. It is a condition in which the cartilage between bones wears down. Without the cartilage padding, bone rubs against bone, causing inflammation and pain.
Osteoarthritis Joint Diagram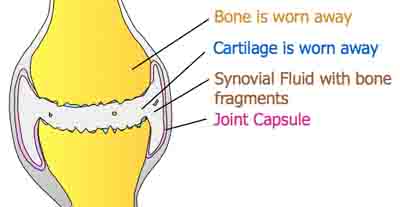 Normal stress on a joint problem or too much stress on a normal joint can be the cause. This stress causes a reduction in cartilage that protects the bones in the joint. If your dog is constantly jumping or exercising, this could be the cause. If you can pinpoint the cause and you caught it early, surgical solutions could stop or slow the disease.
Inflammatory Joint Disease
This type is usually caused by infection and is seen in several joint locations. Symptoms often include fever and anorexia. Fungus, ticks and bacteria are common causes.
Infectious Arthritis
Immune Mediated Arthritis
There are three types of canine immune-mediated arthritis. These include:
Canine Rheumatoid Arthritis: results in swelling and joint inflammation. The cause is thought to be immune complexes that are in the tissue around the joints. Areas commonly affected include the dog's wrist (carpal), ankle (tarsal) and toe joints. Symptoms associated with rheumatoid arthritis in dogs includes pain, shifting from leg to leg, trouble getting up, climbing or everyday walking.  Other signs are joint swelling and joints that are warm to the touch.  Some dogs may experience fever. A veterinarian will diagnose the condition using X-Rays and various lab tests. Treatment includes medications formulated for rheumatoid arthritis.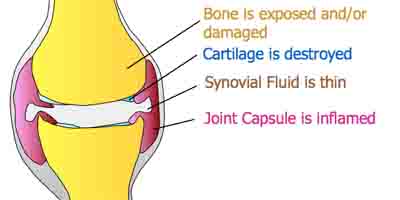 Plasmacytic-lympohocytic synovitis: This is considered to be a form of canine rheumatoid arthritis. It is more commonly seen in larger dogs. Symptoms include a tendency to demonstrate lameness in the hind limbs since the knee is often the problematic joint.  The condition is treated with medications that reduce joint inflammation.


Idiopathic polyarthritis: Idiopathic indicates that the cause of the arthritis in several joints is unknown. Symptoms often start with a frequent fever that does not improve after therapies such as antibiotics.  The veterinarian will look for other symptoms of arthritis such as lethargy, lack of appetite and physical characteristics such as stiffness or lameness. Idiopathic polyarthritis can be controlled with the use of corticosteroids over a 3 to 5 month period.  Other medications may be required.
Dogs affected are larger breeds such as:
German Shepherds
Spaniels
Toy Poodles
Yorkshire Terriers
Chihuahuas
Doberman Pinschers
Retrievers

Pictures of Immune-mediated Arthritis in a Canine Patient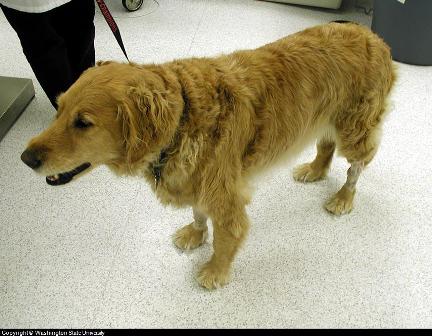 The Golden Retriever pictured above has immune mediated arthritis in the carpus or wrist.
Immune mediated arthritis of carpus (knee) in a Golden Retriever Dog
Photo Credit:

Washington State University School of Veterinary Medicine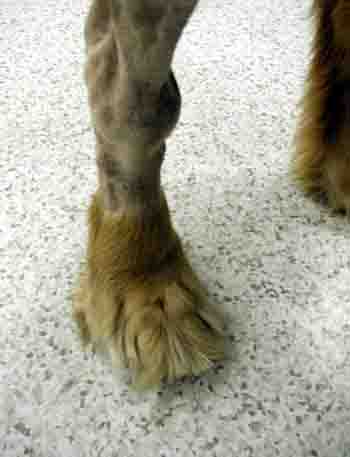 Immune-mediated arthritis in tarsus (toe joints)
Causes
It is extremely rare for arthritis to be a primary condition. Instead, other problems in the musculoskeletal system trigger degenerative joint disease. These include:
Dysplasia:

Hip and elbow dysplasia in dogs is an inherited condition that results from a malformation in bone development. It can lead to crippling lameness and painful osteoarthritis.
Hip dysplasia: which the femoral head does not sit properly in the socket of the hip joint. Dysplasia can affect any dog of any size, but strikes 50% of certain large breeds including:
Golden Retriever
English Springer Spaniel
English Setter
Chesapeake Bay Retriever
Brittany
Boxer
Bloodhound
Bernese Mountain Dog
Elbow dysplasia: includes the inherited developmental defects un-united anconeal process, fragmented (un-united) coronoid process, osteochondritis of the medial humeral condyle, and radio-ulnar incongruence, which occur in young, actively growing, large breed dogs, causing lameness and later arthritis of the elbow. Elbow dysplasia usually causes lameness in the front legs. Breeds affected include:
Golden Retriever
Labrador Retriever
English Setter
English Springer Spaniel
Rotttweiler
German Shepherd Dog
Bernese Mountain Dog
Chow
Chinese Shar-Pei
Newfoundland
Osteochonodrosis dissecans
Osteochonodrosis dissecans (the formation of a separate center of bone and cartilage on an epiphyseal surface. An epiphyseal surface is the expanded articular end of a long bone)
Patellar luxations (dislocated kneecap)
Congenital Shoulder Luxation
Congenital Shoulder Luxation involves the joint connecting the leg to the torso.

Legg–Calvé–Perthes Syndrome
This syndrome is a form of osteochondritis of the hip joint, where growth/loss of bone mass leads to some degree of collapse of the hip joint and to deformity of the ball of the femur and sometimes the surface of the hip socket.
Crania Cruciate Ligament Rupture
This ailment involves a pair of ligaments which cross over one another, specifically the cranial and caudal cruciate ligaments which tie the femur to the tibia.
Predicting Dog Joint Health
There is a website developed by researchers at Cornell University College of Veterinary Medicine that rates the likelihood of dog's joint health based on lineage. It is the first public resource of its scope in the United States. The website offers scores on the genetic potential for the hip and elbow quality of more than 1 million registered breeds. The database can help owners make informed decisions on breeding on on buying specific dog breeds.
We also recommend visiting the website to check on your current dog in order to see if your dog is susceptible to hip and elbow problems.  If your dog's breed related information indicates that this is a problem, then preventive measures such as weight control and checking the joints in regularly scheduled exams makes sense. To learn more visit the site here.
PEMF Treatment
A new form of treatment for osteoarthritis in dogs is pulsed electromagnetic field therapy (PEMF). PEMF words by pulsing electricity through a coil to create an electromagnetic field. When near a body, the field can induce an electrical current in the tissue. This causes chemical and physical changes in teh body. The dog doesn't feel it working, making the treatment low stress for addressing pain control, bone or tissue healing. 
Dog studies have shown some improvement for dogs with osteoarthritis and help for delated healing and fractures.The product uses a simple loop (Assisi loop) placed over the area to be treated. Treatments last for 15 minutes and the device turns itself off when done. The Assisi Loop has been evaluated in two peer-reviewed studies. For more severe pain the product is used along with other chronic pain management techniques.
Brochures on Treating Arthritis in Dogs
Dog Arthritis Basics (PDF Download)
Arthritis in Dogs: Types and Treatment (PDF Download)

Ask Our Vet A Question About Treating Arthritis in Dogs And We Will Answer It For Free
Have a Question for our Editors and Readers about Canine Arthritis or have some helpful advice?
Do you have a story, suggestion or question about Arthritis in Dogs? Share it! Our editors select several questions a week to answer for free. Just provide your dog's breed, age, sex and medical history.

We will do our best to get back to you quickly (depends on how many questions we receive each day). If you do require an immediate response we suggest using this online dog veterinary service that is available now.
What Other Visitors Have Asked and Suggestions from our Vet
Click below to see contributions from other visitors to this page...

For Information on Diagnosis, Symptoms, Therapies and Treatment Options for Canine Arthritis

References
Bone, Joint and Muscle Disorders in Dogs
Merck