Summary:
"The goals of any canine arthritis exercise and physical therapy programs are to find an exercise routine that protects the joints from excessive mechanical stress, while providing dogs with the exercise they need to maintain good health.
Recommended periods of rest and exercise depend on each dog's clinical signs and level of pain. Approaches such as swimming offer dogs the best of both worlds, the ability to exercise along with a minimal load on the joints. In addition to swimming, walking is a preferred form of exercise for periods of 20 minutes or more depending on your pet's strength. Some exercise, even if it is slow and steady, is always better than no exercise. Consider making accommodations where needed such as soft surfaces like grass instead of pavement."
Video: Canine Arthritis Exercise
Overview
Changes in a dog's exercise routine is one of the first questions asked after arthritis is diagnosed.
This can be a difficult question to answer since exercise may put too much strain on arthritic joints, while no exercise may contribute to weight gain, muscle weakness and decreased joint flexibility.
According to the anti-inflammatory drug Zubrin(tm), a low-impact canine arthritis exercise routine has the following benefits for dogs with arthritis:
Exercise increases strength and stamina
It helps joint mobility
It aids weight management
Exercise stimulates joint cartilage metabolism
Decreases the need for pain relieving medications
This is different that what was once thought to be true, where exercise was often restricted in patients with arthritis. However, recent studies show that mild to moderate exercise helps to reduce dog arthritis pain, and improves a dog's quality of life. Exercise should be lower impact which includes walking and even swimming.
According to an article published by Denis J. Marcellin-Little DEDV, dogs with osteoarthritis will benefit from activities such as "walking and trotting, walking with resistance provided by water or elastic bands, sit-to-stand exercises, swimming, and walking on an underwater treadmill."
Dog Massage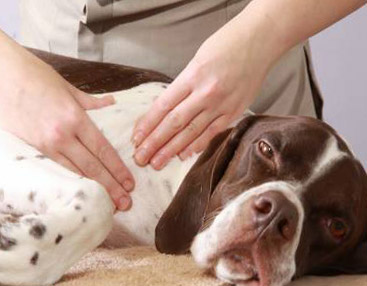 A dog massage can provide some arthritis relief by warming the muscles, improving the range of motion and reducing stiffness.
Low Impact Arthritis Exercise
A low impact canine arthritis exercise routine such as walking is an option. Start with short walks on a leash for 10 to 20 minutes. Add time as your dog is able. If your dog is unable to walk or has trouble standing, you can help by slinging a towel under the belly and then pulling up on both ends, lifting the dog into a standing position.
If your dog has osteoarthritis, it is possible that your dog's level of pain will change depending on the day. You know your dog and can see if he or she is excited to go for a walk or is acting lethargic.
Until you know your dog's condition you want to avoid activities that strain the joints such as jumping (onto or off a couch for example), stairs, running on hard surfaces such as the street, soft surfaces such as sand, catching games or spinning.
Many dogs just want to have fun, but health comes first, so you need to be the parent of an active dog.
Arthritis Exercise - Sample Routine
10 Minutes - Warm Up - Spend 5 to 10 minutes in a slow warm up such as a slow paced walk

20-30 Minutes - Aerobic

-

Match activities to your dog's ability such as a fast leash walk. Your dog could accompany you while you jog or even bike. Build up to 5 days per week.
If you have access to a place where your dog can swim, it is an excellent way to introduce low impact aerobic exercise.

20-30 Minutes - Play

-

Play is a great way to keep your dog active. Go with your dog's favorite game, or play with a ball, Frisbee or anything else that keeps your dog's interest.

5-10 Minutes - Cool Off

-

Slow down the pace with a gentle walk and be sure to give your dog water.
Arthritis-friendly exercise for your dog is an important part of their arthritis treatment plan.
Physical Therapy
Many types of conditions including degenerative joint disease (osteoarthritis or DJD) can be helped with physical therapy. Each program is tailored to the dog's specific needs using sessions that last from 30 minutes to one hour. In addition to exercises, these trained therapists are able to utilize tools such as underwater treadmills that can, for example, compensate for 60% of the dog's weight.
Canine Hydrotherapy Treadmill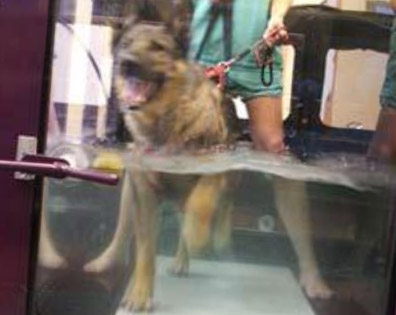 Hydrotherapy can help a dog improve strength while limiting the impact on joints
Photo Credit:
Janet D. Collins
Non-Traditional Approaches to Helping a Dog with Arthritis
Many of the approaches that have been proven helpful in people are being used to help dogs with arthritis. These approaches and canine arthritis exercise can be administered by a canine physical therapist.
Non traditional approaches include:
Dog Massage
Canine massage may help to decrease muscle tension and pain. It can also help to warm and relax  tissues, decrease muscle spasms, improve blood flow and improve flexibility. Massage can also promote joint range of motion. In addition to the massage, the use of a warm water bottle can help.
Dog Joint Mobilization
This approach is involves the manual displacement of one bone to another. Human studies have shown this approach to be helpful in osteoarthritis of the knee.
Acupuncture
Acupuncture is often used in addition to other therapies in dogs.
Magnetic Therapy
This approach uses magnets to decrease muscle pain and improve function.

Brochure on Canine Arthritis Exercise

Dog Arthritis Exercise
(Free PDF Download)


Ask Our Vet A Question or Share Your Story

Have a Question for our Editors and Readers about Canine Arthritis or have some helpful advice?
Do you have a story, suggestion or question about Arthritis in Dogs? Share it! Our editors select several questions a week to answer for free. Just provide your dog's breed, age, sex and medical history.

We will do our best to get back to you quickly (depends on how many questions we receive each day). If you do require an immediate response we suggest using this online dog veterinary service that is available now.
References
American Veterinary Medical Association

Pain Management for Canine Osteoarthritis
P. Roudebush, Hill's Pet Nutrition, Inc.
Topeka, KS, USA


Benefits of physical therapy for osteoarthritic patients
Denis J. Marcellin-Little DEDV, Diplomate ACVS, Diplomate ECVS
College of Veterinary Medicine, North Carolina State University
Raleigh, North Carolina, USA