Guide to Dog Arthritis Medication, Treatment and Pain Relief

Summary:
"Medications and surgical techniques are available for treating arthritis in dogs. Veterinarian's try medications first, and then use surgery to improve the way joints are aligned or to eliminate any bone-on-bone contact. Arthritis medicines for dogs are usually a class of medications called NSAIDs. These drugs can help to relieve arthritis related discomfort and joint problems associated with canine osteoarthritis. The problem is that all NSAIDs can have gastrointestinal upset as a side effect. Because of this a veterinarian will only recommend the use of these medications when needed and in limited doses and for limited periods of time. This may be supplemented with safe dietary supplements such as glucosamine and chondroitin, and the Fatty Acid supplements Omega 3 and 6. Veterinarian's also recommend weight loss to take stress off of joints and moderate amounts of exercise
Physical therapy after surgery can be beneficial. Techniques will work to maintain or increase joint motion.
Arthritis pain relief can be addressed with medications or cold and heat therapy and treatment options such as prescription anti-inflammatory drugs, nutraceuticals, dietary change, exercise, weight loss and surgery.
Diet will be addressed for dog's that are over weight, since weight creates joint stress. The addition of Omega 6 and 3 fatty acids as a supplement can help to reduce joint inflammation and the production of some prostaglandins.
Patients are monitored for any change in condition and to adjust the dosage of recommended medications.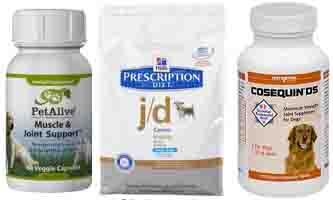 Over the Counter Dog Arthritis Medication Options Include from Left to Right Natural Remedies, Foods Fortified With Omega 3 and 6 Fatty Acids and Dietary Supplements