Summary:
"Dog parasite skin infections or problems are commonly caused by canine fleas, dog mange, ticks and ear mites, with fleas being the most common.
Treatment involves immediately addressing any dog skin symptoms, removing the parasite from the dog's body, and then implementing some type of long term prevention plan."
Overview
Dog parasite problems can cause skin irritation and infection and are caused by a variety of organisms. Fleas are the most common type of parasite found in dogs and cause irritation due to biting or flea allergy dermatitis.  Even if you can't see them, fleas are often the cause.

Ticks are the second leading cause and can carry the infectious organism that causes Lyme disease, Ehrlichiosis, and Rocky Mountain Fever among others. They are picked up in fields and wooded areas. Tick related diseases are dependent on how quickly a tick was removed, and the type of tick, as not all ticks carry Lyme disease.
Mites are closely related to ticks, and are the cause of mange after they burrow into the skin.  Lice is from coming in contact with another animal that has lice.
Learn more about lice, fleas and ticks and other pests.
Video: Overview of Canine Skin Parasites
Parasite symptoms in general include itch, scratching, chewing the skin or excessive licking. Diagnosis is based on the location of the dog skin problem on the body, skin symptoms and skin and ear wax texts.

In order to prevent canine parasite problems from returning, a dogs environment should be cleaned thoroughly by vacuuming the area, disinfection and washing all of the dog's items. There are symptoms, diagnostic approaches and treatment options that are unique to each parasite which are described below. If you have more than one pet, or have tried home treatment, be sure to mention this to your veterinarian.
Download this free brochure from the AVMA on external dog parasites for more information (PDF).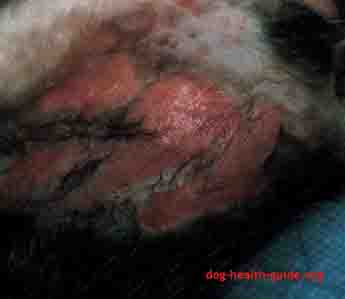 Secondary Dog Flea Allergy Symptoms on Dog Abdomen Resulting in Eosinophilic Plaques
By:
Dr. Barbara Stein/WSU Veterinary School
Causes of External Parasite Problems
Dog skin problems are often caused by several types of insects. The most common types of parasites are: 
Dog Mange
Canine Fleas
Ticks on Dog
Canine ear mites
Canine lice
Symptoms
The primary symptom of dog skin parasite problems is usually itch and any skin damage caused by a dog scratching, licking or biting the skin (referred to as a secondary symptom). Skin will usually appear red and inflamed. If you look closely, you may be able to see the actual parasite. Exact symptoms depend on the type of parasite.
Diagnosis
While some dog parasite skin problems can be diagnosed based on the symptoms, often trial and error helps to solve the problem, with a dogs response to treatment indicating the cause of any dog skin conditions and other related symptoms.
We don't want to discourage you from going to the vet, but you can often determine if your dog has fleas, lice, or ticks just by looking at his skin and looking for the symptoms described above. If you discover that your pet has one of these dog skin parasite, you can often treat them yourself at home. Vets can diagnose most dog skin parasites simply by looking at them. For conditions such as the mange, a skin scraping test is performed to determine the type of mange and the appropriate treatment. Vets will diagnose ear mites by taking a swab from your dog's ear and looking at it under a microscope. The vet can see the mites moving around under the scope.
Treatment and Parasite Control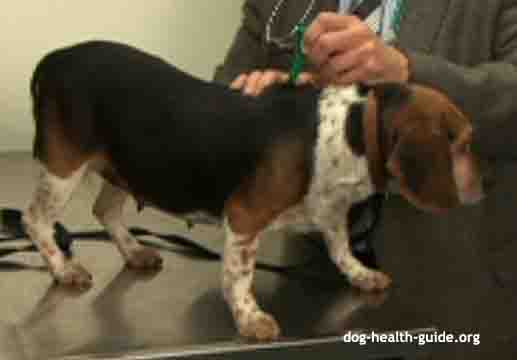 A Spot On Treatment Can Help Prevent Many Types of Dog Skin Parasites
Source: AVMA

For treatment advice, click through to the page that has information on the type or parasite affecting your dog:

The CAPC recommends that dogs use a preventative year round that protects against ticks, fleas, intestinal parasites and heartworm. They also suggest year round protection from fleas. If you aren't sure, read through the following pages to see if any pictures and symptoms match your dog's condition. There are also natural treatments available to help expel parasites such as Parasite Dr.
For more information on prevention download this brochure from the Companion Animal Parasite Council.
Ask Our Vet A Question And We Will Answer It For Free
Have A Dog Parasite Question For Our Vet? We'll Answer It For Free!
Do you have a Dog Parasite related Question for our Veterinarian or a Helpful Story to Share? Please include information such as dog age, sex, breed, medical history, medications your dog is taking, recent changes in behavior, outdoor/indoor lifesytle, behavior etc. Pictures are also helpful in identifying the severity and cause of any parasite related problems.

We will do our best to get back to you quickly (depends on how many questions we receive each day). If you do require an immediate response we suggest using this online dog veterinary service that is available now for a small fee.
References For Dog Skin Parasite Problems
Papadogiannakis, E. I., DVM
Ectoparasitic Skin Diseases in the Dog: Diagnostic Approach and Treatment

Mueller, R. S. (Ed.)
Dermatology for the Small Animal Practitioner

References for Dog Parasite Skin
Sarcoptes, Demodex, and Otodectes: Treatment Options

R.S. Mueller
Faculty of Veterinary Medicine, Ludwig-Maximilians-University, Munich, Germany.

Hound Health Handbook
Betsy Brevitz