Overview
Lice (Pediculosis), and dog lice symptoms such as skin irritation are caused when the parasties feed on blood (the lice species calle Anoplura "Linognathus setosus" ) or skin debris (Mallophaga "richodectes canis" lice). The condition is usually limited to dogs that are suffering from nutrional deficiencies or neglected since flea preventatives also kill lice.
Dog lice can be seen with a naked eye. Chewing Lice to not spread disease. Lice that feed on blood (Anoplurans) can cause hypoproteinemia (abnormally low blood protein levels), anemia and in severe cases, death. The parasite is 2 - 4 mm in size.
Lice Eggs on Dog Hair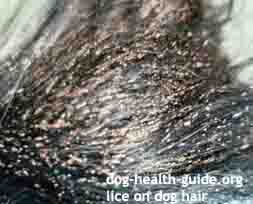 By: Bella Moss Foundation

Symptoms

Dog lice symptoms include:

Itch (pruritis)
Skin scaling
Skin scabs
Dog dandruss (seborrhea sicca)
Hair loss (alopecia)
Bacterial skin infection (as the result of scratching)
Dogs that are not treated can suffer from anemia, which is a reduced level of red blood cells (the part of the blood that carries oxygen). As mentioned, there are two different types of lice, those that feed on blood and Mallophaga or dog chewing lice that feed on skin debris. Chewing lice can cause skin irrtation and debilitation.

Diagnosis

Dog lice symptoms along with actually seeing the lice on the dog's body will confirm the diagnosis. The two lice types can be distinguished by their behavior with blood sucking lice moving slower than mice that feed on skin debris. Lice eggs will be visibly attached to dog hair.

Lice Lifecycle

Lice will complete their entire lifecycle while attached to one dog.  When off a dog or host they can live up to 7 days. More infestations are found during the winter.

Treatment

As mentioned, products (dips, shampoos, powders) formulated to kill fleas can also kill lice. Products are applied multiple times (see manufacturers directions to kill any hatching eggs. For more information on specific products, click on the links below)

To prevent a re-occurrence be sure to vacuum the entire home. Wash floors and dog bedding. Bring the dog to the groomer to remove eggs from the dog hair.

References
External Parasitic Diseases of Dogs and Cats
P.A. Payne1, M. W. Dryden2 and G.R. Carter3
Department of Diagnostic Medicine-Pathobiology
College of Veterinary Medicine, Kansas State University, KS, USA

Have A Dog Parasite Question For Our Vet? We'll Answer It For Free!
Do you have a Dog Parasite related Question for our Veterinarian or a Helpful Story to Share? Please include information such as dog age, sex, breed, medical history, medications your dog is taking, recent changes in behavior, outdoor/indoor lifesytle, behavior etc. Pictures are also helpful in identifying the severity and cause of any parasite related problems.

We will do our best to get back to you quickly (depends on how many questions we receive each day). If you do require an immediate response we suggest using this online dog veterinary service that is available now for a small fee.
---