Summary:
"Parvovirus Treatment is comprised of steps that reduce the discomfort and problems caused by symptoms such as vomiting, diarrhea and dehydration. Dogs are usually kept in an animal hospital where they are given intravenous fluids and nutrients with an IV drip. Antibiotics are used in cases where infection has set in as a result of a weakened immune system. If a dog is nauseous, medications are provided to direct this symptom as well. Natural remedies can provide an added level of support to help speed healing and reduce the severity of symptoms. They are not a cure, but supportive care."
Overview
Canine parvovirus is carried by dogs, many of whom show no symptoms themselves. Canine parvovirus (CPV) is a highly contagious disease characterized by severe vomiting and diarrhea that is often bloody. The virus is shed in the feces of infected dogs, but can be carried on a variety of objects and can also live in soil. The virus can survive on inanimate objects, such as clothing, food dishes, and cage floors, for six months or more. Your dog should be vaccinated for parvo as a puppy and have yearly booster shots to protect him.
If your dog has symptoms of parvo such as severe diarrhea or diarrhea that is bloody, he needs to be seen by your veterinarian for parvovirus treatment. Take a stool sample with you so that it can be tested for traces of the virus.
Certain canine breeds seem to be more susceptible to Parvo, including Rottweilers and Doberman Pinschers.
There is no cure for parvovirus. Parvovirus treatment is directed at supportive therapy.
Dehydration is a big concern with all the vomiting and diarrhea and must be treated. In severe cases, intravenous administration of a balanced electrolyte solution is required. In less severe cases, subcutaneous (under the skin) fluids are given. In addition, medications to stop vomiting (anti-emetics) and diarrhea (anti-motility drugs) may be given. Restricting food during periods of vomiting is necessary, but fresh water may be kept available.
Antibiotics are given to control secondary bacterial infections, which often set in as a dog's immune system is compromised by CPV. After the intestinal symptoms begin to subside, a broad spectrum de-worming agent is often used, as well.
Your dog will probably have to be hospitalized for a few days to receive round-the-clock parvovirus treatment. Even after he comes home, you will need to provide a great deal of care to him. He will be weak and will need regular medications.
It's a good idea to disinfect your dog's environment if you have other dogs that visit the home. The virus is not killed by common household cleaners, but can be killed with a disinfectant labeled for this purpose such as Parvosol or with 30 pats bleach to one part water. The virus does not survive long indoors, but does survive longer outdoors. Steps such as watering the lawn could help to reduce the risk to other dogs.
Your recovering pet should be kept away from other dogs for at least two months, as he will still be contagious. This also means you should not allow his feces to be left where other dogs might sniff them either. Ask your vet when he can safely be around other dogs. Humans and cats cannot catch parvovirus, so they are safe to be around your dog.
Even with the best available care, the mortality rate with parvovirus is high. That's why it is so important to have your dog vaccinated and to keep his vaccinations current.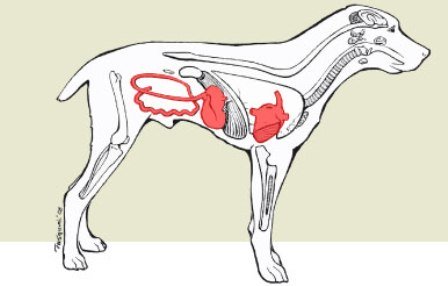 Parvovirus Treatment Focuses on Relieving Related Symptoms.
As Indicated Above, the Virus Primarily Infects the Heart and Gastrointestinal System.
Source: Cornell College of Veterinary Medicine
Parvo and Your Puppies
Fast parvovirus treatment is critical in puppies puppies since their immune system is potentially less mature than adults or if the disease is contracted before vaccination can take hold. Visit our guide to Parvo in Puppies for more information.
Natural Parvovirus Treatment
Parvo herbal products are made to strengthen the immune and digestive systems of your dog, two areas that are an essential part of parvo treatment. Herbal remedies come in granular form that sprinkle on the tongue of your dog. Typical ingredients include:
Arsen alb. (6C) used for digestive upsets including cramping, vomiting and diarrhea. Also good for dogs showing signs of lethargy and irritability.


Verat. alb. (6C) is a homeopathic remedy for violent vomiting, cramps and diarrhea. This remedy is particularly useful for dogs with fever and dehydration which are both common and dangerous in Parvovirus.


Belladonna (30C) is used for fast relief from acute fever, pain, inflammation and all illnesses with a sudden and severe onset. Thirst, fever and swollen/tender abdomen are further indications for Belladonna.


Parvo (30C) is a homeopathic remedy used both prophylactically (preventively) and curatively in the treatment of canine Parvovirus. Homeopathic nosodes are similar to vaccines in that they help to build protection and resistance against specific diseases. They differ to conventional vaccines in that they are usually manufactured from the products of diseases rather than from a culture of the disease agent or virus itself (as in many conventional vaccines).

Research has shown a high rate of success in the treatment and prevention of Canine Parvovirus using this homeopathic 'vaccine' in contrast to the conventional vaccination which seldom confers immunity without numerous subsequent booster shots.


Zingiber officinale (Ginger) Working mainly in the digestive tract, Zingiber boosts digestive fluids and neutralizes acids, making it an effective alternative to conventional anti-nausea medication. Modern research confirms its effectiveness in relieving the symptoms of nausea, vomiting, indigestion and flatulence. Zingiber has strong anti-inflammatory and pain relieving properties and is also used to treat arthritis and other inflammatory diseases.


Agrimonia eupatoria (Agrimony) helps to relieve diarrhea, reduces inflammation of the mucus membranes and soothes restless animals. This herb has been used for centuries in the treatment of digestive disease including colitis, appendicitis and diarrhea. Agrimony is a bitter, mildly astringent, tonic, diuretic herb that may help control bleeding, improve liver and gall bladder functions, treat fever and have anti-inflammatory effects.
A high quality product that combines these ingredients is Parvo-K.
Free Book On Parvovirus Treatment
One of the manufacturers of Parvo Supplements offers an excellent e-book that you can download on the virus called Protect Your Dog From Parvo.
You can also download this free canine parvo brochure from the American Veterinary Medical Association (PDF).
Ask a Question Or Share a Story
Have a Canine Parvovirus Related Question For Our Editors or A Story to Tell About This Topic?
Do you have a dog parvovirus question for our Editors or a helpful story to share? Please include information such as age, sex, breed, medical history, symptoms, diet, changes in behavior and medications.

We will do our best to get back to you quickly (depends on how many questions we receive each day). If you do require an immediate response we suggest using this online dog veterinary service that is available now.
What Other Visitors Have Suggested and Vet Responses
Click below to see contributions from other visitors to this page...

Parvo Home Remedy

Here's my cure for parvo - carnation powdered milk - 1 egg yolk - 1 teaspoon sugar and enough water to make a shake Give every 2 hours according …
Parvo Virus Reinfection

I found out my twelve week old boxer has parvo and the vet is keeping him for 3 or 4 days until he is better. I cleaned his cage, linens, bowls and toys …
References
Canine Parvo Virus and Distemper
Lobetti, Remo
Cornell College of Veterinary Medicine