Summary:
"Dog Adrenal Glands secrete hormones that control areas of your dog's body such as heart rate, glucose levels and sodium levels. When there is a problem with too little or too much hormone secretion, problems occur such as Addison's Disease and Cushing's Disease. The cause of these conditions includes problems such as an adrenal gland tumor."
Overview
Adrenal gland disease in dogs can cause many problems for your dog. There are two adrenal glands located on each side of the kidneys. The glands are part of the endocrine system, the body's way of producing hormones to regulate levels such as blood pressure and glucose among other things.
Hormones are used to both trigger some action in the body and also to keep that action within normal ranges. When a tumor or some other problem exists such as when the body mistakenly attacks a gland (autoimmune disease), the gland either produces too much hormone or too little.
Hormones that are produced by dog adrenal glands include:
Epinephrine: Stress response, stimulates the heart beat and raises blood pressure.
Cortisol: Responds to stress, metabolism of protein and carbohydrates, blood sugar levels, blood pressure and muscle strength
Oldster: Regulates water balance, salt and potassium
Canine Addison's Disease (Hypoadrenocorticism)
Addison's disease occurs when the dog adrenal glands secrete too little hormone. It occurs when another condition or drug negatively effects the glands such as a tumor, medications (steroids in particular) or infection. It is possible that for some reason your dog's body had what is known as an autoimmune reaction, and started to attack the adrenal glands with no other reason.
Addison's causes a drop in cortisol production, lower sodium level and as a result lower blood pressure. Unfortunately it also triggers over production of potassium which doesn't allow the heart to pump harder to make up for the blood pressure drop. If this isn't corrected a deadly condition called Addisonian crisis can set in.
Addison's could also be triggered when a dog is being treated for Cushing's Disease whose goal is to reduce the over secretion of hormones. If the hormone levels are brought too low, then Addison's could be triggered.
Symptoms of Addison's disease are diarrhea, vomiting and weakness. Dogs are very responsive to treatment including a class of steroids called corticosteroids and a medication called fludrocortisone. Your dog will need to take an oral medication for the rest of his or her life.
There is also a homeopathic remedy that may help your dog in addition to traditional approaches. The remedy is called PetAlive Adrenal Super-Boost and it works to temporarily relieves adrenal fatigue and supports adrenal gland functioning. Check with your veterinarian on trying a natural approach as you would for a conventional approach.
Canine Cushing's Disease (Hyperadrenocorticism)
Cushing's is a common endocrine system problem in dogs. In 85% of cases it isn't caused by adrenal gland, but by the pituitary gland, called pituitary dependent hyperadrenocorticism (PDH). 15% of the time the condition is caused by a tumor on the adrenal gland problem called a functional adrenal tumor (FAT).
Cushing's CS is typically found in middle-aged to old dogs. Common breeds with a higher incidence of the disease includes the miniature poodle, dachshund, terrier breeds, boxer, beagle. FAT tend to occur more frequently in large breed dogs than PDH.
As mentioned, when the adrenal glands secrete excess hormone (glucocorticoids), then your dog is suffering from Cushing's Disease. This could be caused by a tumor on the adrenal glands or if your dog has been on a steroid medication for a long period of time.
If your veterinarian detects an adrenal gland tumor, she will also look for a tumor on the pituitary gland (PDH) since these two types or tumors are often seen together.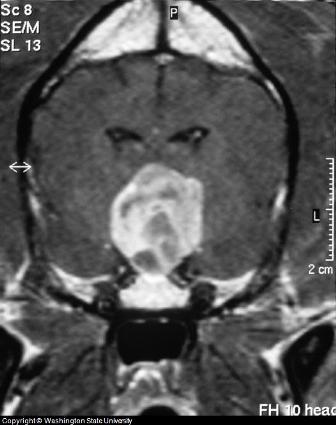 Dog Pituitary Tumor X-Ray in dog with Cushings Disease
Source: Washington State University

Symptoms of Canine Cushing's disease include hair loss and blackheads on the abdomen, excessive urination and excessive thirst. Cushing's can trigger other problems in your dog's body including infection, diabetes mellitus, and high blood pressure (hypertension).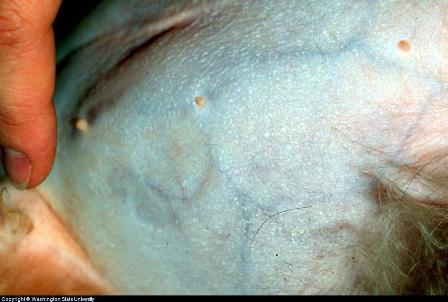 One Symptom of Canine Cushings Disease is thin skin on the abdomen as shown here
Source: Washington State University

Treatment for Cushing's is with a medication called mitotane. Treatment lasts for two years and requires close supervision by your veterinarian. Dog's tend to live for two years on treatment. If a tumor is involved then surgical removal of one adrenal gland is possible.
If the Cushing's was triggered by a medication, then if your dog is taken off the drug, then the condition can reverse itself.
Pheochromocytomas (Adrenal Gland Tumor)
This is a a term that is used to describe a tumor on a part of the dog adrenal glands called the adrenal medulla. Other terms which refer to different types of adrenal gland tumors include neurobastoma and ganglioneuroma. The medulla is one of the two parts of the gland. The other part is called the cortex.
A benign (or tumor that is not cancerous) is called a adenoma. It can still cause problems such as the over production of hormones.
Symptoms of an adrenal gland tumor include:
Thirst
Excessive Urination
Faster Heart Rate
Enlarged Abdomen (from swollen liver)
Restlessness

Treatment for a tumor on the dog adrenal glands includes surgery and the use of a medication called mitotane.
A natural homeopathic remedy is also available for additional canine adrenal support. It contains ingredients known for their ability to provide some short term help with adrenal fatigue. It is also known to support the functioning of the entire endocrine system. The product is PetAlive Adrenal Super-Boost. The manufactures web site is a good source of additional information on natural alternative remedies for the dog adrenal glands and related problems.
Ask a Question or Share a Story

Have a dog adrenal gland related question for our editors or a story to share?
Do you have a dog adrenal gland related question for our editors or a helpful story to share?

Please include related information such as age, sex, breed, medical history, symptoms, diagnosis, diet, changes in behavior, diet and medications.

We will do our best to get back to you quickly (depends on how many questions we receive each day). If you do require an immediate response we suggest using this online dog veterinary service that is available now.

In addition to specific therapies recommended by your veterinarian, consider adding a homeopathic product such as Cushex Drops, which is formulated to support adrenal gland function. Check with your veterinarian.
What Other Visitors Have Said
Click below to see contributions from other visitors to this page...

References for Dog Adrenal Glands Research
Current Treatment Options of Canine Hyperadrenocorticism
Sylvie Daminet, DVM, PhD, Dip
ACVIM, Dip ECVIM-CA
Prof. Internal Medicine
Dept. Small Animal Medicine
Ghent University
Salisburylaan 133
B-9820 Merelbeke
Belgium
New Treatment Options in Canine Cushing's Syndrome
Claudia E. Reusch, Dipl ECVIM-CA
Clinic for Small Animal Internal Medicine, University of Zurich
Winterthurerstr, Zurich