Summary:
If your dog is scratching his or her ears, and shaking their head, then dog ear mites, a type of ecto-parasite, (otodectic dog mange or otitis externa) which is the second most common parasitic disease in dogs after fleas. It is often diagnosed in puppies, but can be a problem for dog's of any age.
Dogs with ear mites scratch their ears a lot, removing some of the hair in the process.  It's a canine parasite skin infection that can strike year round. While this parasite affects the ears, the other type of mange, sarcoptic dog mange or dog scabies, can also effect the ear tips as well as other parts of the body.
The problem starts when mites enter and irritate the ear and ear canal while feeding on skin debris.  The mites create debris causing the ears to appear dirty, containing wax or filled with coffee grounds. If the waxy exudate caused by the mites builds up, it can become a breeding ground for fungi and bacterial infection. 
Mites can spread from dog to dog and unlike other types, do not burrow into the skin. The mites take 3 weeks to mature from egg to adult can survive in a dog ear for several weeks. While the dog ear mites primarily inhabit the ears, they can also be found at the head of the tail, on the neck, face and feet.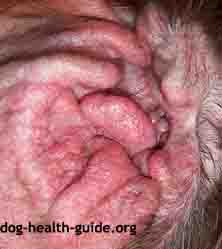 Inflammation Caused By Dog Ear Mites
Source: Olathe Animal Hospital
Overview
Ear mites are commonly caused by the mite Otodectes cynotis. They are visible to the human eye and look like small white spots that move. The most common symptom is scratching at the ears, but they can live on other parts of the body and in the dog's environment. Another sign are ears that small badly caused by dried blood residue. Ear mites are spread when a dog is either outside from a mite that is on the ground or when in close contact with another animal.
A single female mite lays five eggs a day. The mites can hatch in four days and then immediately start feeding on the oils and wax found in the ears. The mite goes through 5 developmental stages and will live for about 2 months.
Treatment involves a thorough ear cleaning and the application of a medication to kill any remaining mites. If the mites caused an infection, then antibiotics are prescribed. The veterinarian might recommend a series of baths over the course of a month to ensure that any mites are removed from the dog's coat.
Left untreated the mites can cause problems with balance and hearing loss. If you see any symptoms consult with your veterinarian.
Dog Ear Mite (Otodectes Cynotis) Under a Microscope. It is a Non-burrowing Mite.
Source: Dr. Chris Adolph, Southpark Veterinary Hospital