Summary:
"The auto-immune disease pemphigus in dogs has four types: Pemphigus foliaceus, pemphigus vulgaris, pemphigus erythematosus and pemphigus vegetans. As a group, they are referred to as pemphigus complex, which includes various subtypes. All types affect your dog's skin and mucous membranes at various skin depths by causing the skin to literally fall apart by eroding the mechanism that keeps skin cells attached. As this breaks down by the body's immune system response, scaling skin, scabbing, lesions and at times, pus filled sores start to form. "

Pemphigus in dogs is most difficult to deal with since it is an autoimmune disease. It means your dog's immune system is declaring war on itself. It does this by attacking healthy cells found in the skin. This is a very difficult and painful disease to treat and often takes months of therapy. Some dogs don't make it.

Pemphigus in Dogs Ears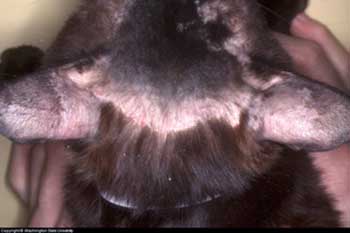 Source: Washington State University

The four categories of pemphigus in dogs: 
Pemphigus foliaceus: usually affects the top layer of your dog's skin on the nose bridge, eyes, groin, ears and footpads.  It is a common canine immune mediated disease and the most common type of pemphigus in dogs.
Pemphigus vulgaris:  affects the mouth, nose, prepuce, anus, vaginal area
Pemphigus erythematosus: attacks the skin on the face and on the ears
 Pemphigus vegetans: warty growths that may ulcerate.  It is very rare.
Dog Pemphigus on Feet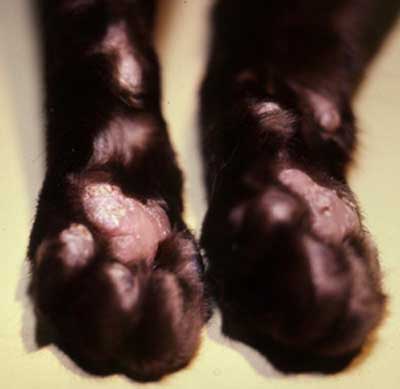 Source: Washington State University

Typically, the type of pemphigus is diagnosed by what layer of the skin it affects. The most common form is Pemphigus foliaceus, which tends to surface in Dachshunds, Bearded Collies, Dobermans, Schipperke, Finish Spitz, Rotties, Chows and Newfoundland dogs.

The second most common manifestation of this disease comes in the form of Pemphigus erythematosus, and is generally considered to be a milder form or Pemphigus foliaceus. This type affects German Shepherds, Collies and Shetland sheepdogs.

The most severe type of this disease is Pemphigus vulgaris, and it produces very severe ulceration of your dog's skin in areas like the vagina, nose, anus, prepuce and around the mouth, as well as other parts of the body. This is extremely painful and in this type, there is a higher risk of secondary complications. While Pemphigus vegetans "may" be a slightly less severe form of Pemphigus vulgaris, it looks different, which is what ultimately distinguishes it from vulgaris. Vegetans usually presents in the form of wart like growths that have a tendency to ulcerate.

Unfortunately, there are several "other" diseases that look like Pemphigus and it's difficult to always get an accurate diagnosis. Drug reactions that cause skin eruptions are the most common mimic of Pemphigus, but there is also skin cancers, discoid lupus and systemic lupus erythematosus to consider while conducting a differential diagnosis to eliminate possible causes. 
There is also a condition called canine bullous pemphigold which is seen in Doberman Pinschers and a few other breeds. Here the body forms blisters that have a thick cover. Ulcers also form in the mouth, toenail beds and foot pads.  
Pemphigus in Dogs Symptoms

This disease often affects dogs about 4 years old or older, but this isn't to say that it can't happen in younger dogs as well. Most often, Pemphigus will show up on the feet or head and generally starts out as pustules. It eventually progresses into severe crusting. The nose is usually involved and it may get discolored (caused by loss of pigmentation) and your dog will have a persistent and severe itch, not only in the nose, but in all the affected areas of their skin. If you detect any odd changes in your dog's skin, don't wait to talk to a vet. This disease is excruciatingly painful and often fatal if not treated promptly.
Pemphigus in Dogs Diagnosis

The first thing your vet will do is conduct a physical exam.  They will be looking for blisters or eruptions in various areas on your dog.  In order to tell what subtype of Pemphigus is causing your dog's blistering; the vet will do a biopsy. Knowing the subtype is critical to deciding on a treatment regime and in determining a prognosis. Typically, unless your vet is highly experienced at dealing with skin lesions, the biopsy may be done by a dermatopathologist.
The vet will also be differentiating what they see from other possible diseases, such as systemic lupus erythematosus, and while doing that, may also conduct immunohistochemical or direct immunofluorescent testing. They are looking for the desmoglein (a component of the dog's skin) distribution. In some cases of Pemphigus, there is altered distribution, often a signpost of the disease. Blood tests for anti-plakin antibodies and desmoglein may also be used to assist in diagnosis.
Pemphigus in Dogs Treatment

The goal of dog pemphigus treatment is to stop the bodies destructive immune skin response.   Treatment involves slowing down the immune system, while at the same time, protecting against infection that could form while the immune system is not functioning at full strength.
The only treatment that produces results for this condition involves being put on oral corticosteroids, along with other medications that suppress the immune system. All of these medications do have side effects that you will want to discuss with your vet. Ask questions to fully understand what you are dealing with and how to administer the medication properly.
Once you get the symptoms under control, a veterinarian will switch to the lowest dose needed to control the disease or to a different medication.  This is done because these drugs have serious side effects. For example: dogs may drink excessively, urinate frequently and excessively, have a voracious appetite, and gain weight. They will pant a lot and will experience incontinence and possibly issues walking due to a significant weight gain. Controlling this disease is like walking a very fine line; you will need to be balanced in all that you do for your dog.   Treatment is life long.  Approximately 50% of dogs with pemphigus foliaceus and pemphigus erythematosus can be kept symptom free.  Other forms of the disease are more difficult to treat.
Dog that Recovered from Canine Pemphigus Foliaceus Symptoms after 4 months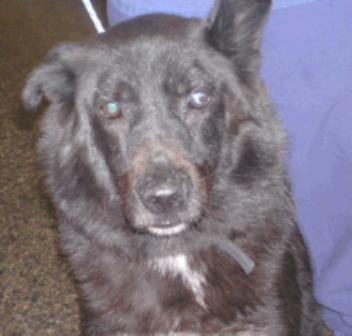 Source: Maristavet

Tip: Keep your dog out of the sun or use canine sun blocks (SPF 15 and above) such as Veterinarian's Best, as it makes the symptoms worse, particularly on depigmented areas of the nose.  Apply as directed by manufacturer.

One study showed that Pemphigus foliaceus can have a high mortality rate from owner requested euthanasia (putting a dog to sleep), resulting from the high cost and potential side effects of treatment.

Prescription Medications for Canine Pemphigus
Below is a list of various drugs used for pemphigus in dogs. Please note that there are some natural remedies you may use, and they will be listed following the drugs.
Steroids
Immunosupressants

Azathioprine (Imuran )
Tacrolimus (Fujimycin)
Chlorambucil (Leukeran)

Topical corticosteroids
Antibiotics for secondary infections
Anti-bacterial baths – ask your vet about these
Cyclosporine – being tested for use in dogs, still under consideration
Metronidazole – being tested for use in dogs, still under consideration
Natural Approaches for Treating Pemphigus in Dogs
If you're considering natural approaches for pemphigus in dogs, it's essential to consult with a veterinarian for advice and supervision tailored to your dog's specific condition. Pemphigus is a serious autoimmune skin disorder, and while some natural remedies might provide symptomatic relief, they should not replace conventional medical treatments. Here's a general review of the mentioned remedies:
Skin and Coat Tonics and Remedies: There are various natural tonics available that claim to help restore and maintain a dog's skin and coat condition. These often contain a blend of vitamins, minerals, and herbal extracts. Such tonics might be beneficial for general skin health and may support the skin's healing process. However, they are unlikely to treat the underlying autoimmune condition causing pemphigus.
Acupuncture: Acupuncture involves inserting thin needles into specific points on the body to stimulate energy flow and promote healing. While acupuncture is increasingly accepted in veterinary medicine, its efficacy for pemphigus in dogs specifically hasn't been well-researched. It may provide symptomatic relief for pain or discomfort associated with pemphigus lesions, but won't address the root cause of the disease.
Acupressure: This is similar to acupuncture but doesn't use needles. Instead, pressure is applied to the same energy points. Like acupuncture, acupressure may help alleviate some symptoms or discomfort but is unlikely to treat the root cause.
Reiki or Meridian touch therapy: Reiki and other touch therapies involve channeling energy to promote healing and balance. While some individuals believe in the benefits of these therapies, scientific evidence supporting their efficacy is limited. They might help a dog feel more relaxed and could potentially improve general well-being but won't directly treat pemphigus.
While these natural approaches might offer symptomatic relief and improve general well-being, it's essential to understand that pemphigus is a serious condition. Relying solely on these remedies without seeking conventional medical treatment might put your dog at risk. Always consult with a veterinarian before starting any new treatment, and monitor your dog's condition closely.
References for Pemphigus in Dogs

Skin Diseases of Dogs and Cats

Dr. Steven A. Melman
Have A Question about Your Dog's Skin Condition? Our Team Will Answer It for Free!
Do you have a question or comment? Share it!

Our editors will pick 1 question to answer each week. Please include your dog's age, breed, medical history, medications and if possible, a picture of the condition.

We will do our best to get back to you quickly (it depends on how many questions we receive each day). If you do require an immediate response we suggest using this online dog veterinary service that is available now.
---