Summary:
"Try a chewproof dog bed for the ultimate in comfort for your canine companion. It's a fact of life when owning a dog that they do like to chew and shred their bedding – and other things. A chew resistant dog bed is the perfect solution for busy teeth."
Overview

The major reason you will want a chew proof dog bed, aside from the fact that they work against the habit of shredding the covering material, is to stop your dog from swallowing the filling in the bed. Many beds on the market have fiberfill, grain, recycled plastic, futon mattresses and even pine shavings in them. None of this is particularly good for a dog to ingest. Not only could your dog be very ill, but the vet bills would be phenomenal.
We're not just talking about what is inside the bed in terms of what your dog will eat. We're also talking about the covering. While it may look nice and soft and warm and cuddly, it doesn't matter how it looks, it matters how durable and chew proof it is. Dog beds are really made to appeal to people, just like dog food is created in shapes and flavors to appeal to humans to buy it for their dog.
However, the ultimate user of a chewproof dog bed is the dog and you have to hope it really "is" chewproof, because you don't want to leave home, only to return later and find the bed destroyed and most of the contents missing – soon to pass in their stool or lodge in their stomach or intestines.
What Constitutes a Good Chewproof Dog Bed
Some things to look for when you want to buy a chewproof dog bed are:
What material is used for the covering? You need durability and usually double layers.
How is the material sewn or attached to the bed or frame?
Is the material machine sewn or locked into the frame?
Is the fabric easily detachable and washable?
Can you hose the bed down and dry it easily?
Are the zippers hidden or visible? Yes, dogs will eat zipper heads and rip them out of the fabric.
Does the material have braided cording or some other fancy embellishment on it? This too may be eaten.
Is the bed designed to be raised off the floor or flat?
What material is the frame made of? If it's wood or plastic, it will be chewed.
Will the company replace a bed they state is a chewproof dog bed?
Reviews of Chewproof Dog Beds
We researched four chewproof dog beds, as advertised by the companies that sell them. We will provide a short review of each one of them and give you a link to the site's we found for you. You will then be able to do your own research and make an informed decision about what will or won't work for your dog. The reviews are listed in the order we have reviewed them.
     1. The first bed is the Kuranda Elevated Chewproof Crate Dog Bed: reasonably priced, it comes in a variety of materials, colors and frames and in six different sizes. You get free shipping.

These are really nice looking beds, but we noted that a couple of them are made with co-extruded furniture grade poly resin, which they say is completely chewproof. From personal experience with poly resin, we have found that if there is a will to chew, there is a way for a dog to maim poly resin. In fact, a 95 pound Weimararner can do poly resin some serious damage. With poly resin legs and framing, he would go to town.

This same company also offers a Kuranda All Aluminum Elevated Chewproof Crate Dog Bed, made out of heavy duty aluminum throughout. This may be just the ticket for those inquiring teeth. It's darn hard to get a good grip on the legs or frame of this model.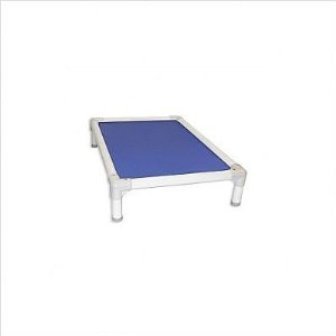 Chewproof Dog Bed
We Recommend Aluminum Construction instead of Resin when buying chew resistant dog beds.
Offered from Amazon.com
     2. The second bed we investigated was the Tough Tuffie, made in the UK and offering a money back guarantee. It's cleverly made to keep the center material tucked into the plastic surround and while it may sustain chew mark attempts, it is definitely one tough looking dog bed. Be aware that if you add extra material, like a fleece liner, that your dog may chew it.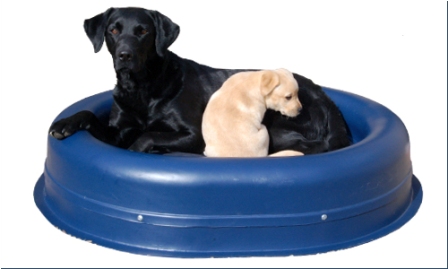 This Chew Resistant Dog Bed called the Tough Tuffie is manufactured in Scotland and comes with a money back guarantee.
Available directly from the manufacturer, Tuffies, for $233 US or 145 British Pounds

My dog can eat tin cans, nylon tow strap webbing and ceramic tiles. Personally speaking, I would rather try a metal frame for him, but, each dog is different and you know them best to choose what they aren't likely to chew.
NOTE: It's not just chewing that should be the criteria for choosing a dog bed. You need to also factor in vomiting, feces stains, incontinent older dogs and puppies. Using a bed will fiber fill or pine shavings means the liquids will seep through the top cover and affect the stuffing.

Ask a Question or Share Your Story
Have a Dog Bed Suggestion or Question For Our Editors?
Do you have a dog bed related suggestion for our readers or question for our editors? Please include related information such as age, sex, breed, size, behavior, and any unique medical or sleep related needs.

We will do our best to get back to you quickly (depends on how many questions we receive each day). If you do require an immediate response we suggest using this online dog veterinary service that is available now.


What Other Visitors Have Said
Click below to see contributions from other visitors to this page...

---