Summary:
A dog air bed is durable and provide a good balance between price and comfort. They are easy to clean, and can be deflated and moved from location to location. PVC material makes them puncture resistant. There are limited options available which are pictured below.
A bed is an important part of keeping your dog healthy as a good bed is designed to help with your dog's posture, temperature control, and in maintaining obedience. Dog air beds specifically are often recommended for dogs with medical conditions such as arthritis or hip dysplasia. 
Overview
If you are looking for a bed for your dog, consider an inflatable air bed.
Inflatable air beds hold up better than a regular dog bed. The beds maintain their shape and do not become lumpy and uncomfortable the way regular dog beds may do. This is an especially nice feature for large dogs, who may break down regular dog beds easily.
The beds inflate and deflate in a matter of minutes (some of them come complete with a pump, and some are sold separately). This makes them good for traveling and easy to store away.
Some air beds are round and some are rectangular. Most have a "lip" around the sides for your dog to rest his head on. The bed itself is made of PVC, which is very durable and claw-proof. The bed is then covered with a removable cover made of something cozy like fleece.
How Do You Determine Dog Bed Size?
Use a measuring tape to calculate the length of your dog from the tip of its tail to the end of its nose. Then, add twelve inches to approximate the size you need (some sources suggest adding six inches, but – as mentioned above – bigger is better). Measuring is the most accurate way to figure out desired size – don't rely on recommendations by the manufacturer.
Another factor to consider when determining size is your dog's age. Older dogs need bigger beds because they don't curl in balls as oen as their younger counterparts. Their spines are less flexible and their bodies stiffer.
Finally, your dog's sleep-style plays a role. Take a night or two and watch how it sleeps: Does it sprawl out with four limbs stretched? Does it toss and turn? Does it sleep tightly in one small space? Dogs that use more room as they snooze require more room.
When in doubt, avoid anything that's too little. Canines won't sleep in beds that make them uncomfortable - too tiny of quarters will only leave both dog and owner frustrated.
Traditional Style Dog Air Bed
hiccapop Inflatable Toddler Travel Bed with Safety Bumpers | Portable Blow Up Mattress for Kids with Built in Bed Rail - Navy Blue
Shown: From Amazon
The beds are very durable. Users report that even cats with claws don't pop the mattresses, but it should be noted that the mattresses are not designed for use by cats; cats do have sharper claws than dogs, and the mattresses may not withstand their claws. You should also note that while the beds are claw-proof, they are not chew-proof. If your dog chews his bed, he's going to make a hole in his air mattress.
An inflatable dog bed is a good choice for dogs that have arthritis or other joint problems, because they offer excellent support. They fit the contours of the dog's body and the air creates warmth.
Alternatives to a Dog Air Bed
Beyond the dog air bed option show above, there are few options on the market. A viable alternative is to purchase a toddler inflatable travel bed such as this one from hiccapop.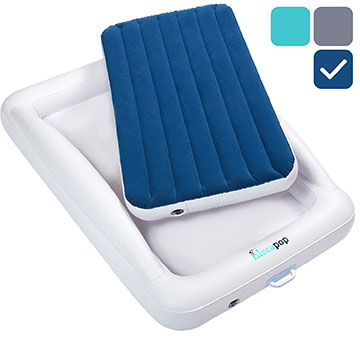 hiccapop Inflatable Toddler Travel Bed with Safety Bumpers | Portable Blow Up Mattress for Kids with Built in Bed Rail - Navy Blue
Shown: From Amazon
An inflatable dog bed is also an excellent choice for incontinent dogs because they are so easy to clean. The covers come off easily and are machine washable. The bed itself can then be wiped down with water and a mild detergent. It does not absorb liquid and will not hold odors.

Our Favorite Travel Dog Air Bed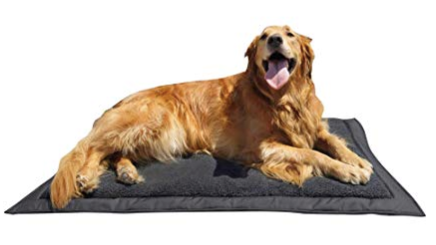 Lightspeed Outdoors Self Inflating Fleece Top Cover Travel Dog Bed (42"x32"x2"). The bed features a thick removable thick soft fleece top for easy cleaning. It is puncture resistant and water resistant. The bed is PVC and Phtalate Free which means no harmful chemical smells! Great camping dog bed that rolls into a 4" diameter roll.
Shown: On Amazon for $60
Prices for a canine air bed vary depending upon the size and where you buy it. You can find a small inflatable dog bed for as little as $25 (air pump not included) and a large bed for $100 (air pump is included). Look for dog air beds at pet stores or stores like Wal-Mart. You can also order them online.

---