What You Need To Know About Dog Liver Cancer:
"The liver can sustain significant loss of normal tissue while showing few or no clinical symptoms.(2) Because the symptoms of liver cancer in dogs can be observed later on in the progression of a disease, in some cases treatment can be more of a challenge. It is also more common in younger dogs, but can be found in dogs at all age, particularly breeds that are predisposed to the disease such as Golden Retrievers. The liver is part of many body processes, making evaluation of any changes in liver function an important part of any clinical examination. Liver cancer which originates in the liver (primary liver tumor) is rare. Dog liver tumors caused by disease in other parts of the body such as hemolymphatic cancer (cancer in the lymphoid tissue or from blood cells) is more common.  Dog liver cancer that moves to the liver from other parts of the body is called metastatic cancer.  Cases of metastatic cancer often spread to the liver from the intestinal tract, pancreas or spleen.(5)

Veterinarian's begin to suspect liver disease or the presence of a liver tumor in dogs when they notice symptoms such as appetite loss, diarrhea and vomiting, the accumulation of fluid in the abdomen or jaundice (discolored eyes.) Diagnosis involves the use of blood tests that determine liver function such as levels of liver enzymes, ultrasound testing. If a negative result is received, the veterinarian might recommend testing a sample of the liver tissue using one of several methods such as FNA (Fine-needle aspiration.) Treatment options include surgical removal and chemotherapy for tumors that are primary (originate in the liver). Not all dog liver tumors can be removed with surgery such as diffuse HCC tumors or nodular tumors.
The prognosis or survival rate for dogs after liver tumor surgery is years with surgical removal being considered a cure. Chemotherapy can be used to delay tumor progression. The survival rate for dogs with neuroendocrine tumors and bile duct carcinoma after surgery is not good due to the risk of cancer spreading to other parts of the body and reoccurrence.(5)"
What Is Liver Cancer in Dogs?
The liver is an important part of the body as it affects many bodily functions such as blood clotting, breaking down toxic substances, waste products and stores energy for the body.
If a liver tumor in your dog is the cause of liver disease it may or may not be cancerous. Cancerous tumors (hepatic neoplasia) may be the result of a primary liver tumor (one that originates in the liver) or may be a metastatic tumor (one that spreads to the liver from elsewhere in the body).
The most common primary liver tumor in dogs is called hepatocellular carcinoma (HCC). There can be a single large tumor or several discrete tumors (called nodular or multiple liver nodes). Most tumors do not spread to other parts of the body. Less common tumors can spread (metastasis) such as bile duct carcinomas and neuroendocrine tumors.
Primary tumors can be found in:
Hormone-secreting cells
Blood vessels
Connective tissue
Bile ducts
Some types of dog liver tumors are not cancerous (benign), but can spread. These include:
Hepatomas
Leiomyomas
Hemangiomas
Bile duct adenomas
Understanding Canine Anatomy and Liver Tumors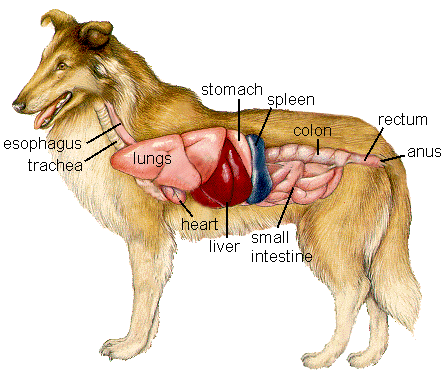 The pictures in this section are reprinted with permission by the copyright owner, Hill's Pet Nutrition, from the Atlas of Veterinary Clinical Anatomy. These illustrations should not be downloaded, printed or copied except for personal, non-commercial use.
Dog Liver Tumor Symptoms
Many pet parents ask how do you know if your dog has liver cancer? As mentioned, liver tissue can sustain a good deal of damage before some patients exhibit any symptoms.
Liver tumor symptoms include:
Pale gums
Decreased appetite
Vomiting
Weight loss
Abdominal distension
Difficulty breathing
Increased respiratory rate
Generalized weakness
Jaundice (yellow discoloration of the skin and the whites of the eyes due to the bodies inability to remove bilirubin

These can be symptoms of a benign (non-cancerous) or a malignant (cancerous) tumor. You'll need to see a vet for a diagnosis.
Can Liver Cancer Be Painful in Dogs?
All forms of cancer can cause pain in dogs. The best approach is to work with your veterinarian to anticipate any pain before and after treatment.
Canine Liver Tumor Diagnosis
If your dog has symptoms associated with a liver tumor, take him to the vet as soon as possible. Your vet will do a complete physical examination which will include palpating the abdomen and feeling for the size of the liver.
Your vet will do blood work that will tell him or her about the way your dog's liver is functioning by looking at the liver enzyme level (there are 3 types of enzymes). Blood work may also indicate the likelihood that your dog has certain types of cancer.
Your vet will also do an abdominal x-ray and possibly an abdominal ultrasound in order to visualize the tumor. This verifies that there is indeed a tumor, but does not tell the vet what type of tumor it is. Ultrasound alone cannot confirm a diagnosis. For this often a biopsy is also taken. Livers can be easily detected with this approach.(4)
The only way to determine whether the tumor is benign (not cancerous) or malignant (cancer) is to do a biopsy. This is a surgical procedure in which a piece of the tumor is removed and examined.
Liver Tumor Treatment for Dogs

A dog with liver cancer can be treated. If the tumor is confined to the liver, and has not taken over the whole liver, it can be surgically removed. Often the tumor has spread to the liver from other parts of the body, however, so removing the tumor from the liver does not solve the problem in those cases.
Chemotherapy is an option, but it is costly and can have some unpleasant side effects. Discuss it with your vet and consider it carefully before making a decision. There are newer methods being developed called Intra-Arterial Chemotherapy Delivery where higher concentrations of chemotherapy are attempted by feeding the drugs into the arteries that feed the target tumor.(1)
Unfortunately, when a tumor has spread to the liver, it may be time to consider euthanasia. Watch your dog carefully to judge his level of discomfort, and talk to your vet about making this difficult decision. See our section on canine cancer to better understand the implications of this disease.
Treatment Risks
If a tumor is surgically removed, there is a 2% risk of bleeding after the surgery is completed. Other risks include:
Cancer that spreads if not completely removed
Reoccurrence of the dog liver tumor
Problems with the liver lobe near where the surgery occurred such as twisting
Infection that may form at the surgical site
Treatment cost
Dog liver testing can cost between $100 and $250 dollars. If diagnostic images are needed, costs can range from $250 to $1,000. Liver biopsy can increase these costs to more than $1,000 plus the cost of any treatment such as chemotherapy. The dog liver tumor surgery cost is up to $9,000. Chemotherapy can cost between $3,000 and $5,000.(3)
How Long Can Dogs Live With Liver Cancer?
If the tumor originated in the liver (primary) and if caught early, a dog can live for years after surgery. The average survival time for dogs with one large tumor (hepatocellular carcinoma) is 3.8 years. The incidence of cancer spreading to other parts of the body is 5%.(6) The use of chemotherapy can also delay tumor growth. If the tumor is a neuroendocrine tumor or bile duct carcinoma, the prognosis is not as good, since there is a greater likelihood that the cancer has spread or can reoccur.
Dogs that are not treated for liver cancer die at a rate that is 15x dogs that are treated. When not treated the tumor can rupture as the disease progresses, resulting in problems such as internal bleeding. 
Natural Help for Your Dog's Liver
Consult your veterinarian to ask if adding a herbal or natural supplement in addition to their regular diet makes sense for your dog. Many supplements have a long history of scientific support. Herbs you should look for include:
Carduus marianus (Milk thistle): herbal liver restorative with extensive scientific study and support.
Silymarin: anti-oxidant and can block the entrance of toxins into the liver
Arctium lappa (Burdock): blood purifier and system cleanser; has antibiotic and anti-rheumatic properties
Chelidonium majus (Greater Celandine): remedy for indigestion, jaundice and sluggish livers. Clinical trials have supported this traditional usage.
Kalium Muriaticum (C6) (Kali. Mur.): important biochemic tissue salts when it comes to liver health; is a system cleanser and purifier
Natrium Phosphate (C6) (Nat. Phos.): another biochemic tissue salt that benefits the liver and gall bladder
Natrium Sulphate (C6) (Nat. Sulph.): acts as a cell cleanser and is often recommended to detoxify the liver.
A good commercial source for additional research on supplements formulated to improve liver health is Liveraid. Also look at their supplement formulated to improve immune system and cellular health called C-Caps.
Ask Our Vet A Question or Share Your Story

Have A Question or Want to Share Your Experience about a Dog Liver Problem?
Do you have a dog liver condition related question or experience to share? Help other dog owners! We'll select 1 question to answer each week.

We will do our best to get back to you quickly (depends on how many questions we receive each day). If you do require an immediate response we suggest using this online dog veterinary service that is available now.
Brochure
Download this brochure on liver cancer in dogs. It contains the latest information on dog liver cancer treatment.
References
(1) Regional Cancer Therapy - the 4th pillar: Can we improve local results? Weisse, C; Animal Medical Center, NY, USA; July 5, 2014
(2) Center SA. Pathophysiology of Liver Disease: Normal and Abnormal function. In: Guilford WB, Center SA, Strombeck DR, Williams DA, Meyer DJ, eds. Strombeck's Small Animal
(3) CBS News; The high costs -- and heartbreak -- of pet cancer; December 18, 2015
Gastroenterology. Philadelphia, PA: W.B. Saunders Company; 1996:553-632.
(4) The Story of Liver Masses and Nodules; Gaillot Hugues; Advetia Specialty Practice Diagnostic Imaging; October 22, 2016
(5) Liver Tumors in Dogs and Cats; Clinical Oncology Service, Ryan Veterinary Hospital of the University of Pennsylvania