Dog Bowel Blockage or Constipation?
by Tracey and Suggestion from our Vet
(Sunman, Indiana)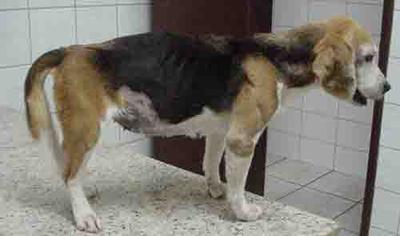 Dog with abdominal distension, weight-loss, anorexia, and canine constipation. After ultra-sound and X-ray intestinal obstruction(megacolon/fecaloma) was diagnosed
Source: Washington State University
Reader Question Regarding Dog Constipation or Bowel Blockage


I have a mini-aussie and she has been showing signs of losing weight and she will from time to time eat grass and vomit her food up, she also seems to have very hard stool and small pieces as if she is not passing stool like she should. Her energy level has seemed fine and as long as I put some canned food on her dry food (purina) she seems to keep eating she just never completely eats all of her food. I never thought about a blockage till tonight. I had blood work done and no issues came of that but a nice bill.
Is there something I can try and see if she passes or will help loosen her stool some to maybe help ?
Vet Response Dog Constipation or Bowel Blockage
Hi Tracey,
I worry that the combination of your dog's poor appetite, weight loss, occasional vomiting, and abnormalities with her stool could indicate that she is suffering from a significant health problem. I recommend you bring her in to your veterinarian for a full work-up, which should include a complete physical, fecal examination, urinalysis, and abdominal x-rays in addition to the blood work that was already run.
If you want to try something at home first, I recommend changing her diet to a high-quality, canned food that contains a little extra fiber. Alternatively, you can add fiber to a good canned food by mixing in a couple of tablespoons of
canned pumpkin
. If her condition fails to improve despite the change in diet, be sure to make an appointment with your veterinarian.
Regards,
Jennifer Coates, DVM
Related Articles
Causes of Canine Constipation