Summary:
"Canine prostate cancer can occur in every breed. All dogs can get the disease including those that have been neutered/castrated. Treatment options include surgery, chemotherapy, radiation and natural supplements."
Overview
Prostate cancer is usually seen in older male dogs and can develop without any direct cause. It does not matter if the dog has been castrated. The illness tends to be a carcinoma meaning that once it develops, there is a high likelihood that it will spread to other parts of the body (called dog prostate cancer metastasis).
There are several types of canine prostate cancer carcinomas including adenocarcinomas (cancer that develops on the inner surface of an organ), transitional cell carcinomas (called TCC and is cancer in the renal or bladder gland), and undifferentiated carcinomas. It is common for the cancer to spread to the bone (bone metastasis) and form on the bone (called osteoproductive lesions).
Canine Prostate Anatomy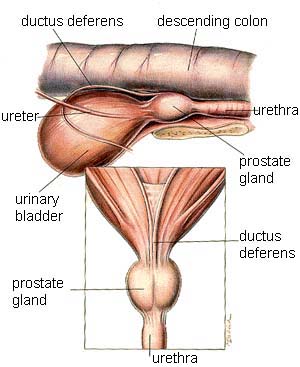 Dog Prostate Cancer Symptoms
Urination and Urinary tract problems are often seen with canine prostate cancer. These include an obstruction in the urethra and trouble urinating (dysuria). Other signs may include difficulty urinating or straining when defecating (tenesmus). If bony metastasis is present, pain, abnormal walk or gait, and problems with the muscles (myelopathic signs) may be present.
Detection of Dog Prostate Cancer
Unfortunately, prostate cancer in dogs is difficult to diagnose since tests for the disease in humans do not work on dogs. The reason is that human prostate cancer is based on test for PSA where dogs give off something called CPSE (canine prostate specific esterase).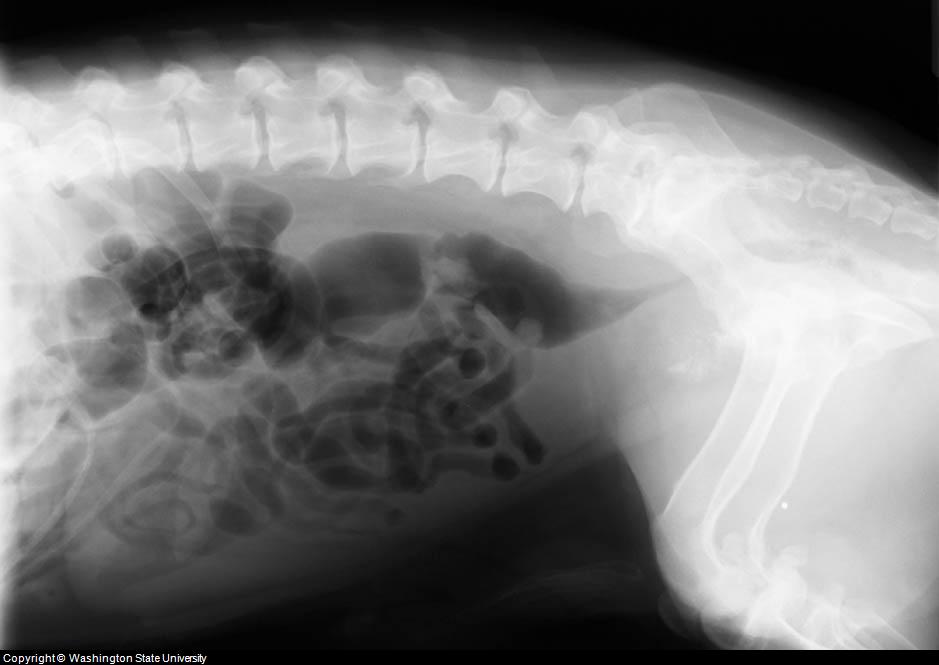 Canine Prostate Cancer
Dog Prostatic Adenocarcinoma
Dog Prostate Cancer Treatment
Since the disease is not caused by the same things as it is in humans, there are limited treatment options (eg; drugs such as antiandrogens do not work).
Treatment includes surgery (prostatectomy), radiation therapy, and adjuvant chemotherapy. The disease is insensitive to chemotherapy, although it is still used as part of the treatment. Radiation therapy has been shown to help slow down the disease.
You could also consider natural supplements that have a track record for slowing prostate growth. A good source to explore is ProsPet for pet prostate problems.
Life Expectancy of Dogs with Canine Cancer Prostate
Because diagnosis is so difficult, the disease usually is not diagnosed until is has fully developed. Because of this the median life expectancy of dogs with the disease is 30 days. This can be extended to just less than a year with the chemotherapy drugs mitoxantrone and carboplatin with anti-inflammatory agents.
Ask Our Vet A Question or Share Your Story

Have A Question For Our Veterinarian About Cancer in Dogs?
Do you have a question or story about canine cancer? Share it! Our editors will try their best to answer your question for free.

Please include information such as age, breed, sex, medical history, medications, diagnosis, cancer stage,has it spread and anything you believe that will help us answer your question.

We will do our best to get back to you quickly (depends on how many questions we receive each day). If you do require an immediate response we suggest using this online dog veterinary service that is available now.
Reader Questions and Vet Suggestions
Click below to see contributions from other visitors to this page...

Dog Prostate Cancer Treatment Not rated yet
We adopted our beagle 4 years ago, he is currently 5 1/2 years old. Last week I noticed he was having problems taking a stool. He also had a fever. I took …
References
National Cancer Institute
Center for Cancer Research
Comparative Oncology Program

Pictures courtesy of:
Washington State University
College of Veterinary Medicine