Summary:
"Canine eye removal surgery involves the surgical removal of the eye and then the permanent closure of the eyelid. A prosthetic ball can be inserted to maintain the shape of the eye and make it look like it is just closed vs. missing. Healing time is approximately 2 weeks."
Overview
There are two types of eye removal surgery (called enucleation): standard enucleation, the most commonly used type, where the eye is removed and the lid sewn shut; and enucleation and placement of an orbital prosthesis, in which a prosthetic eye is placed in the eye socket to hold the shape, before the eyelid is sewn shut.

Canine Eye Removal Methods
Method 1: Canine Standard Enucleation
Enucleation is the most common dog eye removal orbital surgery. It involves removal of the globe and the use of the third eyelid to help sew the eye permanently shut.
This approach is used for medical conditions such as:
Blindness
Pain
Severe glaucoma
Inflammation of the eyeball (called endophthalmitis)
Abnormal cell growth within the eye (intraocular neoplasms)
Severe injury
This surgery can be performed by a veterinarian or a veterinary ophthalmologist.
Method 2: Enucleation and Placement of an Orbital Prosthesis
A veterinary ophthalmologist will replace the removed eye globe with a artificial prosthetic ball (canine orbital prosthesis). After placement of the ball, the eyelids are sutured shut.
The ball will prevent the skin from creating a depression where the eye socket used to be. The ball is made of silicone (most common) or methyl methacrylate spheres. This approach is not used in dogs with infections in the eye socket, flat faces, or shallow eye sockets.
From a cosmetic perspective your dog's eye will look closed vs. just missing.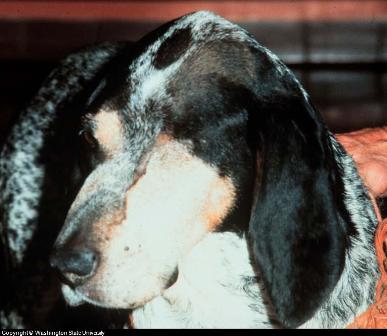 Canine eye removal surgery post enucleation for a fascial tumor
Dog Eye Loss Healing Time
It will take approximately two weeks for your dog to heal after surgery. An E Collar will prevent your dog from rubbing his or her eyes after surgery.
Ask a Question or Share Your Story
Have a Dog Eye Related Question For Our Editors or A Story to Tell About This Topic?
Do you have a dog eye related question for our Veterinarian or a helpful story to share? We'll answer it for free! Please include information such as age, sex, breed, medical history, symptoms, diet, changes in behavior and medications.

We will do our best to get back to you quickly (depends on how many questions we receive each day). If you do require an immediate response we suggest using this online dog veterinary service that is available now.
Other Dog Eye Related Reader Questions and Answers from our Vet
Click below to see contributions from other visitors to this page...

eEnucleation. Not rated yet
My dog has been diagnosed with a tumor behind the pupil, glaucoma, and lipids in her eye. The eye doctor stated that the eye needs to be removed. I know …
Sources
Treatment of Orbital Diseases in Small Animals
Kirk Gelatt, VMD, Dipl ACVO
University of Florida
Gainesville, FL, USA

Washington State University

Animal Eye Care LLC