Canine Hip Dysplasia
"Millions of dogs each year are affect by Canine hip dysplasia. It is an inherited condition that occurs as early as 5 months of age and progressively worsens over time. Symptoms as you can expect are signs that your dog is avoiding any kind of physical activity, including standing up, playtime or walks on the park. Changes in your dog's gait, where he or she take "bunny hops" instead of a normal walking motion with two legs alternating is a sure sign of the program. If the condition is caught early, future problems such as canine osteoarthritis can be avoided. Treatment includes using injections (prolotherapy) as an alternative to surgery, medication, weight loss, nutrition and/or surgery."
A common joint disorder in dogs is Canine hip dysplasia. It refers to the abnormal formation of the hip joint. The hip joint is a 'ball and socket' joint. The end of the femur (the thigh bone) ends in a 'ball' and should fit snugly into the 'socket' of the pelvic bone. In dogs with hip dysplasia, the bones fit together loosely.
When the hip forms abnormally, the cartilage that holds the joint together wears prematurely. This leads to the onset of a form of arthritis called degenerative joint disease (DJD) or osteoarthritis.
Hip dysplasia is a developmental disease. This means that it isn't present when your dog is born, but develops later in life.
Hip dysplasia is often, but not always, genetic. Some breeds are more susceptible than others, including:
* German Shepherds
* Golden Retrievers
* Great Danes
* Labrador Retrievers
* Rottweilers
* Saint Bernards
If you have a dog who is particularly susceptible to hip dysplasia, it is recommended that you have the dog checked for the condition before breeding him or her.
The condition can begin as early as age 5 months. See our guide to dog hip problems if you believe your dog is suffering from something other than hip dysplasia such as osteoarthritis in the hips.
Canine Hip Dysplasia Symptoms
Some dogs have no symptoms of canine hip dysplasia even though they have the condition. Most dogs with the condition do not display symptoms until they are full grown. Symptoms often appear like symptoms of arthritis. Both rear legs may appear to be painful. Your dog may limp. He or she may be reluctant to jump up on furniture. He may be less playful and unable to go for long walks.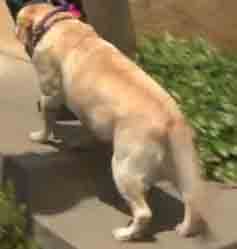 Dog Hip Dysplasia Diagnosis
Canine hip dysplasia is diagnosed by x-ray. Dogs need to be anesthetized for the x-rays, because the muscles must be relaxed and the hips must be positioned just so.
There are two ways the x-rays may be evaluated. Some vets are certified by the University of Pennsylvania Hip Improvement Program (PennHIP) to evaluate x-rays for hip dysplasia. Other vets send x-rays to the Orthopedic Foundation for Animals (OFA) for evaluation.
Clinical signs include:
* Abnormal Gait or walk
* Hopping when your dog runs
* Thigh Muscle Atrophy (loss of muscle mass)
* Pain
* Inability to exercise for long periods of time
* Avoids climbing stairs
* You hear a clicking sound when your dog walks
* Hips are too wide (Intertrochanteric Width)
Dog Hip Dysplasia Treatment
Canine hip dysplasia can be treated in a number of ways, depending on the severity of the condition.
In severe cases, dog hip replacement surgery(THR) may be required. There are several different surgical procedures that can be done, including partial hip replacement, replacement of only one hip or total hip replacement. A surgical alternative is prolotherapy. This is a noninvasive procedure where injections of lidocaine mixed with Vitamin B12 or Dextrose are used to stimulate tendon or ligament growth. It works by stimulating the dog's immune system.

In less severe cases, medication can be used to reduce the inflammation and pain caused by the condition. These are the same medications typically used to treat arthritis in dogs, and include non-steroidal anti-inflammatory drugs such as carprofen, deracoxib, etodolac, ketoprofen, and meloxicam; and corticosteroids such as cortisone and prednisone.

There are several simple things you can do at home to help relieve pain caused by hip dysplasia.
If your dog is overweight, the condition will be more painful. Talk to your vet about how much your dog should weigh and how much he should be eating. Make sure your pet is on a healthy diet.
Daily exercise is also important for your dog. Low-impact exercise, such as walking and swimming, is best. Exercise such as chasing a Frisbee and catching it is hard on your dog's joints.
Finally, you can make your dog's daily activities a little easier. If there are stairs leading to the outside of your house, consider building or buying a ramp so that your dog can get outside more easily. If you have a large dog, you can raise his food and water dishes so he doesn't have to bend over to eat and drink. These little things can make a big difference.
There is also interest in natural remedies such as glucosamine and other supplements and minerals that may help restore cartilage. Remedies such as PetAlive Muscle & Joint Support are worth discussing with your veterinarian.
Dog Hip Dysplasia Fact Sheet
For more information download this dog hip dysplasia fact sheet that contains the latest information on the condition (PDF download). From UC Davis School of Veterinary Medicine.

Sources
Canine Hip Dysplasia and Degenerative Joint Disease
Dunn, T.J. DVM
Pet Education


PennHip


Have a Question for Our Veterinarian about Dog Hip Problems?
Do you have a question about Hip Problems in Dogs? Share it! Our Veterinarian and Editors select several questions a week to answer for free. Just provide your dog's breed, age, sex, medications, changes in behavior and medical history.

We will do our best to get back to you quickly (depends on how many questions we receive each day). If you do require an immediate response we suggest using this online dog veterinary service that is available now.