Table of Contents
Summary:
"Canine kidney failure symptoms are varied including reduced urination, weight loss, pale gums, mouth ulcers, dehydration and others which are described below. Treatment depends on the severity and whether a dog has an acute (sudden) or chronic (present for months or years) form of the disease.
Acute forms can be treated. Chronic kidney disease cannot be cured, but can be slowed down through dietary change, increased water consumption and even dialysis. Herbal supplements can provide additional support. The goal is to reduce the amount of work the kidneys have to perform."
Overview
The kidneys maintain the correct balance of water and electrolytes in the blood and filter waste products out of the blood for removal from the body. When the kidneys don't function properly, toxins build up in the body.
There are two classifications of canine kidney failure: acute kidney failure, and chronic kidney failure (present for months or years). Chronic canine kidney failure is also referred to as canine chronic renal insufficiency and canine chronic renal failure (CRF).
Acute kidney failure has a sudden onset and can be caused by:
Disease: leptospirosis (a kind of bacteria), heart disease, or fungal infections
Poisons: antifreeze or rat poison
Trauma: any type of trauma that causes the blood pressure to fall dramatically, such as shock and blood loss from being hit by a car.
Certain medications
Chronic kidney failure develops over time and can be caused by:
Infections
Heart disease
Diabetes
Congenital deformities of the kidneys
Polycystic kidney disease: cysts in the kidneys
Canine Kidney Failure Symptoms
Symptoms of acute kidney failure (sudden) include:
Dehydration
Pain around the kidney area
Little or no urine output
Canine chronic kidney diease (CKD) worsens over time. It does not have a cure.
Symptoms of chronic kidney failure include:
Increased thirst - drinking A LOT more than usual
Increased urination - your housebroken dog may begin to have "accidents" in the house
Loss of appetite
Weight loss
Weakness (from low potassium levels in the blood and anemia)
Depression
Vomiting
Pain around the kidney area
Dark tongue
Breath smells like ammonia
Pale Gums (from anemia)

There are also canine kidney failure symptoms that are not as common including:
fractures from weak bones
dog high blood pressure and the possibility of resulting blindness
skin itch (due to phosphorous and calcium skin deposits)
bleeding in stomach, skin bruising
Canine Kidney Failure Diagnosis
Symptoms alone are not enough to diagnosis canine chronic kidney disease. To diagnosis canine kidney failure symptoms, your vet will do blood work and a urinalysis. Enlargement can indicate dog kidney cancer. He or she will also do x-rays and perhaps an ultrasound to look for kidney stones and to check the size of the kidneys.
Rarely, a vet will decide to do a kidney biopsy. It can be helpful in young dogs and in breeds that are known to get congenital (inherited) canine kidney disease.
Canine Kidney Failure Symptom Treatment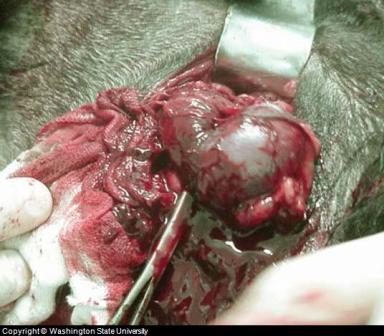 Dog during kidney removal surgery (nephrectomy) for canine hydronephrosis (obstructed urine flow due to canine kidney swelling) related to a hysterectomy (dog uterus removal).
Source:
Washington State University
To treat acute kidney failure, the underlying cause of the kidney failure must be addressed first. Then IV fluids are given to help remove the toxins from the body.
In some cases, dialysis is needed. In peritoneal dialysis, fluid is injected into the abdomen and later drawn back out to help remove the toxins from the body. In hemodialysis, a machine is used to filter the toxins from the blood stream, effectively doing the work of the kidneys. Hemodialysis is very costly and many veterinary facilities are not equipped to provide this treatment. There may or may not be lasting damage to the kidneys.
There is no cure for chronic kidney failure. The goal of treatment is to stop or slow the progression of the disease. Provide your dog with plenty of fresh water at all times. Subcutaneous or IV fluids may be given to help remove toxins from the body. Steroids or blood transfusions may be given to treat anemia. Sodium bicarbonate may be given to help regulate pH levels in the blood.
Home Support for Canine Kidney Disease

You can also feed your dog a commercial dog food designed specifically for dogs with kidney disease. These foods have reduced protein, phosphorus, minerals, and salt. The protein that is provided needs to be higher quality such as eggs and beef. Higher quality protein produces less waste for the kidneys to process. Examples include Royal Canin Veterinary Diet Renal MP and Hill's Prescription Diet k/d.
Natural medicine does offer several herbs that can have a positive effect on the kidneys. Herbs such as burdock, dandelion and cleaver all have properties which help regulate blood sugar and help kidney function. PetAlive Kidney Support is made specifically for this purpose. Review this and other options with your veterinarian so that they can track progress.
Ask a Question or Share Your Story
Have a Dog Kidney Disease Question For Our Editors or A Story to Tell About This Topic?
Do you have a dog kidney related question for our editors or a helpful story to share? Please include information such as age, sex, breed, medical history, symptoms, diet, changes in behavior and medications.

We will do our best to get back to you quickly (depends on how many questions we receive each day). If you do require an immediate response we suggest using this online dog veterinary service that is available now.
What Other Visitors Have Said and Responses from our Vet
Click below to see contributions from other visitors to this page...

How Can You Tell When Your Dog Is In Pain Not rated yet
Reader Question: My 12 year old dog is a small breed with a heart condition and now been diagnosed with kidney failure. Has lost 11/2 pounds in less …
Source
How to Treat Canine Kidney Disease
Dzilvelis, Sharon