Summary:
Cheyletiella mange (also called dog walking dandruff) is caused by a parasite (Cheyletiella yasguri) that lives on the skin. It can cause itch in allergic dogs and is referred to as dog dandruff since it looks like small skin flakes while moving on the dog. This is why it is called walking dandruff. When dogs are thought to have seborrhea, a veterinarian will first rule out a case of cheyletiella mites. Most flea control products will also keep these mites from becoming a problem.
Overview
Cheyletiella mange is often diagnosed among younger dogs that live in a kennel or shelter where they come in direct contact with other infected dogs. Outbreaks are the result of nutritional deficiencies, a weakened immune system or sanitation problems. Cheyletiella is highly contagious.
A mite lives in the top layer of skin for 5 to 6 weeks. Eggs are laid on the hair shafts. Humans can be affected by the same mite that causes problems in dogs, so handle a dog with a suspected case of cheyletiella mange with care.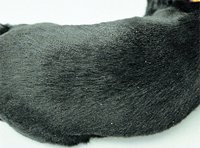 Cheyletiella Mange on Dog Back
Source:
VeterinaryNews
Symptoms of Canine Walking Dandruff
Symptoms of walking dandruff are the appearance of flakes on the coat and sehorrhea sicca scales on the skin, usually along the back. Itch (pruritis) is an allergic response to the mite, although not all dogs are allergic or have this symptom. The other major symptom is skin scaling. Dogs with a darker coat will appear to have more scaling than one with a white coat.
Diagnosis
Skin scrapings are taken from the dog and examined under a microscope. A vet can easily identify the Cheyletiella mite.  Suspected cases of seborrhea, which is characterized by skin flaking, needs to be differentiated from cases caused by Cheyletiella mange.
Treatment
Dogs with long and medium hair will need to have the coat clipped to remove mites and eggs which may be missed by any treatment. Several products are available to treat Cheyletiella mange. This includes:
Lime sulfur dips (over the counter) such as Naturasil (in 5 to 7 day intervals for 3 weeks)
Selamectin based products (Revolution) - 1 dose every 15 days, 3 doses

Oral Invermectin - 200 micrograms/kg every week for three weeks, only in dogs that test negative for heartworm (Do not use invermectin based products in collies or collie crosses, Old English Sheepdogs, Shetland Sheepdogs, Australian Shepherds, Long-haired Whippets, Silken Windhounds or Skye Terriers due to a strong reaction by this breed)
Fipronil Spray (Sentry Spray) one spray per lb of body weight, repeat in 3 weeks

Amitraz dip (by prescription, used every 2 weeks for 1 to 2 months
Puppies that are too young for other products are usually treated with a lime-sulfur dip. All pets in a household should be treated.
Be sure to thoroughly clean the dog's environment. Wash all bedding and vacuum.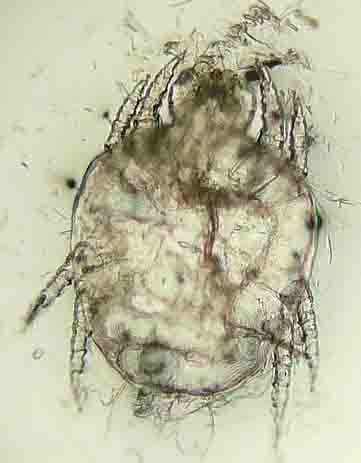 The Cheyletiella yasguri mite has prominent mouth parts or pincers
Source:
Joel Mills
Humans and Cheyletiella Manage
People can suffer from mild skin irritation leading to the appearance of raised red bumps on the skins. Cheyletiella in people most frequently occurs on the legs and arms.


Ask a Question or Share Your Story
Have A Dog Parasite Question For Our Vet? We'll Answer It For Free!
Do you have a Dog Parasite related Question for our Veterinarian or a Helpful Story to Share? Please include information such as dog age, sex, breed, medical history, medications your dog is taking, recent changes in behavior, outdoor/indoor lifesytle, behavior etc. Pictures are also helpful in identifying the severity and cause of any parasite related problems.

We will do our best to get back to you quickly (depends on how many questions we receive each day). If you do require an immediate response we suggest using this online dog veterinary service that is available now for a small fee.