Causes and Treatment for Dog Lameness

Summary:
"Are you seeing signs of dog lameness or weakness in the hind quarters? Have you observed your dog seaking on the rear legs while standing? Is your dog falling while walking or is it a struggle to keep the rear standing upright? If the answer is yes, then your dog could be suffering from hind quarter weakness, a condition called posterior paresis. The condition can also be accompanied by pain.

The condition refers to dogs that are unable to use one or several limbs. It is more commonly seen in older dogs (but can occur in dogs of any age) with an incidence as high as 50%. Owners should not consider this a normal part of the aging process. Lameness is a symptom that indicates many types of health problems that may need to be addressed including thyroid function, muscle disorders or even neurological conditions. The most common cause is joint injury, a fracture to a bone or a dislocated bone. Other common disorders include arthritis and hip dysplasia.

The condition may just appear one day. Be sure to keep an incident log for your veterinarian and take video using a smartphone when your dog exhibits any signs. The best approach is to identify any underlying causes and then to treat the issue with the appropriate approach which can include surgery, medictions and physical therapy among others."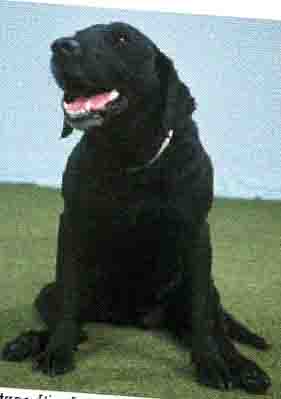 The Sitting Position of This Dog Indicates Actue Posterior Paresis. In this condition rear leg reflexes are absent or diminished.