Summary:
"Incontinence in dogs can be caused by problems in the bladder, urethra, brain, spinal cord and in some cases, behavior. Treatment includes antibiotics if infection is present, or surgery."
Overview and Causes

Incontinence in dogs (inability to control urination and defication) can be a major problem for both the dog and the owner. Urinary incontinence may cause the skin and coat to get wet and develop a strong odor, the skin around the vulva may be severely irritated, and there is a high incidence of urinary tract infection. Your dog might develop abnormal behaviors, such as excessive drinking due to stress or hyperactivity (called primary polydipsia).
Dogs can be incontinent for many different reasons. Those reasons can involve the bladder, the urethra which is the tube from the bladder to the outside, or incontinence can be caused by abnormalities in the parts of the brain and spinal cord that control bladder function.
The most common cause of urinary incontinence in dogs is problems with the the urethral sphincter mechanism (USMI). The condition might be inherited as a congenital disorder (a physical malformation) in young female dogs or acquired. The most common acquired cause is due to USMI and occurs most often after neutering of female dogs. Breeds that are more susceptible to the condition include Golden Retrievers, Labrador Retrievers, Siberian Huskies, Appenzeller and Briards.
In younger dogs the problem is often a problem called Ectopic Ureter which is an abnormally located terminal portion of the ureter. Instead of the ureter opening in the bladder, it opens in the urethra.
Other causes of incontinence in dogs include trauma to the spinal cord or brain, Cushing's disease (tumors of the adrenal or pituitary glands), diabetes mellitus, bladder or kidney stones, kidney or liver disease, and urinary tract infections.
In females who have been spayed, it can be caused by something called estrogen-responsive incontinence. The lack of estrogen due to the removal of the ovaries causes the urinary sphincter to weaken.
Urinary incontinence in dogs can also be behavioral. It can be a dog's response to stress or depression.
Symptoms of Incontinence in Dogs

While it is easy to recognize the primary symptom of incontinence in a dog - your housebroken dog suddenly begins to pee in your house - you will want to look for other symptoms that begin at the same time. Has he had a recent illness or injury? How is his coordination? Is he lethargic or depressed? How is his appetite? Is he drinking more water than usual?
What about the incontinence? Is he peeing larger amounts than normal, or is he only peeing in very small amounts? Is the incontinence frequently a problem or does it happen rarely?
Since incontinence in dogs can be behavioral, have there been any big changes in your household lately? Things like moving, a new family member, or a change in routine can cause a lot of stress for your dog and may lead to temporary incontinence problems.
Diagnosis of Canine Incontinence

Because there are so many possible causes for incontinence in dogs it can sometimes be difficult to diagnose, but this is not always the case. Your vet will ask you all the questions above including a complete history followed by a physical and a neurological examination. Your vet will do a urinalysis. He or she may also do some blood work. If kidney or bladder stones are suspected, x-rays will be ordered.
It is important for your veterinarian to observe the way your dog urinates to see if the stream is normal and continuous, and if the bladder is emptied. If your veterinarian cannot tell if the bladder is empty then catheterization is needed to determine how much urine is left in the bladder. Your vet will examine the urethra and associated pelvic structures to look for deformities.
Canine Anatomy: Female Urinary System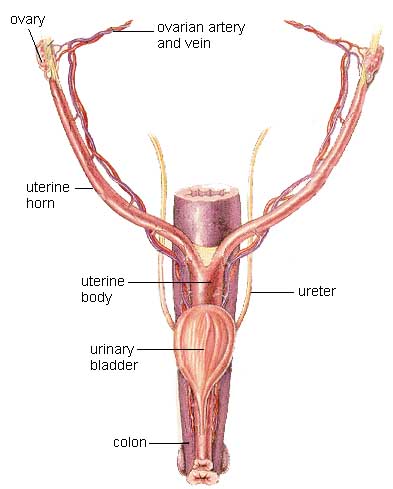 This picture reprinted with permission from the copyright owner, Hill's Pet Nutrition, from the Atlas of Veterinary Clinical Anatomy, and should not be downloaded, printed or copied except for personal, non-commercial use.
Treatment for Dog Incontinence

The treatment of incontinence in dogs depends on the cause. Most often the diagnosis is something simple, such as a urinary tract infection, which is treated with antibiotics. Other, more serious conditions must be treated appropriately.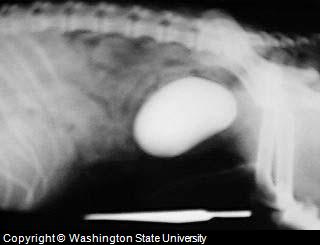 Incontinence in dogs can be caused by problems such as this large canine bladder stone, as shown in the x-ray
Source:
Washington State University
For dogs with urethral incompetence medications that contain estrogen (Diethylstilbestrol for 5 days and then at a reduced dose for up to 7 days or Premarin) will be prescribed that increase urethral strength.
You could also try supplementing conventional approaches with homeopathic remedies made specifically to strengthen the bladder. One product to research is PetAlive Better-Bladder Control. It may help to temporarily relieve incontinence.
If medications are ineffective your veterinarian may repeat the tests or consider options such as surgery to enhance urethral tone, colposuspension or periurethal injections of collagen or Teflon via a device called a cystoscope.
In the case of Ectopic Ureter, treatment involves first identifying if the cause is an infection in the bladder which can be treated with antibiotics. If this isn't the case then your veterinary surgeon may need to transplant the ureter into the bladder or excision of the ureter and associated kidney if severe secondary disease is present.
If urinary infection is frequent and a constant cause of incontinence you might want to try a natural dietary supplement made to support the health of the urinary system. PetAlive UTI-Free Formula for Urinary Tract Infections is a good choice to explore.
If your vet cannot find a physical cause for incontinence in your dog, then the problem may be behavioral. Your dog may be responding to stress by urinating inappropriately. Identifying the cause of the stress can help you rectify the problem. Give your dog extra attention (not at the time he pees in the house, but throughout the day). Sometimes that is enough to solve the problem. If not, your vet may recommend an antidepressant medication for your dog.
Ask Our Vet A Question or Share Your Story

Have a Dog Urinary System Question for our Vet? We'll Answer It For Free
Do you have a Dog urinary system question for our Veterinarian or a Helpful Story to Share? Please include information such as medical history (describe visits to vet and any diagnosis/test results), age, sex, breed, medications your dog is taking, recent changes in behavior (lethargy, appetite), etc. Includes details such as problems urinating and blood in the urine.

We will do our best to get back to you quickly (depends on how many questions we receive each day). If you do require an immediate response we suggest using this online dog veterinary service that is available now to answer questions over the internet.
References
Diagnosis and Management of Juvenile Urinary Incontinence
P.E. Holt
Department of Clinical Veterinary Science
University of Bristol, UK.



Urinary Incontinence in the Dog: Clinical Workup and Differential Diagnosis
Arnold, Susi DMV

Canine Urinary Incontinence Clinical Briefs: Common Causes - Explanations for Staff and Clients
R. Nickel
Small Animal Hospital Norderstedt, Germany

Management of Canine Incontinence
S.A. Brown
College of Veterinary Medicine
University of Georgia