My Dog Has A Rash
by Antoniea Prologo
(Las Vegas, Nevada,USA)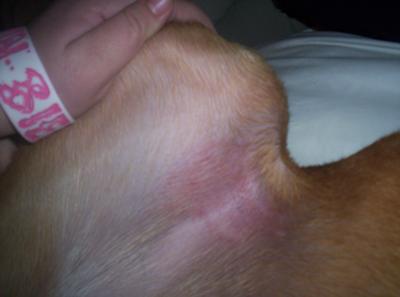 Pictures of rash and the cream we use that was perscribed by vet to give her.
We went to the veterinarian last week worried about this dog skin rash. They gave us a cream for it but it seemed to work for a little while but then it began to spread again and become worse.


Can you help?
Suggestion on Treating A Dog Skin Rash From Our Veterinarian
Hello Antoniea,
I'm afraid I can't make out the details of either the medication you have been using or your dog's rash in the pictures you uploaded. If you haven't done so already, you should let your veterinarian know how your dog's condition has progressed. He or she is in the best position to come up with a "Plan B."
Mild
skin infections
will often respond well to topical therapy only, but when the infection involves the deeper layers of the skin or cover a relatively large area, systemic (oral or injectable) medications are usually necessary as well. If your dog's infection is caused by bacteria, your veterinarian may want to prescribe an oral antibiotic at this time.
Regards,
Jennifer Coates, DVM