Summary:
Every time you visit a market for pet supplies, you often get confused about what else to buy because there are a million products available in every shop. You are very lucky to be confused regarding this matter because these products are waiting for you to buy them. At the same time, your pet is also eagerly waiting to try out these products. There are some products that are very typical and every pet owner uses them for their pets, such as, brushes, pet beds, toys, etc. But, if you think outside the box, there are some products that are unique and creative as well. In this article, we are going to focus on the products that are unique and effective for the well-being of your little buddy at home.
Dog Harness
Just about every pet parent has a dog harness. A harness helps you to control your dog and eases some of the strain on your back and arms. A harness is an effective way to train puppies when teaching them to walk with an owner, and when directing large dogs. A harness makes the process of controlling the dog a lot easier since it easily synchronizes with the pet's chest and lets.
Harnesses come in both leather and fabric, similarly to leather dog collars. The price of a dog harness generally can be found at $10.00 or more depending on the manufacturer and quality. 
Dog Seat Belt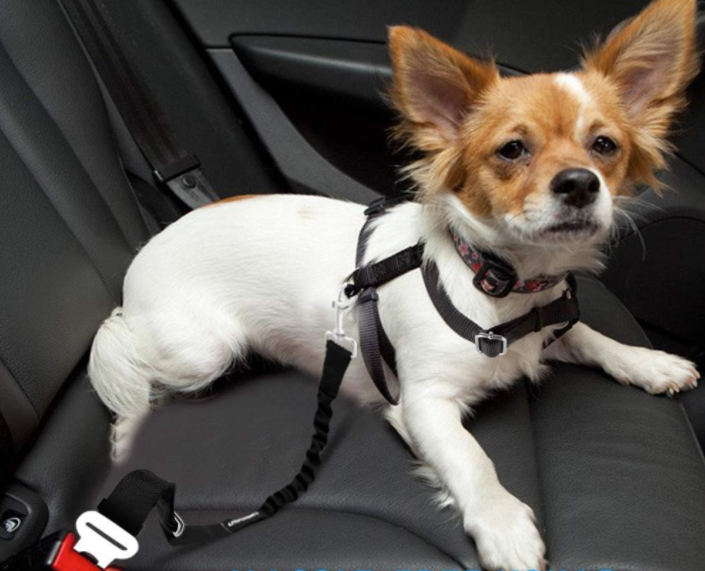 A Quality Dog Seat Belt Attached to a Harness and Will Keep Your Dog Safe and Secure During Sudden Stops and Sharp Turns
Traveling with your dog in a car has the same risks as traveling with your family. Sudden stops or distractions from a dog could result in an accident.  To address the situation, many manufacturers have introduced dog seat belts that connect to the buckle of your car.
We suggest reviewing products like the Urpower Nylon Dog Seat Belt. The best comes in one size,  yet can accommodate dogs of all sizes. To the point above, we suggest connecting belts to a harness and avoid connections to a collar. Harness connections are a better way to protect dogs during sudden braking or sharp turns.
LED Light up Leash
Most of us love strolling at night in the park. To ensure that your dog is safe and sound while having a walk at night, you can purchase an LED light-up dog leash for your beloved one. It provides an extra dose of safety for the pets. It continuously glows on the neck of your dog.

Silent Pet Tags
Silicone dog tags are customizable, flexible, and durable. These tags avoid the jingling that comes from metal tags, a great feature if the tags wake you up while napping. 
Options like the "Love Your Pets Soundless Pet Tag" can be engraved with your dog's identification information, name, and other fun sayings. As a tip, the tags can be easily cleaned with a damp cloth and dishwashing detergent, or for tougher stains apply some cooking spray to the tag, and then brush with a toothbrush. 
Training Pads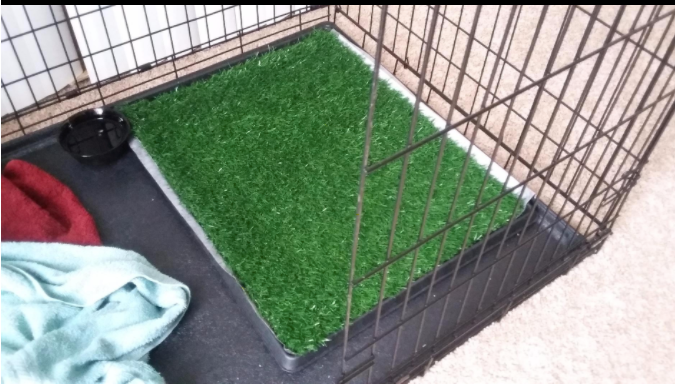 A Grass Training Pad is Helpful When Training Dogs When No Grass Area is Available or When an Owner Works LongHours and Wants to Avoid Any Accidents.
Training pads are one of those essential items that come into play during training. The pads come in scented and unscented versions and are always disposable for apparent reasons.
A helpful alternative is a synthetic grass mat. The mat provides some consistency by enabling the dog to go to the bathroom in a place that looks like grass, without having to be home. Grass mats also work well if you do not have a grass area such as apartments. We particularly like the PetMaker mat, as it is relatively easy to clean up. One tip is to add a disposable training pad underneath the grass layer for even easier maintenance.
---