Sores on My Dogs Head
by Sherrie Maginley
(New Milford, Pa USA)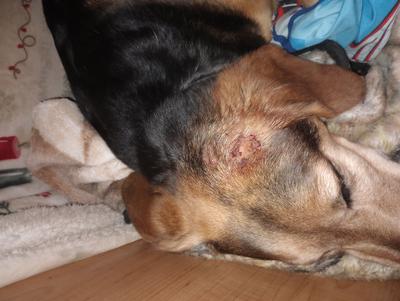 Sores on Dog Head
What can I use to treat these sores on my dogs head? I'm guessing it is from a food allergy. He is a 9 year old Beagle/Rotty mix. He has arthritis in his elbows and takes Galiprant daily. Other than that he's great. The first sore appeared almost a week ago and the smaller one I noticed today. I have been putting ointment on the sore and it's getting worse.


Help please!
Editor Suggestions for Addressing Sore's on Your Dog's Head
Hi Sherrie,
Sorry to hear about the sores on your dog's head.
I'm not a veterinarian, but here is some general advice for caring for your dog. I strongly recommend that you consult with a veterinarian for a proper diagnosis and treatment plan tailored to your dog's specific needs.
Based on the information provided, it's possible that the sores could be related to a food allergy, a skin infection, or some other underlying issue.
Stop Using the Current Ointment: If the sores are getting worse with the ointment you are using, it would be wise to discontinue its use until you speak with a veterinarian. It may be causing irritation or not treating the underlying problem.
Keep the Area Clean: You can gently cleanse the affected area with a mild, non-perfumed soap or a dog-specific skin cleanser, then pat it dry with a clean towel. Avoid scrubbing as that
can cause further irritation.
Monitor Your Dog's Diet: If you suspect a food allergy, consider whether you've recently changed his food or treats. You may want to discuss an elimination diet with your veterinarian to determine the cause of the allergic reaction.
Avoid Scratching: If your dog is scratching the area, you may need to use an Elizabethan collar (cone) to prevent further irritation and potential infection.
Visit a Veterinarian: Since the sores are persisting and getting worse, it's essential to have your pet seen by a veterinarian. The Vet can conduct a full examination and tests to diagnose the underlying problem and prescribe the appropriate treatment. The treatment plan may or may not include antibiotics, allergy medications, or a specific topical treatment.
Consider Medication Interactions: As your dog is taking Galiprant for arthritis, it would also be good to mention this to the vet, so they can ensure any prescribed treatments won't interfere with his current medication.
Again, please consult with a licensed veterinarian as soon as possible, as they can give you the most accurate diagnosis and treatment plan tailored to your dog's specific condition.
Please keep us up to date on your dog's condition.
Jeff
Editor and Publisher
Dog Health Guide
Please note: This information is intended to complement, not replace, the advice of your pet's veterinarian. Always consult a vet for professional medical advice about your pet's health.