Third Eyelid Elevation and Dog Dry Eye
by Sue Trowbridge
(Morden surrey)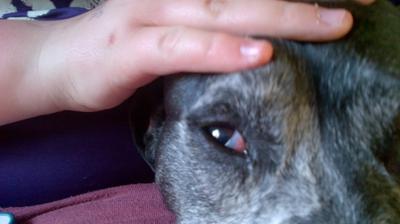 Dog with Dry Eye
Reader Question: Dog Third Eyelid Elevation and Dry Eye


Hi Jennifer,
My dog Maddie is eleven years old, a cross boxer/Dalmatian. For the last couple of months her right eye is slowly being covered by her second eye lid, is this a symptom of dry eye?
It doesn't seem to bother her but is starting to cover half her eye and hinder her sight. I would appreciate it if you could tell me what has caused it and how to correct it. Hopefully the pictures come out. Look forward to your diagnosis.
Regards,
Sue
Suggestions from our Veterinarian on Dry Eye and Third Eyelid Elevation
Hello Sue,
Elevation of the third eyelid like your dog is experiencing can be a symptom of almost any eye condition that causes discomfort. Therefore, your dog's dry eye might be to blame, particularly if treatment is not as effective as we might wish. Of course, something else might be going on as well, and the list of potential problems isn't limited to conditions affecting the eye itself.
A neurologic problem called Horner's syndrome is another relatively common cause of third eyelid elevation, and cancer of the tissues around the eye also cannot be ruled out.
Your veterinarian should be able to determine whether your dog's dry eye is playing a role in this new problem or if something else is potentially to blame.
Good luck,
Jennifer Coates, DVM