What Causes a Dog Cough at Night or Early Morning
by Debi and Suggestions from Our Vet
(Bedford, VA)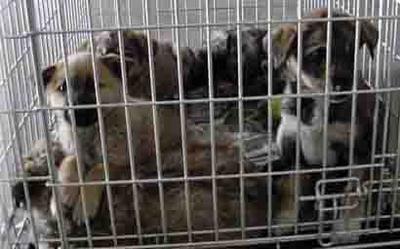 Dogs become infected with Kennel Cough through mucous membrane contact or inhaling infected secretions from other dogs as they cough, share food or water bowls, or touch muzzles
Dozer is a 1 yr old bull-boxer dog, very playful and friendly, loves to snuggle and cuddle when sleeping, he wakes at night to go "pee" and starts gagging and trying to cough up something, sometimes he coughs up what looks like spit.


Sometimes nothing.
It will last a few minutes and he goes back to sleep. He also snores, he has been on doxycycline for a few days now, and is not any better. I am worried what it could be.
Veternarian Suggests it Could Be Kennel Cough
Hi Debi,
From your description, I can't tell whether Dozer's cough is a new symptom or something he's been dealing with for most of his life. The list of possible problems would be quite different depending on when his symptoms started and how long they have been going on.
If his cough just developed, I'd be most concerned about infectious disease. Many different microorganisms (viruses and bacteria) can be involved in what is commonly called
Kennel Cough
. Doxycycline is an antibiotic that is commonly used to treat the bacterial causes of kennel cough, so I suspect this is why your veterinarian prescribed this medication.
It can take several weeks to months for a dog's symptoms to completely resolve after an especially severe bout of Kennel Cough. If Dozer is still eating, happy, and active, you probably just have to give him more time. However, if at any point he starts having difficulty breathing or acting sicker than you'd expect from the canine equivalent of a cold, you'd need to get him in for a recheck.
There are many other possible causes for his cough, so if he fails to get better make sure you follow up with your veterinarian.
Good luck,
Jennifer Coates, DVM