Table of Contents
Summary:
"A Canine skin cyst is an abnormal closed epithelium (cellular covering)-lined cavity in the body, containing liquid or semisolid material. Dog skin cysts can be small and require no medical action, removal if they are bothering the dog, or removal if diagnosis shows the cyst is malignant or cancerous."
Overview
Dog skin cysts are small bumps that can be felt through their skin. Cysts can be caused by a number of things and are often harmless, but it's best to have them checked out by your vet to make sure. They may develop as a result of an infection, a clogged oil duct, or a foreign body in the skin (such as a splinter). Cysts can be composed of dead cells, fluid, or semi-fluid matter.
Types of Cysts
Cysts go by several names although the symptoms, diagnosis and treatment is the same:
Keratinous cysts - contains a grayish cheesy material
Follicular cysts - caused by retention of fluid or skin material
Pilar cysts (trichilemmal isthmus-catagne - material from hair follicles
Dermoid cysts - Hereditary
Apocrine cysts - multiple cysts that are adjacent (also called apocrine hamartomas or nevi)
Canine Skin Cyst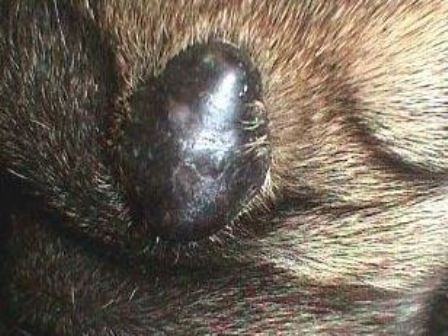 Dog skin cyst which is a neoplastic (cancerous) tumor on the head of a Mastiff
Symptoms of Canine Skin Cysts
Cysts are usually small bumps and may seem to roll around under your touch like a small pea or marble. They are generally slow-growing and smooth to the touch and are usually painless, unless they are infected. However, sometimes they will grow fairly large and will become bothersome even if not infected. They can occur on any part of the body. You are most likely to discover them while petting your dog.
Diagnosis of Canine Skin Cysts
Cysts are easily diagnosed. If you find an odd bump on your dog, visit your vet to get it checked out. Depending on the location, shape, look, and feel of the bump, your vet may recommend a biopsy or may simply diagnose a cyst on the spot. A biopsy involves using a needle to remove some cells from the lump or cutting away a small bit of skin from the lump to be examined by a pathologist. The biopsy will determine if the lump is a cyst or some sort of tumor, perhaps a form of cancer, and let your vet know what kind of treatment is needed. Alternatively, your vet may opt to simply remove the lump right away.
Treatment of Canine Skin Cysts
If your vet determines that the lump is just a cyst and that it is not causing your pet any problems, he or she may advise leaving it alone. Cysts will often rupture and heal on their own without any treatment.
If there is an infection, the fluid will need to be drained or the cyst may need to be surgically removed. If the cyst is causing your pet discomfort, if will also need to be removed. If there is any question about the nature of the lump, it should also be removed in order to make sure it is not cancerous or otherwise harmful to your dog.
Dogs that have recurrent skin conditions may benefit from a natural supplement designed to improve skin health such as PetAlive Skin and Coat Tonic for Healthy Skin and a Glossy Coat in Pets which combines well researched remedies such as Equisetum arvense (Horsetail), Taraxacum officinalis (Dandelion), Arthrospira platenis (Spirulina), Fucus vesiculosis and Kalium Sulphate (Kali. Sulph.).
Ask Our Vet A Question or Share Your Story

Have A Question about Your Dog's Skin Condition? Our Team Will Answer It for Free!
Do you have a question or comment? Share it!

Our editors will pick 1 question to answer each week. Please include your dog's age, breed, medical history, medications and if possible, a picture of the condition.

We will do our best to get back to you quickly (it depends on how many questions we receive each day). If you do require an immediate response we suggest using this online dog veterinary service that is available now.
Other Reader Dog Skin Related Questions and Vet Suggestions
Click below to see contributions from other visitors to this page...


Dog Skin Cyst Possible Causes and Treatment Not rated yet
Please can you indicate what the 1 cm 'cyst' might be on the upper surface of our 15 year old dog's paw. It has been slow growing, has some hair around …
Cause and Treatment of a Blister or Bump on Dog Paw Not rated yet
Hi, my schnauzer has developed this bump on her pad. She has a slight limp but it otherwise doesn't bother her. I noticed it 10 days ago. I thought it …
Fattty Growths are Benign Dog Lipomas Not rated yet
My soon to be five year old Basset Hound (female - spayed) started getting little growth about the size of a 10c coin in different places on her body. …